Pets in Morris County, New Jersey and Greenville, South Carolina will be a little safer now that the Morris County Office of Emergency Management and Community Animal Response Team (CART) and Greenville County Animal Care are equipped with AKC Pet Disaster Relief trailers, emergency trailers that helps create a safe, temporary home-base for at least 65 pets immediately after a disaster is declared.
The trailers were recently unveiled to the public at the National Night Out Against Crime in Morristown and the Carolina Foothills Cluster Dog Shows in Greenville, respectively.
They house and deliver essential supplies such as fans, lighting and generators; cleaning supplies; maintenance items; and animal care items including crates and carriers, AKC Reunite microchips and an AKC Reunite universal microchip scanner, as well as bowls, collars and leashes. These supplies can be used as co-location shelters, where people can evacuate with their pets, as well as emergency animal shelters for displaced animals.
We hope you enjoy these photos from the presentations!
Morris County
Trailer donated by the Sussex Hills Kennel Club, New Jersey Federation of Dog Clubs, The Kennel Club of Northern New Jersey, Schooley's Mountain Kennel Club, Twin Brooks Kennel Club, the Bichon Frise Club of Northern New Jersey, the Non-Sporting Group Club of the Garden State, the Keystone English Springer Spaniel Club, the Vizsla Club of Greater New York, the Garden State All Terrier Club, Kitty Steidel, the Scottish Terrier Club of Greater New York, the Pembroke Welsh Corgi Club of America, and AKC Reunite.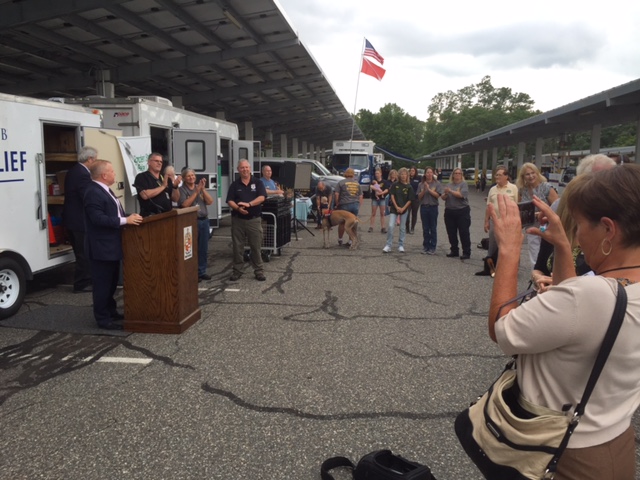 Greenville
Trailer donated by the Greenville Kennel Club, the Palmetto Pembroke Welsh Corgi Club, and AKC Reunite.