By Erin J. Knotek
(The Alaska Delegation, also known as the Frozen Chosen, pictured above: Loren Rupe and Isa, Erin Knotek and Bella, Bonnie McLean and Topper, Donna Chester and Penny, Mike Chester and Bolt, Krystin Chester and Spell, Shonda Oderkirk and Keegan, Judy Upton and Max, Tracie East and Styx, Crystal Reeve and Riley. Not pictured: Krissy Rupe and Ayla, Jill Blackwell and Rosie.)
Twelve Alaskan dog agility teams will vie for a chance at a place on the podium at the 19th AKC National Agility Championship (NAC) and 6th Preferred National Agility Championship this weekend.
Hailing from as far north as Fairbanks, Alaska and as far south as Homer, Alaska, these competitors will travel over 3,000 miles to Reno, Nevada to test their mettle against the finest agility teams from across the United States.
The road to the AKC National Agility Championship is a long one, both literally and figuratively. Some competitors, including Jill Blackwell and her golden retriever Rosie, who reside in the seaside fishing community of Homer, Alaska, drive hundreds of miles and many hours to practice and compete. Jill and Rosie trek 180 miles roundtrip each week to train at Dogworks in Sterling, Alaska. Why does she make such a commitment? Jill said, "I love agility and love to compete."
This will be Jill's third trip to AKC National Agility Championship. She first attended the NAC in Reno in 2012 with her Golden Retriever Gracie, who went on to place fourth in the 20" preferred class the following year at the 2013 AKC NAC in Tulsa, Oklahoma.
Shonda Oderkirk and her Border Collie Keegan, from Fairbanks, are the Alaska delegation's northern-most team. When she and Keegan attended the AKC NAC in Tulsa in 2013, it was her first national experience. "We went to have fun and experience it. This time, we will actually compete!" said Shonda. "Like all competitors, I want us to do the best we can and have fun."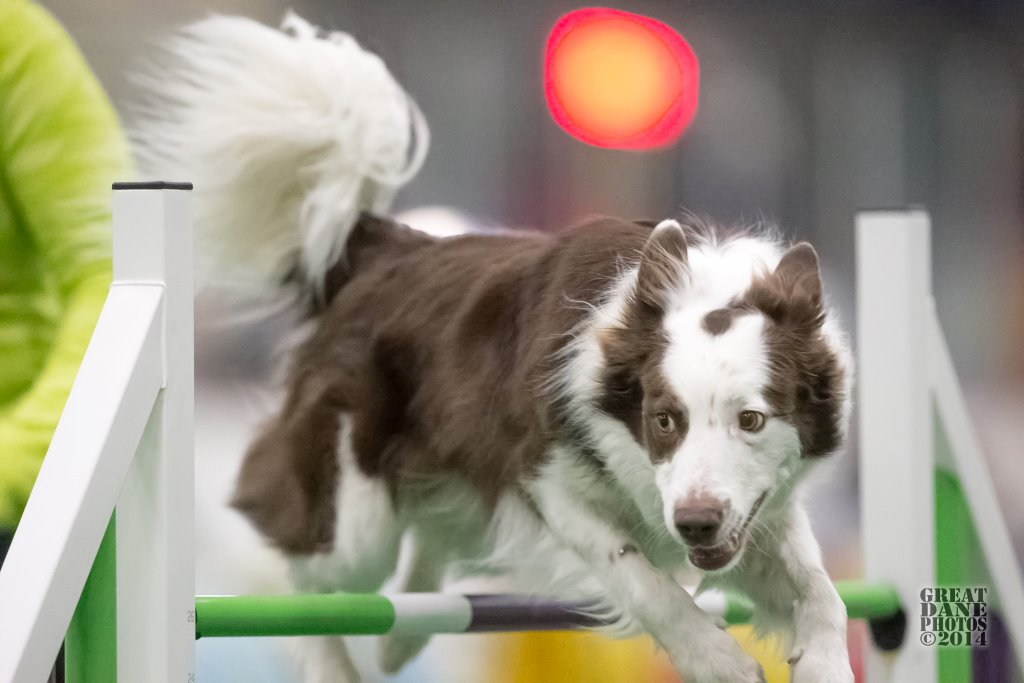 Keegan, owned by Shonda Oderkirk
The twelve Alaskan teams will have entries in both regular and preferred classes. As varied as the teams are in height and class, the handlers are as varied in backgrounds, with jobs ranging from gynecologist and physical therapist to master plumber and college student. Others work in the fields of finance, marketing/administration and the postal service. A few of the teams have retirees at the helm.
Septuagenarian Bonnie McLean has been participating in agility, either as a competitor or teacher, for eighteen years. The 2015 AKC National Agility Championship will be Bonnie's sixth trip to Nationals. She has attended three times as a competitor and three times as pit crew for other teams. In addition to agility, Bonnie's Golden Retrievers have competed and achieved titles in field trials, hunt tests, and obedience competitions, earning the UDX title and a place in the GRCA Obedience Hall of Fame. She'll be running the newly titled PACH Topper.
The 2015 AKC National Agility Championship will be a family affair for the Chester family of Wasilla, Alaska. Mike and Donna Chester will be competing with their Papillons Bolt and Penny. Daughter Krystin will be competing in the 20" class with her Border Collie, Spell.
As owners of Sirius Ranch, the premier training and competition facility in Wasilla, Alaska, the Chester family brings a wealth of knowledge and experience to the field with twelve MACHs and one PACH between four of the six dogs in their household. Krystin, who studies psychology at the University of Alaska Anchorage, began agility at age twelve and cites as her favorite agility moment the day she achieved her first MACH (of five) with her now retired Papillon Teller. Her other memorable moment is the first agility trial held at her family's facility.
Just three years ago, husband and wife team Loren and Krissy Rupe were spectators at the 2012 AKC NAC held in Reno. Now, they both return as competitors, self-titled "Team Rupe," with their German Shepherd Dogs. According to Loren, the Krissy/Ayla team had qualified in the past for the event, but never attended. After watching the finals at Reno in 2012, Loren's competitive side came out and he asked Krissy, who has 20-plus years of dog training experience, to train him and his seven-year-old German Shepherd Dog, Isa.
Isa didn't start agility until 2012 at the age of eight. Two-and-a-half years later, she has qualified to attend this year's NAC. Loren plans to retire Isa, now 10 ½ years old, after the competition. "I'm sad that her run is almost over, but I also love her and would prefer to see her end her run on the big stage," said Loren. "I don't expect her to win. She doesn't have anything left to prove to me!"
Among the newest team members this year are Judy Upton and Pembroke Welsh Corgi Max, Crystal Reeve and Border Collie Riley, and Tracie East with Portuguese Water Dog Styx. Max and Judy are a therapy team that visits multiple facilities in Alaska. "My goal is to enjoy my experience," said Judy. "I never thought I'd be doing this."
"My goal at the NAC is to just do my best," added Crystal. "I am a newcomer to the sport and this is my first agility dog and first NAC."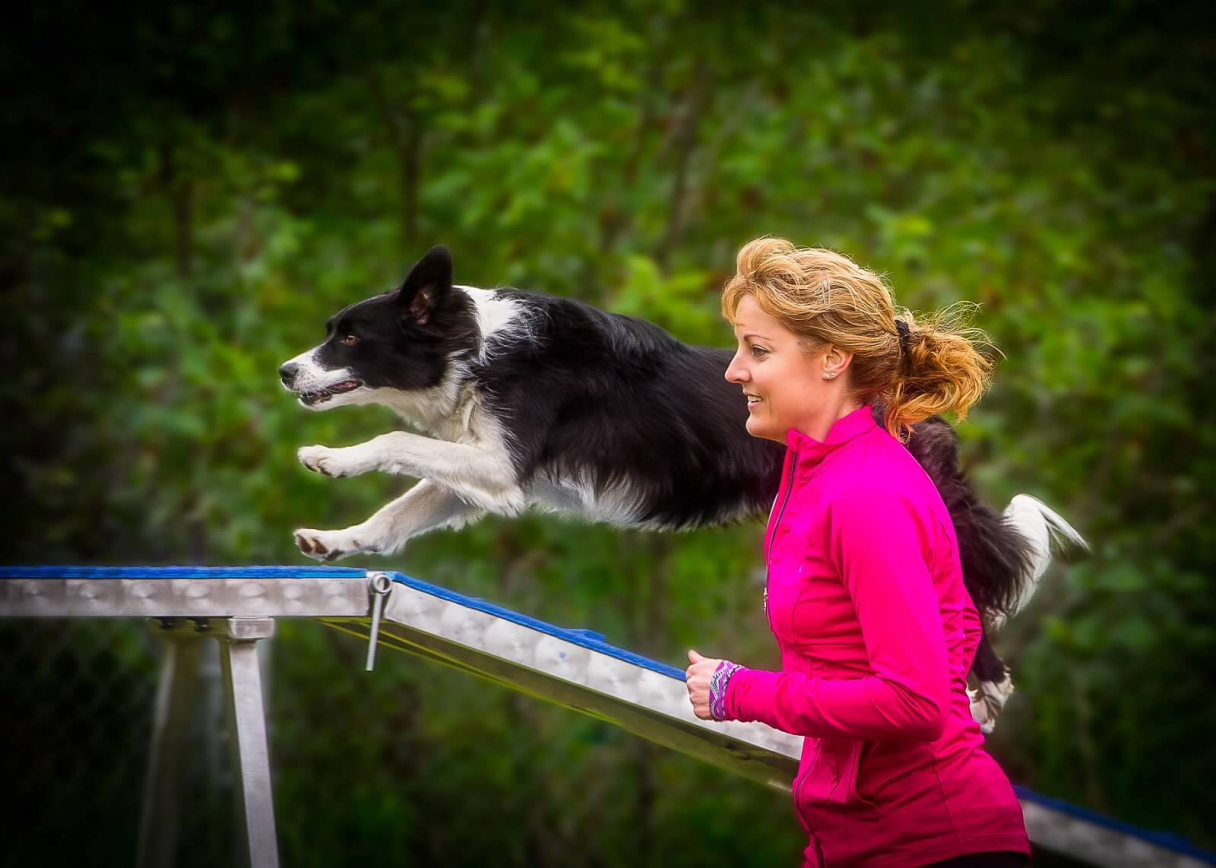 Riley and Crystal Reeve
Erin Knotek and Border Collie Bella will be participating in their third and final AKC National Agility Championship. Bella will retire at the end of 2015 after eight successful years of agility, including two MACHs and PACH on the near horizon. At ten years old, Bella will enjoy time off from agility doing what she does best, accompanying Erin each day as an unofficial "Mail Dog." Bella is by Erin's side six days a week through rain, sleet, and snow, making their daily mail deliveries to three rural Alaskan communities.