Every year, the media loves to report the crazy statistics of the number of Thanksgiving travelers (and the even crazier travel-related chaos) making their way by plane, train, car, or bus to spend the holiday with friends and family. For those who consider their dogs family, those travel stats can be a little different.
According to the latest Bureau of Transportation Statistics, Thanksgiving is among the busiest long-distance travel times of the year. During the 6-day Thanksgiving travel period, the number of long-distance trips (a ­destination 50 miles away or or more ) increases by 54 percent, and during the Christmas/New Year's holiday period the number rises by 23 percent.
Since more than 90 percent of the dog owners surveyed by Rover.com consider their pets a member of the family, how do they juggle people plans with doggie demands during the holiday season? Let's talk turkey about what the survey found.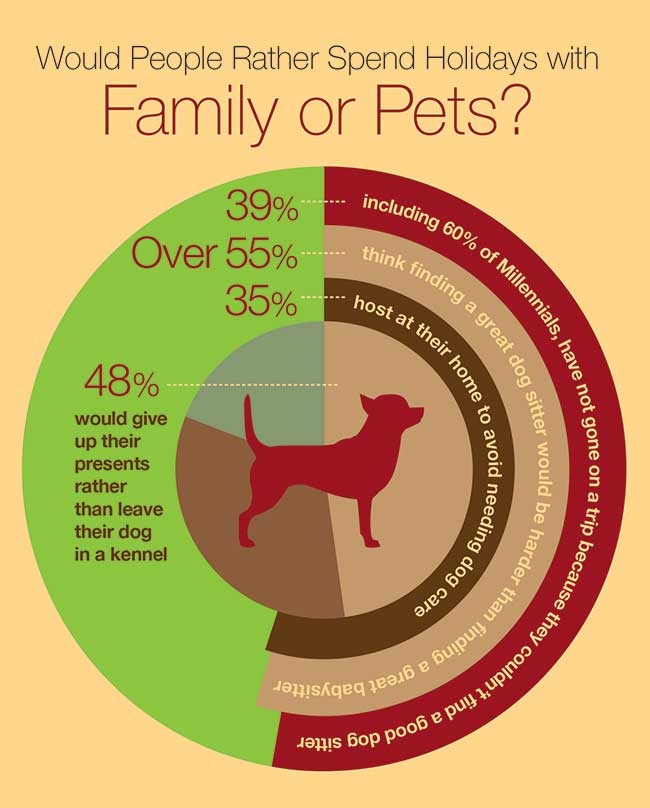 Let's Skip It: 39 percent of American dog owners, including 60 percent of millennials, have skipped a trip because they couldn't find a good dog sitter.
Buddy's Little Helper: More than 55 percent think finding a good dog sitter is harder than finding a good babysitter.
Pup vs. Partner?: 40 percent of those with a significant other, including half of millennials, think their dog would be more difficult to leave for a week than their partner.
Sit and Stay: 35 percent of respondents with dogs have decided to host their family at their own home to avoid looking for dog care.
Nix the Gifts: 48 percent would give up their holiday presents rather than leave their dog in a kennel during the holidays.
Whether you go home for the holidays or stay home for your hound, we're wishing you a Happy Thanksgiving!
And don't forget to watch that other Thanksgiving Day tradition, the National Dog Show.