By Carolyn Alexander
The Del Monte Kennel Club (DMKC) has strong ties to the local community, and the club highlights that in its public outreach. DMKC's annual conformation, obedience, and rally competition is held on the grounds of the Carmel Middle School, just off Carmel Valley Road. The club has a colorful, somewhat star-studded history and was especially famous for the "Classic of the Pacific" shows held at Pebble Beach, adjacent to the 18th green. In that era, the Hon. David Merriam always rented a room overlooking the green and the show, and my husband and I were always lucky enough to be invited. It was a wonderfully hospitable way to enjoy this special show in a location known all over the world for its incredible beauty.
Since then, shows were briefly held at Fort Ord, across Highway 1 from the ocean, and once at the famous Laguna Seca raceway. Most club members enjoy the "old-fashioned California" feel of Carmel Valley, and exhibitors brave the crowds who come to Carmel-by-the Sea, finding dog-friendly accommodations in Carmel and in the surrounding, more affordable cities of Marina and Seaside.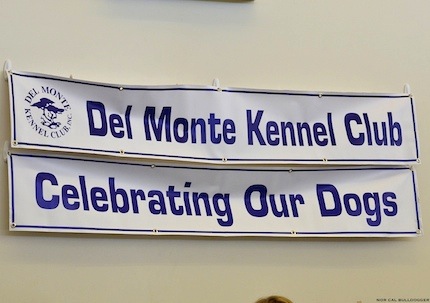 Club meetings are generally held at the Lodge at Pebble Beach, except when the AT&T Tournament preempts our meetings once a year.
Club members are proactive in dog-related community programs and activities. Our relationship with the media and the public is nurtured by all club members, led by Ellen Mitchell, our Publicity Chair.
Del Monte Kennel Club members know that everyone wearing our blue jackets (and we look pretty darn splashy in blue and white or blue and biege) is a representative of the club. We are all dedicated to keeping up our club image and bringing positive attention to purebred dogs and our show. Following are some tips and observations based on our club's experience in reaching out through the media.
TIP #1: Make your story appealing for TV and newspaper coverage.
In the past, when helping with PR for the club I included radio coverage for our events. It was possible to get radio interviews, and we'd hold a call-in contest where we'd give away a parking pass for one of the days. These days, however, most radio stations are unfortunately not very local or community oriented. Many primarily offer homogenized broadcasts from who-knows-where, with a mix of local advertising. So the DMKC tends to concentrate on in-store advertising and TV and newspaper coverage.
The good news is that Monterey cities and areas tend to be dog friendly and naturally interested in canine events. This area even has a Coastal Canine magazine. Dan Green, the nightly anchor of popular TV station KSBW, concludes every newscast with an "Animal Stories" segment. Many hotels, led by Doris Day's Cypress Inn, welcome canine visitors.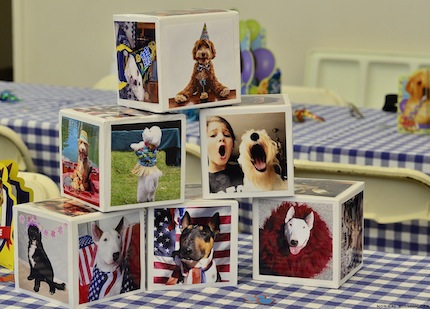 So our club generally does not struggle to get media attention, because we seem to be in an area that already has a high interest in dogs and pets—especially dogs! However, we do not "rest on our laurels" (phraseology founded in the Olympics, and we have high expectations).
Whatever a club's situation, sending notices to the media with a flat "Dog Show at ..." format is not always successful. Try to give your story a more fun or appealing twist that will catch people's interest. Several years ago, in support of our Northern California Terrier Association specialties, I sent e-mails to every newspaper and radio and television station in the Sacramento area with the heading, "If you want to run with the big dogs, you have to get off the porch." That year we had televised visits from three TV stations, morning-show interviews on both radio and television with one our judges (an author), and great newspaper coverage.
Whether on the Internet or news channels, we live in an age of teaser headlines all vying for our attention. If we want to attract media and public attention, we have to employ some of the same worthwhile methods.
Many newspapers have sections for weekend activities where information about upcoming dog events is welcomed. Be sure to publicize news of your show there—this is virtually always free, but try for more coverage in the paper as well. E-mail the editor, or (even better) visit in person if you can. Provide great photos of the competition from last year. Give different photos to different area papers, and never ignore the weekly county papers. Many are very popular and are well read.
In working to interest new exhibitors, as well as professional handlers, our club offers Owner-Handled and Puppy groups competition, veterinary testing, and Canine Good Citizen testing. We also open the shows each morning with a short performance by a bagpiper in full Highland regalia.
Note: Media will almost never show up first thing in the morning. If possible, have photos (and releases for use) ready for the newspapers when they come—for the most part, however, media like to take their own shots and footage.
TIP #2: Be prepared and know what to do when the media shows up.
It's critical that club members are prepared, are gracious, and know what to do. When media first arrive, club members who are handling the gate/entrance need to welcome them and then immediately contact the media coordinator or other club representative. This year, our always-prepared AKC Delegate, Dr. Merlyn Green, gave television interviews on two separate days.
At our July 2015 shows, the news crews especially loved watching obedience and rally on the first day and came back the next day. On their return trip, we managed to also steer them to watch some of the conformation showing. Despite their initial lack of interest, they enjoyed our show and became quite pleased with that idea also.
Sending a flyer to club members before the show about those who are principals for interviews and media support can help the members know who to contact when media arrives. A copy of that information should also be left at the gate. Not every club member feels comfortable talking with media people, and those who do may not be available at all times, so several backups should be planned.
At our last show, when TV station KSBW came back, I happened to be finishing one of my allotted work times at the gate. One of our group called for Dr. Green. I told the news crew where to go, followed them, and made sure our wonderful parking crew got them a great spot for hauling in their cameras and easy departure. (Note: Media people appreciate quick access and exit options, because at any moment they could be called away by an exciting and time-sensitive news event—such as a fire, a shooting, or Tiger Woods arriving at Pebble Beach.)
TIP #3: It's best to accompany media people … don't hover, but be there to assist.
While I walked with the KSBW crew to meet Merlyn, I told them about the uniqueness of our show, the new AKC breeds they could see, specialties being held, and photo ops that might interest them. A club representative accompanying the media is always a good idea. The club person can answer questions and help the media folks focus on positives, including (especially) what a great time the dogs and people are having. A club representative can also monitor situations that might be negative, such as someone complaining for whatever reason.
Different media look for slightly varying approaches, but most media dealing in photos or video tend to like pretty people, flashy people, smart people, and good-resource people—pretty much in that order. If an attractive, sharply dressed club member is willing to act as escort, ideally that person can be available to work with the club's PR representative throughout the show weekend.
Club members must always be careful and thoughtful in what they say. Remember that anything said to the press (or just about anyone else) could be read by thousands of people within the next few hours (maybe minutes). Note: Experienced PR officers are usually somewhat prepared to be slightly misquoted, but as long as the quote is positive and accomplishes a good result, one just smiles and moves on.
TIP #4: Have interesting people for media to meet and interview.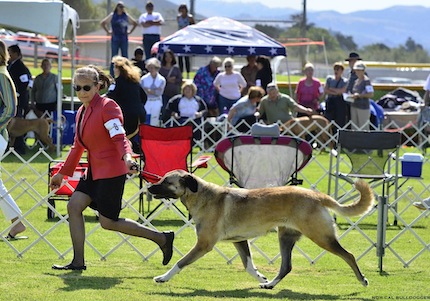 Adjacent to the rings, I gave the reporters the names of the breeds we were observing, and a little bit of interesting history about each one. To our delight, DMKC had entries from all three of the new AKC breeds. A nice young couple was adjacent to the ring waiting to show their personable Lagotto Romagnolo. The newscaster interviewed one of the owner-handlers, who was extremely complimentary of DMKC, concluding his interview with "We've had a great time! We'll definitely come back to this show." The station ran that clip. Hurrah!
The newswoman and cameraman also were particularly interested in observing young people showing their dogs and filmed several, including a young man with a multicolored Mohawk haircut showing his Basset Hound. Media are always looking for people their viewers will relate to or find fascinating.
During normal show hours, most professional handlers and the show chair and assistant show chair have high demands on their time. They are fascinating people, but the club's PR rep won't normally want to take up their time for an interview. The media is usually perfectly happy with some shots of unique dogs, grooming of a dog like an Old English Sheepdog, young people, and interviews with cheerful owner-handlers.
As we were talking about the Cavalier King Charles Spaniels being shown, a well-dressed woman with a purple- and aqua-dyed Chinese Crested (not entered in the show) sat down nearby to spectate. Not surprisingly, the news crew was fascinated and almost immediately gravitated to her. Without being obvious, I tried to steer them to the Tibetan Mastiff a few feet away, but just then, the cameraman caught sight of a large Doberman Pinscher entry and moved to that ring. A small byte of the pretty, colorful Crested ended up on the evening news, but most of the airtime was given to obedience, including a segment where a well-spoken, upbeat exhibitor outside the ring tried to get a big ball back from her dog. They also included some good footage of conformation exhibiting.
There's an old saying about dogs and kids that everyone surely knows ... and that's a good basis for recommending that a club representative discretely accompanies and works with media. No one can control everything that will happen. A club representative just needs to be nearby to be aware, explain, and manage. In our case, the subsequent telecasts of the reports on our shows were surprisingly lengthy bytes, and very positive!
TIP #5: Be alert for media showing up at your event, as reporters rarely will make an appointment. ("Who's that with the notepad and big camera?")
Club members should be alert to the arrival and presence of any and all media. Sometimes, media folk just seem to show up wandering past the rings. DMKC club members always introduce themselves and ask visiting media if they have questions or any special interests. It's also smart to stay and chat with the media while asking another club member to go get the club's PR representative. PR reps are always ready to warmly greet media and suggest novel approaches.
A good example was where our rep directed them to DMKC's large entry of Anatolian Shepherds and provided interesting tidbits such as "These are not seen at many shows ... this is an impressive Turkish guardian dog with 6,000 years of lineage, which officially entered AKC competition in 1996." Being ready with information like this catches the media's interest and helps them with angles and ideas for stories.
Working with media crews, educating them, and guiding them to positive resources for interviews and photos will earn their goodwill. Like anyone, they enjoy being treated as special visitors, and they will reward with good coverage. The best PR folks not only notify media of upcoming club events, they nurture their contacts at all stages and ensure those media folks have their phone number and e-mail address in case of any questions.
In addition to some wonderful television coverage, DMKC was given some great coverage by the Monterey Herald, and show information was listed in the Monterey County Weekly.
Sending out a flyer to club members prior to the show about club member who are principals for interviews and media support can help club members know who to contact when media arrives. A copy of that information should be left at the gate. Not every club member feels comfortable talking with media, and those who do may not be available at all times, so several backups should be planned.
Final thoughts
The AKC offers clubs some great ideas and guidance on PR.
The media has wonderful potential to help clubs in their efforts to educate the public and earn their interest and respect. It's very worthwhile to be prepared and meet with the press. One never knows when a purple Chinese Crested might show up! Enjoy the challenge.—C.A.
Carolyn Alexander is a member of the Del Monte Kennel Club and is the AKC Gazette breed columnist for the Bull Terrier Club of America.
* All photos courtesy Diana Han, Nor Cal Bulldogger Photography.