Dog lovers and Star Wars fans, check out Chubbs the Wampug!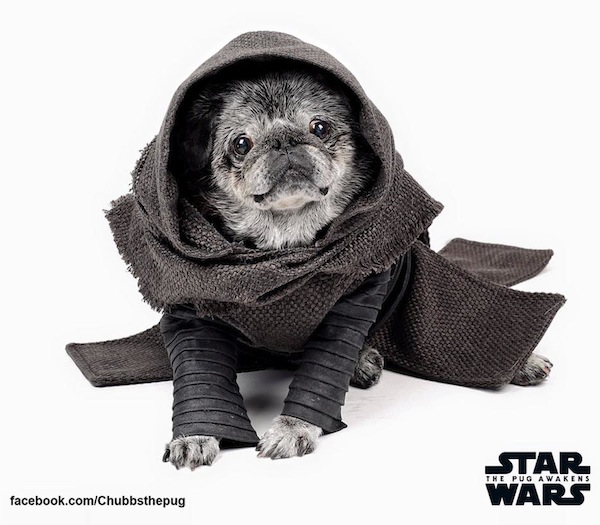 Chubbs the Wampug salutes Star Wars: The Force Awakens. (Courtesy Chubbs the Wampug)
The owner of this adorable 13-year-old Pug is Kristen Andrews, a veterinarian at Stockton Hill Animal Hospital in Kingman, Arizona, who describes herself as "a veterinarian by day and a Star Wars Geek by night."
Several years ago Kristen, who is very handy with a sewing machine, began making costumes for Chubbs, to take pictures of her for the hospital's website. Naturally she decided the first outfit should be something with a "Star Wars" theme, so she put together an ensemble transforming the pudgy canine into a fearsome (though miniature) wampa—the shaggy, carnivorous creature that Luke Skywalker encounters in an ice cave on the planet Hoth in "Star Wars Episode V: The Empire Strikes Back".
The first "Wampug" video featuring Chubbs has almost 1.7 million views:


[]
Next came Chubbs's amazing and edgy version of what really happened on Hoth, in "The Wampug Strikes Back":
[]
Chubbs was a big hit and seemed to have a great time dressing up, so next was a costume of a bantha (from "Episode IV"), complete with a sand person on her back. "Banthapug" has nearly a million views on YouTube:
[]
The Wampug made another YouTube appearance in 2014, celebrating an unusual December snow in her home state:
[]
The adorably gray-faced Chubbs even appeared with her owner in a video in support of last year's ALS Ice Bucket Challenge:


[]
In a recent interview, Andrews explained that Chubbs likes getting dressed up.
"Mostly because she knows she gets snackies right after, but she really seems to enjoy dressing up," Andrews said. "She's a very patient little girl—and trust me, with some of her more complicated costumes, if she didn't like it, there would be no way you'd get them on her. She's just a happy girl."
Chubbs also has her own Facebook page. In fact, fans of Chubbs were asked to vote for their favorite Photoshopped picture of her in the 4th Annual Holiday Photoshop Contest, which happened here on Facebook.
More Star Wars Doggies
Of course Chubbs isn't the only dog whose person loves the Star Wars story. Here are 10 Ewok Dogs Who Say "May the Fourth Be With You," and here's a look at the dog who gave George Lucas the idea for Chewbacca—and some other canines with an eerie resemblance to Wookies.
May the barks be with you in 2016.