The two sides of Thibault, (pronounced "T-bo"),the Belgian Malinois, seem totally at odds.

He's a grand champion show dog on some weekends. Yet on others, he's a resolute geese herder—when his owner, Patricia Richards of Pleasant Hill, Calif., and her boyfriend Paul Lera, take him to their cabin at Pine Mountain Lake.
Thibault is just as at home on the big stage, aka Westminster Kennel Club Dog Show, as he is at the remote getaway, where he is an official member of the Goose Abatement Committee (yes, that's right). It's there that he does his thing during the summer months and selected weekends the remainder of the year.
Pine Mountain Lake is in tiny Groveland, Calif., and the committee consists of a group of Pine Mountain association members attempting to encourage Canada geese to settle somewhere else. Richards estimated there are hundreds of geese, which usually congregate on beaches at night in groups of 50 to 75 at the approximately 2,795-foot-high site, 26 miles from an entrance to Yosemite National Park.
There were formerly no Canada geese at the lake, but since their arrival and increased presence, they have become a problem for local residents. "They drop green, slimy messes all over the beaches and the grass next to the beaches," said Richards, "Consequently, we would like to see them go elsewhere."
Richards' morning regimen begins with an alarm clock wake-up. Next, she puts the 2-year-old, 57-pound dog outside for a few minutes, as she gets ready to head for the lake. "He is excited and happy for what's ahead," she said. "If it is raining, he still wants to go, and if I sleep in, he comes to my side of the bed, kisses my face with his warm tongue with a message, 'Mom, it's time to get up!'"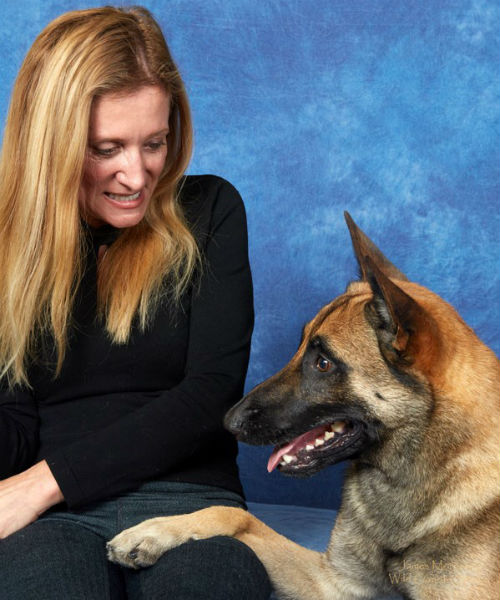 They arrive at the lake, which is only five minutes away, as the sun rises. Quickly, Thibault begins prompting the Canada geese into the water. "He runs up to them and directs them away from the sand and the grass. He approaches them like a bullet, sometimes surprising them, but he never touches them," she explained. "He makes certain they swim far out and are not coming back on his watch."
After his lakeside duties are complete—there are 3 beaches, each requiring about 10 minutes of work, followed by some coveted swim time—the team heads for the nearby golf course, where they walk for an hour or more. At the golf course, Richards keeps Thibault on a leash, so he will not distract the early golfers. After they pass through the course, the dog goes off lead when geese are spotted, and he chases them off.
Instinctively, Thibault was mesmerized by the water on his first trip to the lake, but was hesitant to go in without standing with land beneath his feet. Now, he swims out into the lake with the geese, but they quickly fly away as he nears.
There are other dogs on goose patrol, said Richards, "but none half as fast or determined as Thibault. Also, he is extremely obedient with recall and other commands, such as wait, down, stay, and go. There are other birds there, too, but he just ignores them," added the owner. "He used to want to chase deer when he was younger, but he was quickly broken of that habit. Now he just walks past them or watches them run along with fascination in his eyes."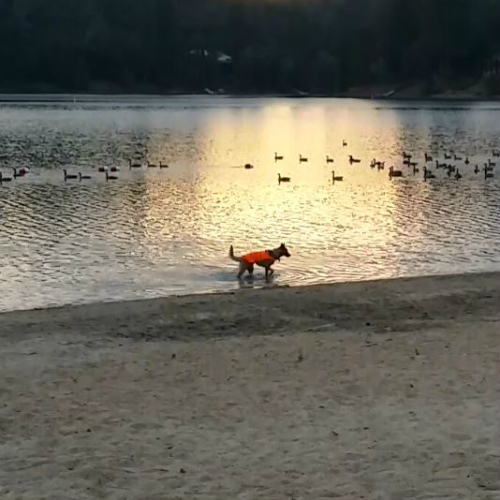 Thibault's goose patrol exploits boast a warm, fuzzy side, too. One day he found a baby goose entangled in a plastic mesh fence. He kept running over to it and barking, even after Richards thought that it was dead because of its still appearance. But the persistent Thibault kept returning to the gosling. "I was shocked when it opened an eye," Richards recalled, "But it was otherwise limp. With a fisherman's help, we freed it, and it ran to the lake to return to its mom. Thibault was a hero and a lifesaver that day."
Asked if his goose patrol work made him a local celebrity of sorts, the owner laughed, "No, not really, because he does his work when most people are sleeping. When they start going to the lake for relaxation and enjoyment, we are already back home or finding some river or trail to explore that has nothing to do with goose abatement. Only he and I and the early golfers know what a powerhouse he is."
Richards, a French teacher at Miramonte High School in Orinda, Calif., honed her conformation show ring handling skills prior to preparing Thibault for Westminster last February, among other major events. "We practiced every day for months, getting him ready. Every darn day. He learned to stack himself, and we moved as a team on loose lead exercises. It is really fun when you believe in the beauty of your dog and you meet supportive, helpful people."
The Westminster undertaking was all about teamwork. Richards flew from California to New York City while Lera and Thibault drove cross-country and back for the event, a journey that was about 2,900 miles each way. Thibault was housed in a large dog crate inside the vehicle and slept through much of the trip, which proved uneventful weather-wise except for a stretch of icy roads in Virginia en route to the Big Apple.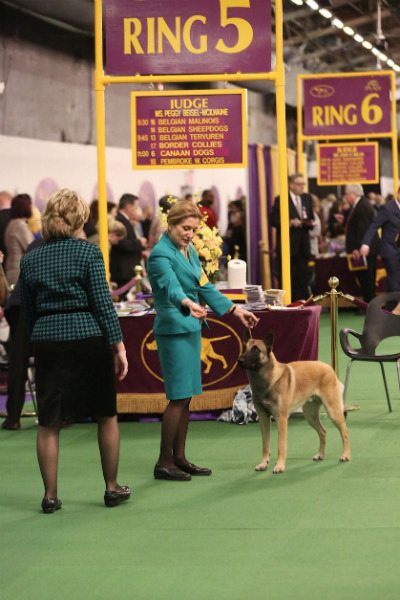 "Westminster was a fabulous experience for us, but he was the youngest Malinois in the specialty class," said Richards. "I am planning on showing him there again when he reaches his prime at about 4 years old. But next time I will hire a handler to help my dog shine that much more. He deserves the best."
Header photo: Richards and Thibault take a break during a day trip to Yosemite National Park