Submitted by Sharon McDonald
Swamp Dog Agility Club of Greater New Orleans held their 2nd Annual Charity Agility Trial March 6-8, 2015 in St. Gabriel, Louisiana at the Premiere Soccer Center. This year's beneficiary was the Magnolia Community Services (MCS), a private non-profit organization that has been providing support to adults with intellectual and other developmental disabilities since 1935. MCS offers services in 19 group homes, supported community living, a vocational/day habilitation program, and supported employment.
One hundred percent of the proceeds after expenses were donated to the Magnolia Community Services, with extra funds were raised by means of special events and activities. In the end, $3250 was donated directly to the Magnolia Community Services. Jennifer Hebert, the facility's Executive Director, was on site on Saturday to watch the agility trial. At midday, the club paused the trial while Trial Secretary Rosalind Guillet presented Jennifer with a check on behalf of the Swamp Dogs.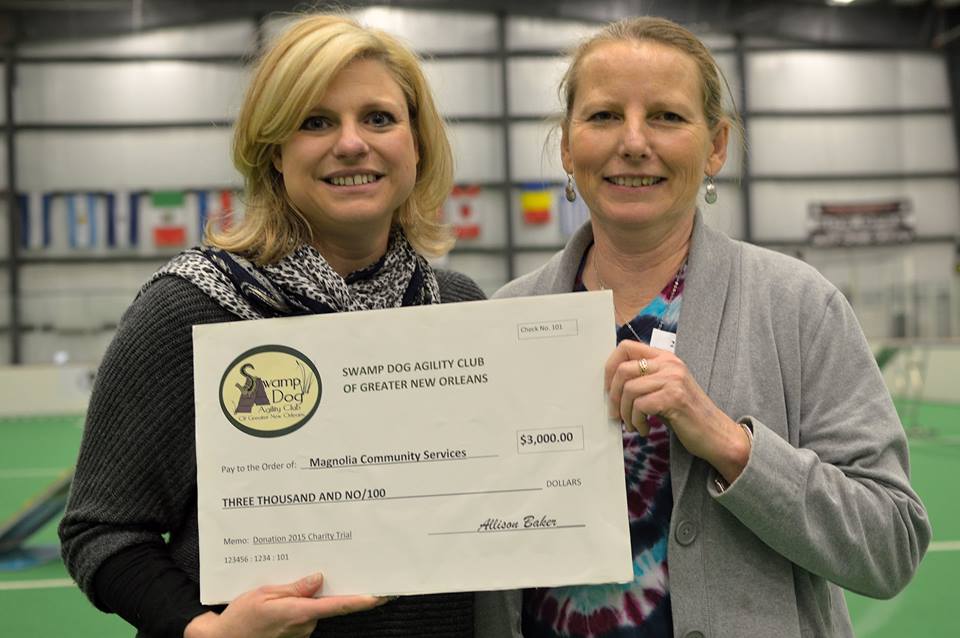 AKC approved a non-regular event the club designed and named the 2X Team Tunnel-Weave Relay Race, a 200-foot down and back sprint through 4 tunnels and a set of 12 weave poles. With over 20 teams entered, the relay race raised $225.
In what has become tradition, exhibitors had an opportunity to honor a loved one on the "Magnolia Tree Honor Wall." For a small donation, the exhibitor could choose a cut-out of a magnolia blossom or a dog figure, write the name of their loved one on the cut-out, and paste on the poster-sized tree. Honored humans were placed in the branches and honored dogs placed in shade of the tree. For many, the honor wall is an emotionally moving experience.
Additionally, products made by residents of the school were available for sale. Lovely hand-painted dog bowls, computer mouse pads, and dog treats made in the school bakery were hot commodities among exhibitors. The Honor Wall and the sale of hand-made goods raised an additional $660.
The three day trial was judged by Lauren Duckworth of Alabama. Lauren's courses proved to be challenging, yet fun, with state-of-the art technical sequences such as "back sides" and wraps. Also on hand for advice and guidance was Agility Representative Terri Campbell. Both Lauren's and Terri's pleasant personality and easy-going demeanor contributed to the fun spirit of the weekend.
Swamp Dog Agility Club wishes to thank all those who entered, participated and otherwise contributed to the immense success of this event. "Swamp Dog" was founded in 2007 as an AKC-licensed club, consists of over 40 members, and presently offers two agility and one obedience trial each year. Serving as ambassadors of their local dog community as well as the American Kennel Club, the Swamp Doggies look forward to planning and executing next year's event.
Visit them on Facebook or at http://swampdogagility.com/.