The American Spaniel Club will be hosting its 39th Annual National Specialty sponsored by ASC Zone II, July 16–18, 2015, at the Purina Farms facility in Gray Summit, Missouri.
In addition, the South Atlantic Cocker Spaniel Club of Zone II, will host a regional specialty on Sunday, July 19, providing cocker with another opportunity to compete across most venues. Venue events being offered through the course of the weekend are: Conformation, Obedience, Rally, Agility (both cockers-only and all-breed), Instinct Test, Hunt Test, as well as a Tracking Dog Match and a Sanctioned Obedience & Rally Match.
The judges for this year's National Specialty are—
CONFORMATION

Kim Vavolo (Cocker Spaniel Futurity and Cut-Down Sweepstakes), Kevin Carter (Bred-By-Exhibitor and Veteran Sweepstakes), Rhonda Mink (entire Ascob Variety, Parti Variety through Winners Bitch, Junior Showmanship) and Gloria Geringer (the entire Black Variety, Parti Best of Variety, BEST OF BREED and all Best Competitions);
TRACKING DOG MATCH:

Carolee Douglas and Colleen Keough;
INSTINCT TEST:

Vickie Dahlk & Venee Gardner;
HUNT TEST:

Patricia Petraglia and Dawn Shuster;
AGILITY:

Jennifer McDonald (Thursday & Friday) and Karen Winter (Saturday & Sunday);
OBEDIENCE & RALLY:

Virginia Kinion and Steven Picciuolo (Friday & Saturday); SANCTIONED OBEDIENCE/RALLY MATCH: TBD.
Lindy Bennett, this year's ASC National Show Chairman, has a strong team of committee members to support her and the club in the varied responsibilities that encompass putting on a national specialty. In addition to the breed and performance competitions being held throughout the week, several exciting educational and breed-specific events are available to the fancy, such as: "Genetic Studies of Inherited Cataracts in the Cocker Spaniel" by Dr. Gustovo Aguirre; Meet the Breeders Expo; "So You Want to Be a Cocker Mentor?", Welcome Dinner, Top Dog Awards Dinner, Judges' Education, and much more. It will be a week of great fanciers, great fun, and lots of "The Great American Cocker."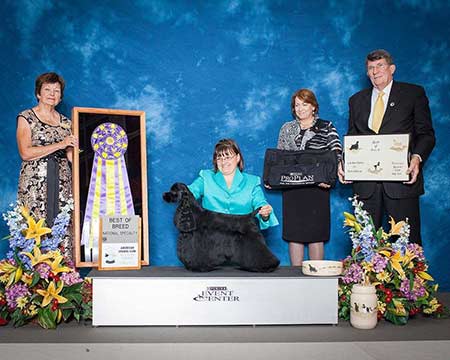 Judge Nancy Gallant awards ASC 2014 National Specialty Best of Breed to black Cocker GCh. Mario N Beechwood's Midnight Express, CGN. Bred by Pamela Ragusa & Mark Ragusa; owned by Frank & Cathy Charest and Pamela Ragusa & Mark Ragusa; handled by Marlene Ness.

Photo by Jeffrey Hanlin