Saturday, Sept. 5 marked the 80th show of the Somerset Hills Kennel Club. Our theme was, "Remembering our Past; Preparing for our Future". In keeping with that theme, we held the first ever PeeWee Class east of the Mississippi. It was a glorious day, sunny and warm with cloudless blue skies. When I commented on the great weather to our very capable Show Chair Lisa Warren, she informed me it was because this time, she "changed weather vendors!"
Our goal was to introduce youngsters ages 5 through 9 years old, especially those new to AKC, to Junior Showmanship, giving them a safe, positive experience that would hopefully entice them to continue to participate and become more involved our sport. The PeeWee class is neither a competition nor a handling class. I played the "Judge", for want of a better term, but there was no actual judging. With safety a primary focus, only one PeeWee unit was in the ring at a time. Each PeeWee unit consisted of the child, his or her parent or guardian, and their dog. We welcomed purebreds, AKC registered or not, as well as mixed breeds. The class was pre-entered and a nominal entry fee was charged, merely as some assurance that the PeeWee would actually show up! Lisa, a huge supporter of this endeavor, received the preentries.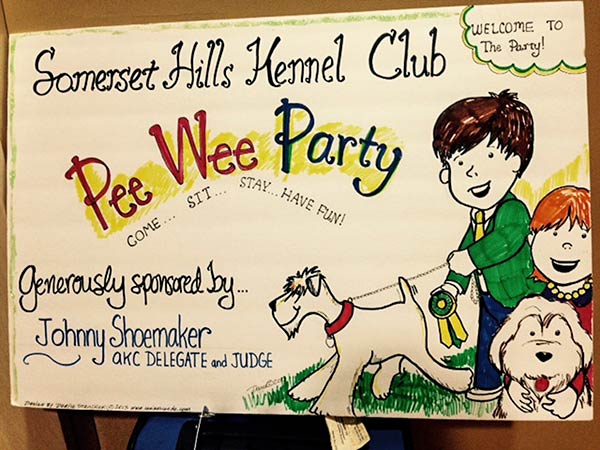 The more experienced Juniors who were entered in the Master Class were asked to volunteer to act as a "buddy" to each PeeWee, both before and after the class. Dawn Clerico, 4-H leader and AKC exhibitor, Tina Pirro, another 4-H leader, as well as club member Lee Matyola were outside the ring assisting the Peewees. Marjorie Tuff, a longtime Juniors advocate, did a great job as the in-ring steward. "Buddies" Rebecca Flood; Salena McCloud; Renee McGlone; Wendy Perry, a former Junior and now Juniors judge; Faith, Emma and Sophia Rogers were a big help encouraging and assisting their PeeWees.
Mari-Beth O'Neill, Assistant Vice President at AKC overseeing the Juniors program, herself a former Junior, was introduced at ringside and available for any questions. Emma Rogers, a talented 11-year-old Junior who many of you have seen with her Great Dane excelling in the Juniors ring along with her equally talented sisters, did a great job of demonstrating what can be accomplished with hard work and practice. Then we had 6-year-old Charlize Sutton, daughter of handlers Jessy and Roxanne, both former Juniors, who charmed the ringside as she demonstrated what would be expected of the PeeWees during the class.
The children were adorable, looking so excited and eager. The PeeWee set up the dog, and, with the parent walking alongside, took the dog around the ring, came back to the "Judge", stood the dog (more or less) for a cursory examination on either table or ground, went down and back, and around again. The parent lifted the dog on and off the table and we did not check the bite. Extra leashes were at the judge's table. In case the child needed help in controlling their dog, we were prepared to add a second leash for the parent to hold. None were needed.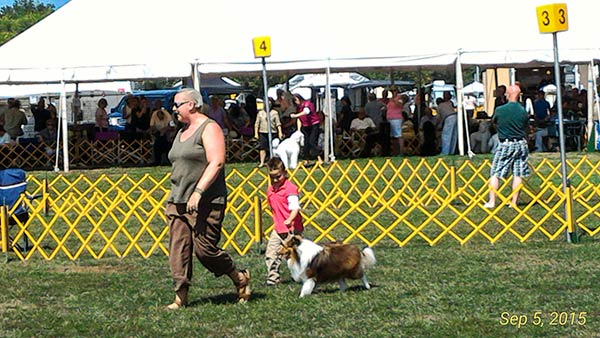 Six PeeWees were entered: Olivia Bialoblocki who had clearly been practicing with her Dogue de Bordeau; siblings Gianna, Emilia and Michael Esposito taking turns with their one very cooperative Sheltie; Julia Rogers and her Pointer, impressively emulating her very talented older sisters; and Eva Vanderslice who did a commendable job with her Golden Retriever. The ringside spectators were wonderful — so enthusiastic, cheering, applauding and whooping for each child! Every PeeWee got a participation rosette in our club colors of green and yellow, a catalog with their name stamped in gold on the cover, and a toy for their dog, offered by club President Karen and husband Howard Spey. The AKC generously sent puzzles, posters, bandanas and more for the PeeWees, as well.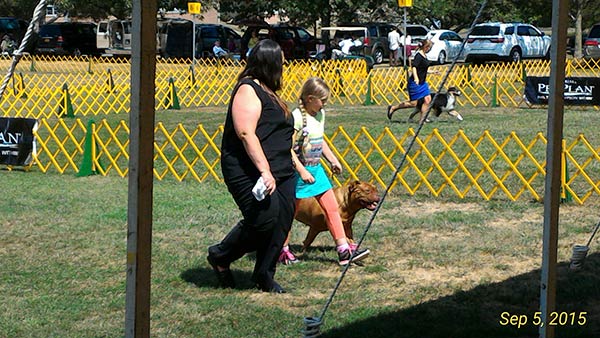 A group photo was taken by show photographer extraordinaire, John Ashbey, followed by a special PeeWee party with cake and refreshments for the PeeWees, their parents, the buddies and the stewards, generously sponsored by Johnny Shoemaker, AKC Delegate and Judge. Johnny was the one who originally presented the PeeWee concept to our Delegate Dog Show Rules committee. When the PeeWees were asked how many of them would come back and do this again, six very eager hands shot up! It's fair to say this inaugural event was a resounding success and a great time was had by all.
The response and comments from the spectators was nothing short of ecstatic and the Somerset Hills Kennel Club looks forward to presenting this Special Attraction again at its next show, Sept. 10, 2016. Mark your calendars now and watch the Somerset Hills Kennel Club website as the date nears for more information and closing date. We look forward to welcoming more PeeWees next year!
Photos courtesy of Andrew Warren, Spectrum-Photo.
Be sure to check out the great candid shots of the PeeWees taken by Andrew Warren, behind-the-scenes hard-working husband of Somerset Hills Show Chair Lisa Warren, on the club website, www.somersethillskc.org.
For more information about Somerset Hills, please contact Sue Goldberg at brandongrp@aol.com.