By Mert Kramer
Veterans and first responders put their lives on the line for us every day and sometimes there are circumstances when they need our help in return. Big Paws Canine Academy and Foundation is providing a helping paw to heroes in need in South Dakota, and members of the Sioux Empire Kennel Club (SEKC) have donated $5,000 to the organization in support of that important work.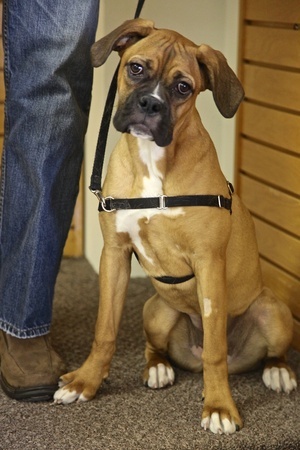 Big Paws provides service, therapy and companion dogs to disabled veterans and to first responders injured in the line of duty. The group recently opened a facility in Sioux Falls, South Dakota, where they've already helped more than 30 local veterans. The facility includes a large area to train dogs, with doors, stairs and other obstacles to help teach them how to help their future human partners through daily tasks.
SEKC recognizes the struggle Big Paws faces in obtaining the supplies and monetary support needed to grow their work in South Dakota. The club's $5,000 donation is funding the training and care of Whisky, a four-month-old Boxer who will eventually be placed with a veteran partner.
"Every 65 minutes, a veteran takes his or her own life, which adds up to 23 people dying by suicide each day. We're losing more service members each year to suicide than we have in most wars," said Mary Slavik, the co-founder of Big Paws. "The addition of a service dog helps to create a bond that is impossible to break."
The SEKC has been an influential kennel club in the Sioux Empire since 1961 and has been able to service many dog owners through its training classes and support of the canine community. Today, the club counts about 110 dog enthusiasts as members, many of whom have dogs titled in conformation, obedience, agility, rally and field trials. The club offers classes in conformation, obedience, agility, rally and field trials.