A police department's annual fundraiser has come under scrutiny from animal lovers, forcing the officers back to the drawing board.
The Cleveland County Sheriff's Office, a department in North Carolina, posted a photo of a German Shepherd puppy on its Facebook page explaining that the puppy would be raffled off at the Cleveland County Fair in October. Raffle tickets would be sold for $1 each, and the puppy would come with a 10x10 kennel and dog house. According to the Cleveland Observer, the funds would benefit the department's K-9 program.
But the response was not what they expected. More than 6,000 comments rolled in from animal lovers, criticizing the department for its lack of responsibility. In addition to comments about the risk of the puppy going to an abusive home if the winner isn't properly vetted, some people pointed out that the breed is extremely active and high-energy and requires research to know if one is the right fit for a home.
The department decided to cancel the raffle, but they defended the contest, telling media that they've done the raffle for 18 years and normally vet the home of the winner. A representative for the department also said that most people choose a cash prize instead of the puppy, in which case, the puppy goes home with someone in the department.
Amy Miller of the American Pit Bull Foundation, who called the sheriff's office when she saw the post, set up a GoFundMe page as a way for the department to raise the $9,000 the raffle usually brings in. Also, the American Pit Bull Foundation, based in Charlotte, North Carolina, offered to screen applications for the puppy who was meant to be raffled off.
Remember, if you're looking for a new puppy to do your research and find a responsible breeder to help ensure your new four-legged family member is the right fit for your lifestyle. Learn more here.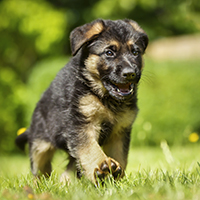 Selecting a Puppy
How do you know what breed is right for your family? How do you find a reputable breeder? What questions should you ask a breeder? Download this e-book for guidance on these questions and other important factors to consider when looking for a puppy.