When war veteran Wade Baker began struggling with post-traumatic stress disorder (PTSD), he relied not on pride, but on Honor. And now his family is doing the same.
Baker, who served in the Gulf War, suffered from PTSD for about 25 years, the Associated Press reported (scroll down for video). He received an honorable discharge from the army in 1998, and in 2012 he received Honor, a Labrador Retriever trained as a service dog by Paws & Effect, based in Des Moines, Iowa.
Honor would wake him from nightmares by licking his face and would curl on his lap, calming his nerves. It helped—for a little while.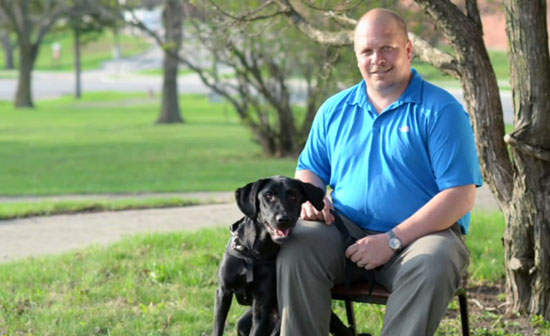 Screenshot from AP video; Paws & Effect
But it wasn't enough. Last August, Baker posted a goodbye message on Facebook that read: "Well I had a good run but it's time. I love you all," AP reported. He then went to the Maple Grove Baptist Church near his North Carolina home, called 9-1-1, and reported an active shooter. When police responded, Baker, who was alone at the church, opened fire and was shot dead at 44 years old.
During the funeral, Honor crawled under Baker's casket and lay down.

Screenshot from AP Video; by Susannah Smith
Now, Honor helps Baker's family—his wife, Michelle, and his children—heal. Normally service dogs are placed with a new handler, but the founder of Paws & Effect thought it best if Honor live as a pet with his family.
Michelle Baker believes if not for Honor, her husband would have been gone long before he was.
"Honor gave the boys their dad for more years," she told the Associated Press. "And that's an amazing gift."
Learn more about how service dogs help veterans with PTSD.
*Header image: In this Sept. 8, 2015 photo, Michelle Baker pets her husband's PTSD service dog, Honor, at her home in Clyde, N.C. If one of her boys becomes emotional, Michelle says, Honor will rear up and gently press his front paws into his chest. "And they just melt and embrace him. (AP Photo/Chuck Burton)