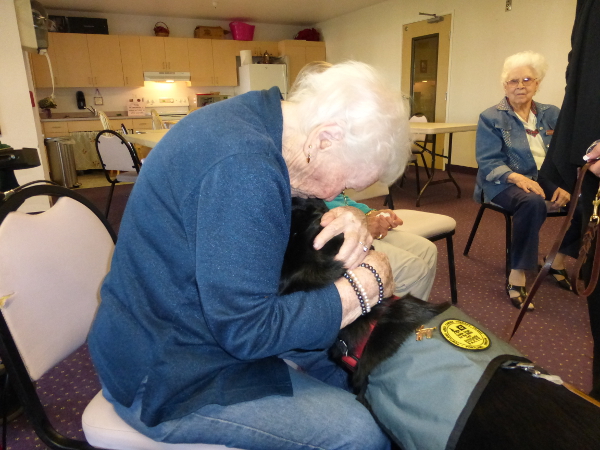 Studies show that spending time with animals increases human longevity. The finding may be of particular interest to dog lovers in their golden years.
An operator of more than 300 senior communities across the United States, has become increasingly dedicated to finding ways to involve animals in residents' lives.
Dogs have a singularly positive impact on the lives of every demographic. Holiday Retirement is now turning to four-legged caregivers and encouraging the use of therapy pets in its communities, and has just launched a series of resources focused on helping seniors connect with pets.
A study published in 1980 showed that heart attack patients who owned pets lived longer than those who did not. More recently, a research project from UCLA Medical Center in Los Angeles found that a 12-minute visit with dogs helped heart and lung function and anxiety. So it makes sense that pet-friendly senior living has become a sought-after option among retirement communities across the country.
Depression and isolation are common in the elderly. But is there anything less depressing than a melting expression, strokable fur, or a paw held out for a shake?
"The unconditional love an animal companion provides can help ease the transition into retirement living, provide ongoing companionship, and improve overall quality of life," says Harvey Brownlee, chief operating officer for Holiday Retirement.
At Kittery Estates in Maine, residents know firsthand how much a therapy dog can help increase socialization and minimize feelings of loneliness. Their weekly visits from Canine Companion Organization are highly anticipated, especially by one resident who even takes the opportunity to leave her wheelchair to sit on the floor with the dogs.
"For seniors who have pets, we want them to be able to have experiences in our communities that benefit their quality of life," said Brownlee. "For those who do not have pets, therapy pets offer an alternative in which seniors can still get these benefits."