It all started with an unusual request. Officer Laura Clague of the Shaker Heights Police Department in Ohio was working dispatch on Tuesday, February 16, when she took a call from a resident who was unable to keep his Labrador Retriever puppy due to "heartbreaking circumstances," the police department reported.
Being a dog lover, Officer Clague decided to go above and beyond and promised the owner she'd find the puppy a loving new home. "I understand it's not part of my job, but I personally wanted to find a place for him to go," she told AKC.org. She took the dog back to the police station and let the staff play with him while she worked on a solution.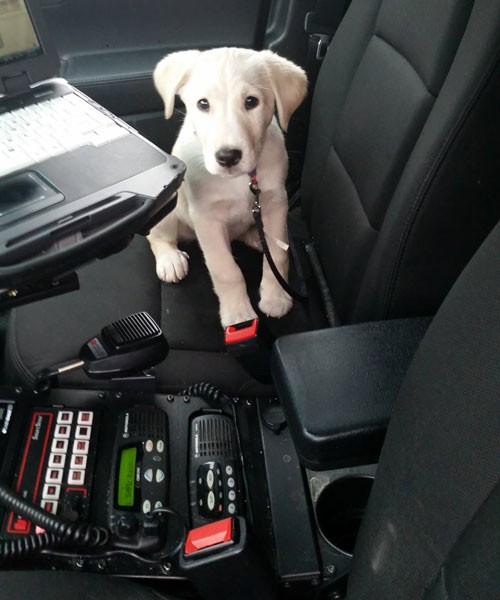 Meanwhile, her colleague Officer Matt Dunn had recently begun talking to his girlfriend about adding another dog to their family, which already included five children and a 110-pound German Shepherd Dog. He arrived at work and was greeted by Clague and the puppy. After a quick phone call to his girlfriend, it was official: Officer Dunn had his puppy, and Officer Clague had kept her promise. "I couldn't resist," said Dunn. "I brought him home that night."
When Clague told the resident that Dunn would be taking the dog, he was "overwhelmed and crying," she said.
In his first week in his new home, the puppy, now named Harley, has adjusted well, Dunn reported. "He was really bashful at first, but now he's really attached to my girlfriend. He follows her everywhere. And the kids and my other dog love him."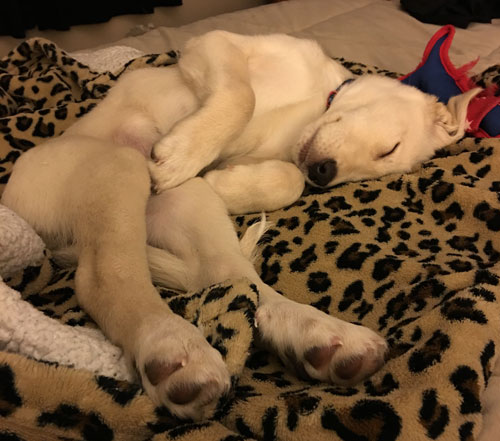 Congratulations to these officers for a job well done.
Note: Both the Labrador Retriever and the German Shepherd Dog made AKC's 2015 list of most popular breeds, just announced on February 22.