Submitted by Kimberly Hoeppner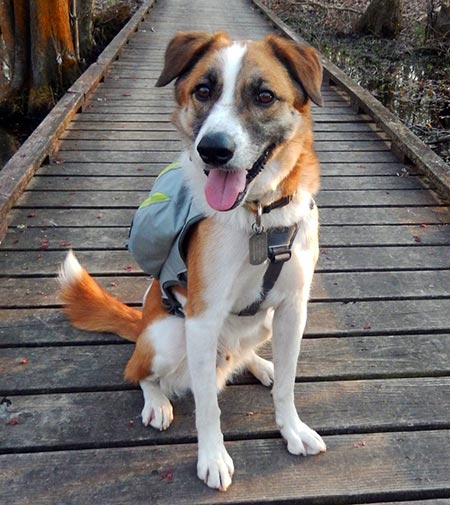 My very unlikely little dog Turbo is participating in this year's AKC Rally® National Championship.
On November 11, 2011, I adopted Turbo from the Louisiana SPCA. Turbo's name was "Jim" when I met him that day. I soon found out from shelter volunteers that poor "Jim" couldn't catch a break from bad luck, and that he had spent his first year of life shuffled around in the shelter.
"Jim" had been found as a young pup on the streets of New Orleans and had gone through three different owners before me. With each adoption, he was returned to the shelter.
I don't know why, but there was something about "Jim" that I felt needed me. When I asked the shelter volunteers to meet him, they took us out to an outdoor play yard. When "Jim" stepped into the sun, his tail revealed itself from between his legs and he took a big shake, as if shaking away the shelter for just a moment to enjoy the outside. When I reached out to touch him, though, he cowered in terror, flinching from my touch. I knew this dog needed a chance. Seeing how his demeanor relaxed in the sun made me realize this dog still had a life underneath the hard walls he had built up around himself. I'm a hobby hiker and I envisioned us going on trails together, enjoying the beauty of nature as a happy team. I never owned a dog before; but I knew that day, that this dog would be mine and I would do whatever it took to make him come out of his shell.
After adopting "Jim," I renamed him Turbo. And I soon realized that the name fit him well! The first day home with him, he escaped out of a door, running full blast. Luckily I caught him. However, earning this dog's trust and teaching him to trust humans and his surroundings would prove to be a bigger challenge than keeping up with him. Turbo was terrified of everything. He was deathly afraid of men, especially men in uniform. My fiancée at the time was in the Marine Corps and the first time he came home from drill in uniform, Turbo ran for his life and hid, shaking, behind a large piece of furniture.
Turbo had no manners, no confidence, and no personality. I remember crying, trying to figure out what to do with this broken dog. The shelter had told me that if Turbo came back again, he wouldn't be put out for adoption again. I was literally the last chance for him. Returning him was not an option. So one day, instead of crying in defeat as Turbo watched me suspiciously, I decided I would try to train him. I never would have guessed that by training a dog, you can give that dog a purpose to live. I was amazed by the strength of the bonds that can develop between a person and a dog through training. I was shocked by the personality and confidence that can be revealed when a dog is given direction.
Turbo and I have struggled, learned, and accomplished a lot together since those early days. Each day is a new adventure for us. Turbo is now a happy dog whose tail wags high in the air. He now gets excited for new experiences. Thanks to AKC Canine Partners, Turbo has done well in obedience and rally competitions. And of course, I've got my little hiking buddy too. Turbo has completed hikes in 15 different states and will soon be attempting his first backcountry backpacking trip this summer! Training has opened up many doors in both of our lives, and we are happy to share the experience of competing in the 2015 AKC Rally National Championship together!