City dogs have so much to deal with—big crowds, noise, skateboards, taxis, and all kinds of tempting trash scattered along the street.
Now, the AKC has a brand new program to help dogs navigate through the urban jungle. It's called the Urban Canine Good Citizen. This offshoot of the AKC's CGC test, which celebrated its 25th anniversary this year, gauges the skills needed to thrive in these challenging environments. Dog must pass the CGC to be eligible for the urban test.
In this feature from a local television station in the biggest and busiest of cities—New York—we follow seven-pound Yorkshire Terrier Chowsie as he navigates the mean streets, ignoring such distractions as barking dogs, tidbits on the street, bicycles, and all kinds of footwear charging at him.
He takes it all with aplomb, proving that this little guy is a true New Yorkie.
To earn the CGCU, dogs must pass all 10 of the following items:
Exit/enter doorway with no pulling in dog-friendly buildings..
Walk through a crowd on a busy urban sidewalk.
Appropriate reaction to city distractions.
Crossing street: Stop at corner, stand or sit to wait and cross with no pulling (on leash, with owner). Crosses street under control.
Ignore food on sidewalk.
Person walks up and pets the dog.
Public Building (that is dog friendly). Walks under control in building (slick surface, carpeted floor).
Stairs, steps, or elevator under control.
Housetrained for apartment, condo, city living.
Transportation. Owner's choice depending on transportation needs.
If you would like to test your dog's urban IQ, check out the AKC's Canine Good Citizen website.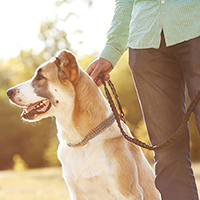 10 Essential Skills: Canine Good Citizen Test Items
Whether you are planning on getting your dog CGC certified or just looking to learn more about the test this e-book is a great place to start.