Bad behavior is the top reason dogs are relinquished to shelters, but what if the problem is not with the dog, but with the owner?
Researchers at the Center for Canine Behavior Studies in Bloomfield, Connecticut, are exploring the possibility that a dog's bad behavior could be caused by his owner's personality and psychological status. Dr. Nicholas Dodman, professor at Tufts University, and Dr. James Serpell, director of the Center for the Interaction of Animals and Society and a professor at University of Pennsylvania, are currently conducting the largest ever owner­–dog personality study, called the Animal Ownership Interaction Study, to learn how owners may influence their pets. They hope to use the findings to ultimately improve the bond between pets and owners and discover how to better predict personality matches for people looking to acquire a dog.
The researchers cite studies that have shown that "the owners of a sample of aggressive dogs were significantly more likely to rate themselves as tense, shy, and emotionally unstable … than a comparable sample of owners of non-aggressive dogs." Also, research suggests, "an owner's style of interacting with a dog can have a negative influence on the animal's working ability and likelihood of displaying undesirable behaviors."
The researchers hypothesis the following:
"Taken together, these findings suggest that the influence of owner attitudes, personality, and psychological status on the behavior of their dogs is probably mediated via their effect on the quality of the dog-owner relationship and the various interactions that comprise that relationship."
The study began in June and will continue for two years. It is still open for enrollment here. Participants will be asked to complete a 100-question survey online every six months for the length of the study.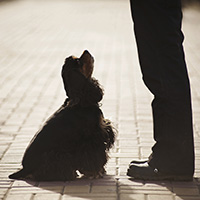 The Five Commands Every Dog Should Know
Do you want a well behaved dog but don't know where to begin? The Basic five commands e-book is a great place to start and will give your dog a strong foundation for future training.