We recently spoke with Patti Strand, Public Relations Coordinator for the Rose City Classic Dog Shows and AKC Delegate from the Dog Fanciers Association of Oregon, about the work she and fellow club members have done to grow entries and public attendance at their cluster. Check out the interview below to see if any ideas would work for your club and learn more about the cluster at http://rosecityclassic.org/.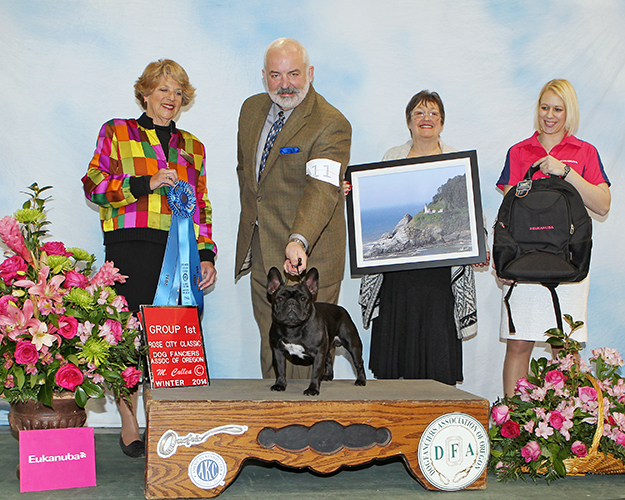 Please tell us about your show or cluster. What is your average entry and what events do you host for the general public?
Conformation entries at the Rose City Classic have stabilized at around 2,800 on our largest day of the five-day cluster, with another 200 in obedience and more than 500 runs in agility. In addition to conformation, obedience, rally and agility, we also host a CGC test on Friday, a Beginner Puppy class on Saturday and Meet the Breeds on Friday through Sunday. We also offer our breeder-exhibitors health testing clinics, some provided by local specialty clubs and some by professional vendors, and we host two semen collection vendors.
To involve the larger community, each year we offer a student art contest with a canine theme (e.g., Celebrity dogs of film and television, A dog owned by one of the 44 US presidents, etc.). Many of the region's schools participate. We hang the winning art in a prominent place at the show site, and on Thursday and Friday, local schools take field trips to the show so that their students can see their artwork on display. Many of the teachers give their students assignments to learn about the history of dog breeds: where they originated, what sort of work they did, and what the social and cultural mores of the local population were at the time. The kids even study breed standards. Then, when the judging program is posted on our website at www.rosecityclassic.org, students are instructed to pick a breed they like that will be shown during the hours their class will be at the show. Once at the show they are told to go to the ring when their breed is being shown and report on what they see. Kids are thrilled by this assignment. They anxiously interrupt their tour guides at the show to tell them, "I need to be at Doberman ring in three minutes to see my breed." The kids get totally into the show scene and love their breeds.
How has your club successfully increased show entries?
The Rose City Classic is a five-day cluster made up of two all-breed clubs, which each hold two shows at the cluster, 17 stand-alone specialties, and four designated specialties. We work continually with our specialty clubs to support their success as well as the success of the all-breed clubs. We experienced a big drop while the economy was at its worst, but we are bouncing back now. The biggest reason we've remained successful is because we work hard to provide our exhibitors with the best show experience possible. 1) We put a lot of effort into developing good judging panels; 2) We give our exhibitors a number of events to enjoy; 3) We constantly work with our venue to make things exhibitor-friendly, like providing large rings (matted rings where necessary), reserved and open parking, and grooming options; 4) We work with local hotels and restaurants to get discounts and other benefits for our exhibitors. At this point, local hotels compete with each other to get our business.
How do you encourage the general public to attend your show/cluster?
We promote the show in numerous ways, including through the website, a Facebook page, TV and radio interviews, digital ads, and when possible, ads from local businesses. The art contest brings in families.
Does your club set aside a budget for advertising or other promotional activities?
Yes. It's a small budget, but we use it carefully to maximize results. We use all the free media available in the community, too, like some TV and radio stations, print media outlets, organizations that promote tourism, and free calendars/online bulletin boards where organizations are invited to post their events at no cost. We also seek out free PSA opportunities wherever possible.
How do you promote your club on a year-round basis?
We maintain a website (www.rosecityclassic.org) that has information about the shows and advertises our sponsors. We are also building a Facebook presence (https://www.facebook.com/pages/Rose-City-Classic-Dog-Shows).
How does your club recruit new club members?
Our club is open and we actively seek new members. We hold open meetings with educational programs at least twice a year and extend invitations to local dog enthusiasts who are not yet members of a local club.
What are your three best tips that could help other clubs to grow their show?
1) Hire the best judging panel you can, giving special consideration to judges who treat exhibitors well.
2) Make the event as exhibitor friendly as possible.
3) Identify your show's biggest assets (talented membership, venue, its date, community atmosphere and potential for sponsorship) and develop your show accordingly. What works in an urban setting probably won't work as well in a rural setting and vice versa. Put on the best dog show you can, developing and using the assets you have.
Who in your club handles public relations and/or advertising activities?
I am the PR coordinator for our club and I would be happy to help anyone who contacts me needing information. My email is Patti.L.Strand@gmail.com.