They come with attention deficit disorder, learning disabilities, anxiety, and depression but their visits quickly transcend into a lovefest – thanks to Skylar, a 4-year-old Golden Retriever.
For more than a decade, Lisa Bernstein, a Rockville, Maryland, psychotherapist/ADHD coach, has been using dogs in her practice with positive results.
Previously she had a Border Collie that always remained alongside her after an initial greeting with a client, while her Golden Retriever, Carmen, remained with the client. Skylar has been her co-therapist since she was a puppy, gradually growing into an integral role in the therapeutic process.
"[Skylar] carries herself with confidence and doesn't shy away from people, making her a perfect complement," Bernstein explains. "And she has the charisma that draws folks to her."
Bernstein typically works with clients ages 13 to 80 with challenges from ADHD and concomitant executive functioning disorder. Both of these neurological conditions interfere with an individual's ability to focus, plan, initiate and follow through with activities, block out distractions, and regulate his/her emotions.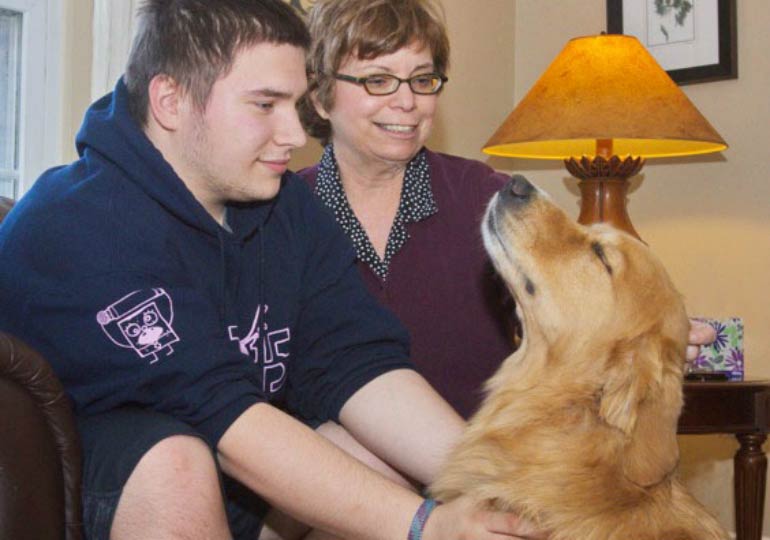 In other words, they are great candidates to having a dog alongside during their 50-minute sessions.
"I started thinking that since Skylar [her AKC obedience competition partner] has a problem focusing when there are so many proverbial squirrels and smells in the world, why not use her as a role model in a very anthropomorphic sense," Bernstein says. "There are many analogous situations between dog training and being disciplined in carrying out daily activities and breaking down life goals."
The clients don't suddenly find themselves in a room with Skylar at Bernstein's home, however. They are asked first – and about 95 percent, she estimates, think it's a great idea. Generally, any reservations stem from dog phobia or because a parent is concerned Skylar would be a distraction. The only contraindication is if the person has a dog allergy, in which case Bernstein switches to Skype. Even then Skylar's presence, she adds, in the background provides a sense of calmness.
Bernstein paints this scenario of a typical session:
Greeting: The minute the doorbell rings, Sky does a sit, stand, or down stay. It is important that the client does not feel rushed or that Skylar doesn't bound out the door to get to them. Plus, this teaches impulse control and delayed gratification.

Party: Then Sky is released and the petting party begins. Skylar and Callie (a Golden Retriever relative) generally kiss, shake, perform tricks, and circle the client, wagging their tails. (No jumping is allowed.)

Session: The client sits down and Sky generally positions herself at his/her feet and watches for signs of tension. At that point, the individual usually reaches out and pets her. At some point, Bernstein may have to tell the dog to "place" or that it's enough. That teaches transitioning for the client and the need to focus more on the problem at hand.

If there is more than one client, Sky generally sits next to the one who exhibits the greater stress. If someone raises his/her voice or cries, the dog immediately jumps to her feet and attempts to nudge herself under that individual's hands.

As a therapeutic tool: The 55-pound Skylar models unconditional self-acceptance in the moment, which is a state of mindfulness, and is a conduit for Bernstein to reflect on emotions.

Studies have reflected that people are more likely to generate goals and exhibit more confidence in carrying them out in the presence of a pet. Often Bernstein has clients pet Sky while brainstorming goals and working on action plans. At times, Skylar may fetch a toy or a dropped pencil and when a play break occurs, this prompts a discussion about getting back on task.

Ending: Generally, Skylar lets clients know when the session is up by going to the door. This elicits instant joy from the youngsters and signals more hugging time with Sky. When they depart, she leaps on the sofa (it's allowed then), presses her nose on the window while watching them head down the driveway, making them feel special.
When asked if she sees a difference in Skylar's interaction with clients based on their age, Bernstein responded, "Skylar is very intuitive and is much more active with the younger ones, sometimes even gently mouthing their hands. She also may do a 'sit pretty,' placing her two front feet on their knees. She might also grab a toy or even a balled-up piece of paper as an offering, inviting them to play tug-of-war.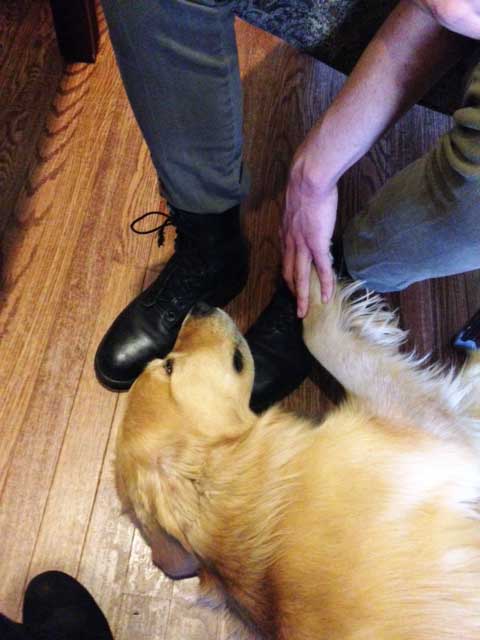 "With the older clients, she is more reserved and waits for them to sit and then curls up alongside, seeking their acceptance and extending a paw to shake."
Bernstein's female clients tend to gravitate to Skylar more readily. "They ask lots of questions about how old she is, where I got her, how I train her, etc. They also want to share stories about their own dogs.
"The guys tend to be a bit more reserved for a few sessions and more task-oriented," Bernstein adds. "They often are more embarrassed over needing or asking for help from a therapist and not as likely to let down their guard by sitting on the floor and petting her. Gradually, Skylar will do her thing – making eye contact, softly purring, lying beside them, bringing toys, picking up their dropped pens, etc., and they are smitten."
Recently, a male client in his mid-30s who comes off as formal and reserved remarked how he was becoming attached to Callie and Skylar. "He then asked me when their birthdays were and proceeded to take out his cell phone to remind him to send them a basket of treats. We are focusing on working memory and follow through, so this was a very positive step for him. Plus, there was a great value in the very empathetic act of connecting so intimately to another creature."
Bernstein also reflected on a new client, a high-school junior, who was forced to come by his parents for video addiction and organizational challenges and was not buying into the therapeutic process. "He began the session with his arms crossed and gave very short answers. Quite frankly, I didn't expect to see him again, but upon leaving he volunteered to return with the understanding that it was 'only to see the dogs.'"
And what about Skylar? Does she reach an emotional burnout point some days?
"Her needs always come first," Bernstein replies. "My primary job is to look out for her. I made the decision to not continue working with certain young clients who were not able to treat her gently with respect."
When Skylar needs to decompress, she retreats to a special nook beneath Bernstein's printer table where she re-energizes for a short time before reappearing with gusto. "Because I have the luxury of a home office, if she needs to go out or wants water, I can let her out of the room. She will literally knock on the door when she is ready to come in."
And what do her clients have to say about her Golden Retriever's co-therapy effectiveness? Here are a few reviews from her clients:
"Skylar provides comic relief just when I think nothing is funny."
"She calms me down, and I no longer feel that I have this need to keep moving my body to focus."
"Having Skylar in the room makes me feel like I have something to share with you and something in common."
"I have more confidence in you as a therapist because Skylar is so well trained and under control."
"I have come to see you after really, really bad days and then Skylar flops on me and I feel better right away."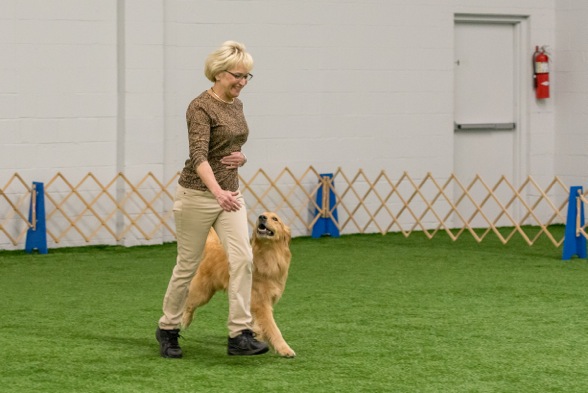 Bernstein and Skylar's working relationship doesn't end with the therapeutic sessions. They are obedience partners on weekends and competed in the inaugural Westminster Kennel Club Masters Obedience Championship in February.
"Clients also benefit from hearing about both our challenges and successes in the obedience ring, which often are analogous to experiences in their own lives," Bernstein says. "She also models self-control through her obedience demonstrations, and helps clients learn to shift between play and work."
In other words, the Sky's the limit with this gifted Golden.