New York City–based photographer Elias Weiss Friedman doesn't own a dog, but he gets plenty of furry-face time with his canine subjects each day thanks to his Instagram project, The Dogist. Having attracted more than a million followers on Instagram, Friedman has traveled to 30 cities around the world, snapping shots of dogs of all breeds, ages, sizes, and colors. On October 20, he releases his first book, The Dogist: Photographic Encounters with 1,000 Dogs
(Artisan Books, $24.95). We sat down with him to learn what makes a dog a perfect subject and how he makes the transition from social media to print.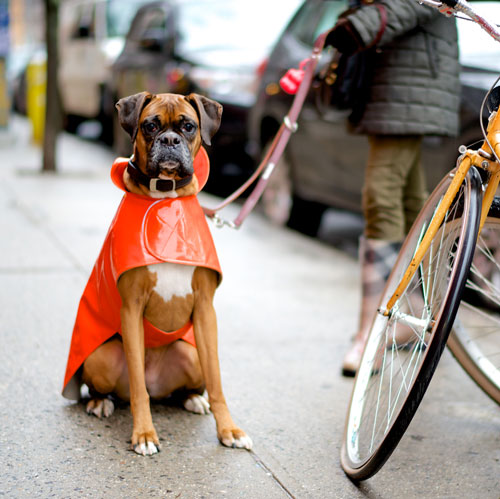 Topaz, a Boxer
AKC: What do you look for when selecting a dog to photograph?
The Dogist: "Anything that stands out. There are a lot of fancy breeds and dogs with fancy haircuts or interesting color patterns, but there are tons of dogs who stand out to me even though they may seem typical at a first glance. Every dog deserves a moment in the spotlight.
"The first image I took, which later became my logo, was of a Boxer in Vienna, Austria. I took a portrait of him because there was this funny look he had that was very devious. I realized dogs share so much emotion through images and decided to make it into a project."
How do you hope to capture the dog?
"I want them to express themselves, and I want to capture a moment between me and the dog that's clearly a moment. I want them looking right in the lens. The way I get their attention usually affects the face they make. I have a squeak toy that can bring out a play expression. If I hold up a treat, they'll often go into "good dog mode" or start licking their chops. Sometimes, I'll make a growl or bark sound, and they stop and look with a curious or confused expression. Certain breeds make more expressions than others, like Weimaraners for example, and all shepherds seem to look very confused when I make the growling sound. Other dogs just smile."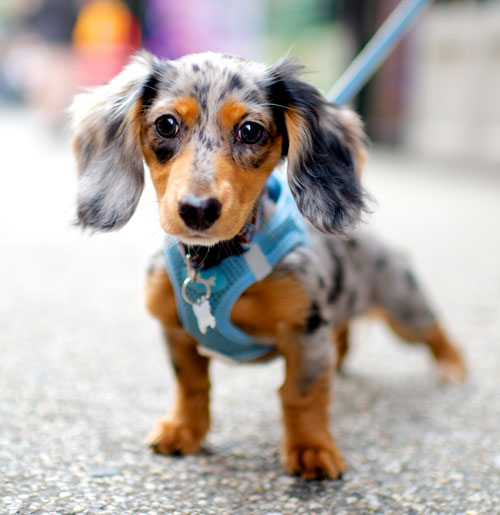 Rain, a Dachshund
What can people expect in your new book?
"I think of it as a series of outtakes as well as a collection of dogs that haven't been featured on my Instagram. There's a total of 1,000 dogs in the book. Also, I'm able to post a whole action series of some dogs. On social media, I generally post one image of each dog, sometimes two. In the book, I may include a spread of the same dog with a ball, shaking, climbing, and so on, and I can group dogs by theme. For instance, there are pages of dogs with their eyes closed, like they're meditating; a group of dogs tilting their heads; and rare breeds. Also, I share stories so you get more background on the dogs and owners. The idea is that you can turn to any page and start there."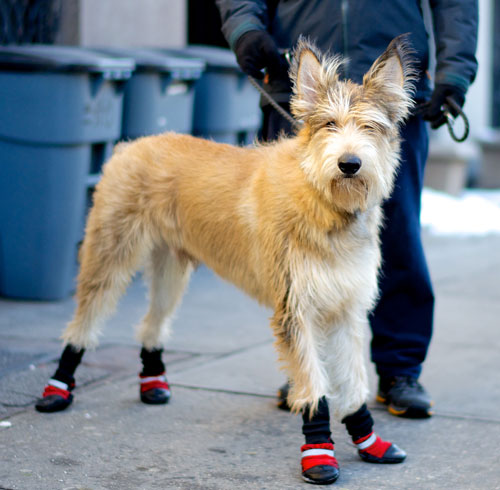 Helo, a Berger Picard
You work with animal rescue groups, too.
"Give a Dog a Bone is the rescue aspect of my project, and it's an important part of what I do. My mission is to tell the story of dogs, and a part of that story is dogs in shelters. People can make a donation, which sponsors a rescue dog to be featured. I'll deliver a bone to a dog at a shelter and share an image of the dog with the bone as well as his information and availability for rehoming. A good picture goes a long way in helping a dog catch the attention of a potential owner. I've also worked with Best Friends Animal Society in Utah to photograph the dogs rescued from Michael Vick's dog-fighting ring."
How has social media helped you, and artists like you, share art?
"Artists before had trouble with distribution. Social media has changed the game. You don't have to be a huge personality to get noticed. Which is good because I'm sort of a introvert. Most people have Instagram, and enjoy seeing what others are doing and living vicariously through them. That gives me an opportunity to invite them to the Dogist party."
And what is your goal once you get their attention?
"Part of what I want to do is create a happy place. So much of the news is depressing or created for shock value, and it drains your faith in humanity a bit. I want to cut through the crap with little doses of happiness. Dogs are content with just food and love. They live in a level of being that is something we should try to be closer to."

Click here to see an exclusive sneak peek of the book.
Pick up your copy of the book by clicking the photo below.
All images excerpted from The Dogist by Elias Weiss Friedman (Artisan Books). Copyright © 2015. Photographs by The Dogist, LLC.