By Mary Lou Olszewski
The beer was cold, the rib meat fell off the bone, and we had a ball!
The Northeastern Maryland Kennel Club recently hosted a 10% Night at a local Texas Roadhouse restaurant as a fundraiser for AKC Reunite. It was a huge success, with more than $350 raised for our cause.
Meet Carol and Jerry Wiley, huge AKC Reunite supporters and members of the Northeastern Maryland Kennel Club. They manned the table with our donation box and a trifold a member made us for display touting the AKC Pet Disaster Relief trailer project: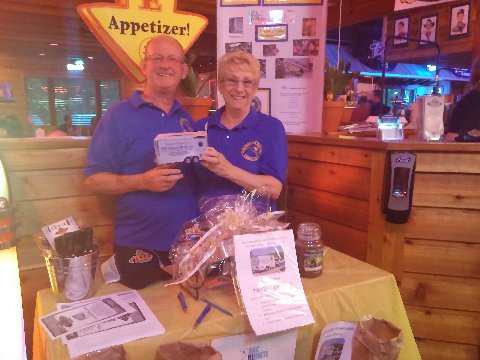 Raffle items donated included dinner for two from Texas Roadhouse with some coupons, peanuts and a bucket; a basket of McCormick grilling spices and rib rack donated by club members; and a Yankee Candle donated by a member.
Despite the weather (a tornado warning at one point!), many people came out to support the event and this worthwhile project.