>AKC Gazette:
At last! Fifty-eight years after the final edition of the original Morris and Essex Kennel Club show, we now have the definitive book on the world's most glamorous outdoor dog show. "The Golden Age of Dog Shows: Morris & Essex Kennel Club 1927–1957," with text by Debra Lampert-Rudman, has been brought out in advance of the upcoming M&E show.
If the era covered in this luscious coffee-table book was indeed the sport's golden age, then Morris and Essex was its platinum event. Every year for three decades (except during World War II), dogdom's royalty converged on the New Jersey estate of M&E founder Geraldine Rockefeller Dodge, who, William Secord writes in his introduction, "with a family fortune behind her, spared no expense in making her dog show both elegant and prestigious."
In these pages we meet great dogs of yesteryear who factor prominently in their respective breed histories, among them the legendary Ch. Nornay Saddler, of whom it was said that when they drew up the Smooth Fox Terrier standard "they closed their eyes and dreamed of Saddler"; Bedlington Terrier Ch. Rock Ridge Night Rocket, M&E's only two-time BIS winner; and the stunning Irish Setter Ch. Milson O'Boy, who went BIS in 1935 before a record crowd of 35,000.
Also featured are such giants of the two-legged variety as Alva Rosenberg, Max von Stephanitz, and Percy Roberts. There are wonderful photos of future grand dames Jane Kamp (Forsyth) and Anne Hone Rogers (Clark), then a pair of young hotshot handlers; Herman Mellenthin, whose BIS Cocker Ch. My Own Brucie was the product of one of the greatest breeding programs of all time; and the stylish Hayes Blake Hoyt (pictured on the book cover), who in 1940 gamely handled her Poodle Ch. Blakeen Jung Frau in a driving rain to BIS over a mind-blowing one-day entry of 4,027 dogs.
In a way, though, the real heroes of "The Golden Age of Dog Shows" are the photographers—Evelyn Shafer, William Brown, and Percy Jones, most prominently—whose artistry and "eye for a dog" made this book possible.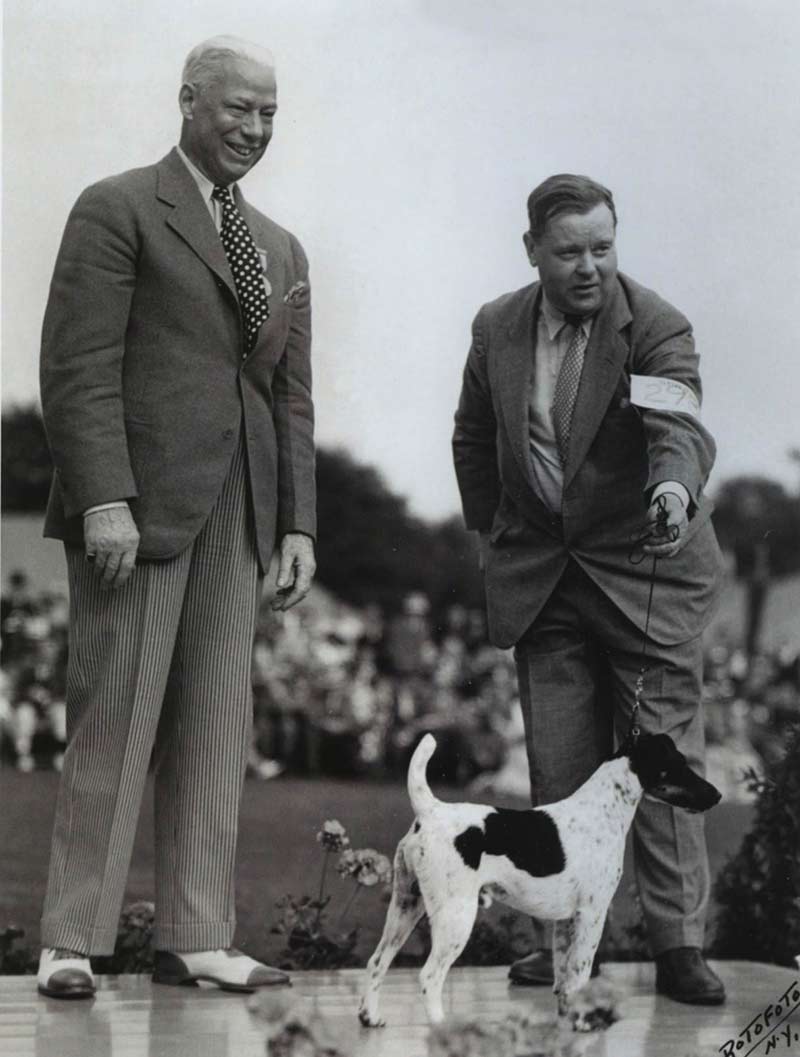 The luxurious volume is stuffed with so many vintage photos, press clips, and pictures of M&E ephemera (catalog pages, judge's badges, rosettes, and so on) that readers might feel as though they are strolling the Giralda show grounds in their hallowed heyday—all that's missing is one of Mrs. Dodge's famous box lunches. The text is authoritative, the photos are well chosen, and the layouts are as elegant as the subject they celebrate.
"The Golden Age of Dog Shows" will stand in the AKC Gazette reference library, right beside Bill Stifel's admirable history of Westminster, as an essential historical text. It will also, no doubt, be pulled from the shelf frequently just for the sheer fun of it. —B.B.
"The Golden Age of Dog Shows: Morris & Essex Kennel Club 1927–1957," can be purchased here.
PHOTOS: Geraldine Rockefeller Dodge meets movie star Rin Tin Tin, one of many dog-world VIPs who made the pilgrimage to Giralda Farms during M&E's golden age.
Ch. Nornay Saddler wins the Terrier Group in 1938. The legendary import would go Best in Show in 1941, the last year before M&E's World War II hiatus. (courtesy Morris and Essex KC)
There's plenty more on the glory days of Morris & Essex here.