The National Security Agency, in Washington, D.C., can be a pretty serious place, what with all that fretting and pondering about keeping the country safe.
But there are no furrowed brows when one regular to the office bounces into view. His name is Zeppelin and he's a wiggly 7-month-old yellow Labrador Retriever puppy.
Zeppelin is a service-dog hopeful from Canine Companions for Independence, a 40-year-old nonprofit organization that provides assistance dogs, free of charge, for the disabled. He's part of an NSA program in which employees train future service dogs on the premises.
"These dogs are changing lives," Pete Geoghan, a leader in NSA's Research Directorate, said in a release from the agency. "It's amazing to see how much help the dogs provide." Geoghan has taken on the all-important job of volunteer puppy raiser. He is working with a mentor, Sharon Shoemaker, an NSA mathematician who pioneered the program to bring assistance-dogs-in-training to NSA's headquarters. She worked closely with the Officer of Security and Policy in the Disability Affairs Office to get the program off on the right paw.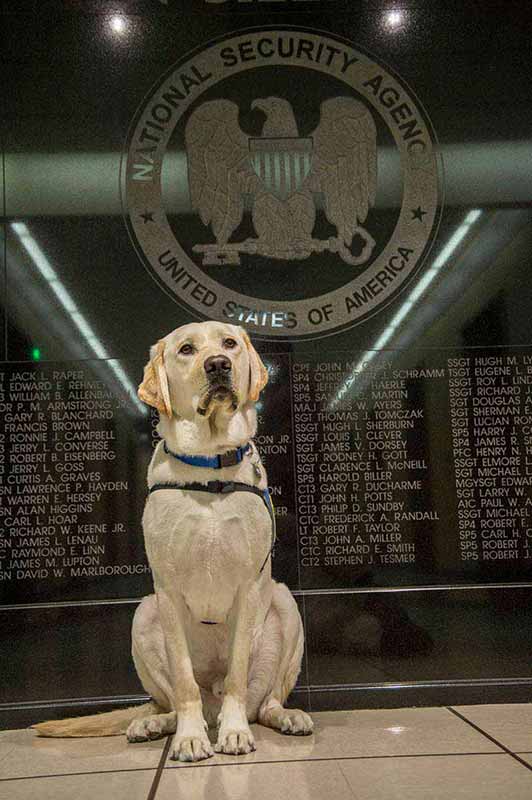 Teaching the Basics
Highly skilled canine helpers are not born that way. They have to be trained. For the first few months their education consists mostly of learning all the things that a well-balanced pet must know, such being calm around strangers and new situations and to respond to basic commands. They must master many skills before their formal training begins.
Organizations like CCI rely on networks of puppy raisers to provide this vital link and also give the puppy healthy food, veterinary care, and, of course, a safe loving environment.
Zeppelin is not the only CCI dog at NSA's headquarters. Coby, a 3-year-old retriever, is the working canine assistant for Army Staff Sgt. (Ret.) John Barbare, an NSA strategic planner. Barbare received two Purple Hearts for injuries sustained while deployed in Afghanistan. The dog knows 45 commands that help Barbare with tasks made difficult by his injuries, according to Meagan E. Roper, who wrote the NSA release.
"His job is to do stuff I can't do," Barbare said.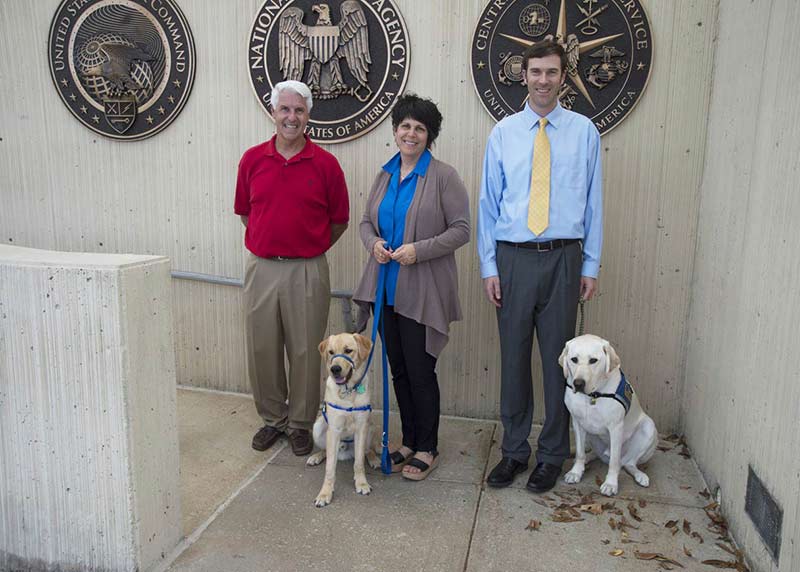 ALL PHOTOS COURTESY NSA
-Mara Bovsun
For more on training:
AKC S.T.A.R. Puppy
Puppy training classes-socialize your pup and earn a gold medal
AKC's Canine Good Citizen
Good manners training; learn the basics like sit, down, come, stay. Advanced dogs earn AKC Community Canine and AKC Urban CGC titles.
More Like This:
World's Oldest Operating Pet Cemetery Honors Service Dogs
World's Oldest Operating Pet Cemetery Honors Service Dogs