There is no bigger honor for man's best friend than to win Best In Show at the Westminster Kennel Club Dog Show. There have been 101 different winners since the Club's inaugural show in 1907 (seven dogs have won more than once and there was no winner in 1923), but all 101 of those winners couldn't be more different from one another. From frisky Fox Terriers to dynamic Doberman, and from perky Poodles to serene Siberian Huskies, Best In Show winners are real gems.
Though their personalities are all different, the last nine Westminster Kennel Club Dog Show Best In Show winners do have one thing in common – they are all fed Purina® Pro Plan® as their primary diet. Here are some of the most memorable recent winners below.

James, 2007 Best In Show winner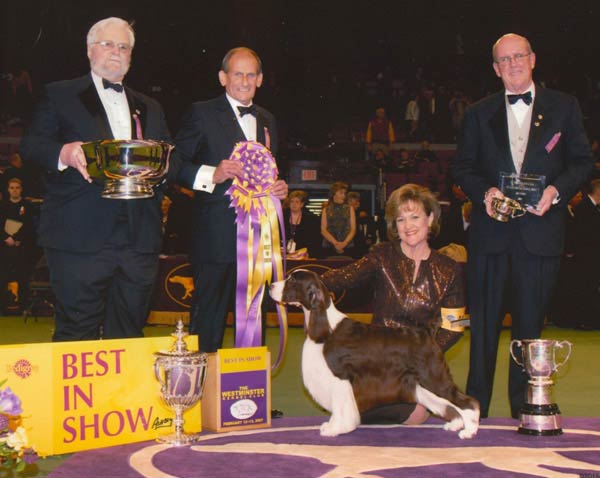 When Ch. Felicity's Diamond Jim, aka "James," a liver- and white-colored English Springer Spaniel, won Best In Show, he jumped up on his back legs, put his paws on handler Kellie Fitzgerald's shoulders and licked her face, introducing the world to his kind and lovable personality, something everyone who knew him was all too familiar with.
"He was always delighted in making 'his people' and everyone he met happy and putting on one heck of a show," James' owner and breeder Teresa Patton said. "He was always the showman and had the heart of a champion."
Purina® Pro Plan® Performance-fed James was a people-pleaser even before his show career. He became a therapy dog when he was just 7 months old, taking a special interest in Alzheimer's disease patients and sick and disabled children throughout his 10 years of life. He would lay with "his" Alzheimer's patients while they would stroke his head or his soft ears, just keeping them company and being their friend. Often times they'd begin to talk to him after days or even weeks of not communicating with anyone, even doctors.
"He was intuitive about who needed him most," Patton said. "James could work a room of children or elderly like a champ. He loved to make those around him feel loved and cared about… He was very gentle and kind."
After seeing James with children at the Ronald McDonald House in New York City, Westminster Kennel Club Dog Show host David Frei once told Patton that James was the best working therapy dog he'd ever seen.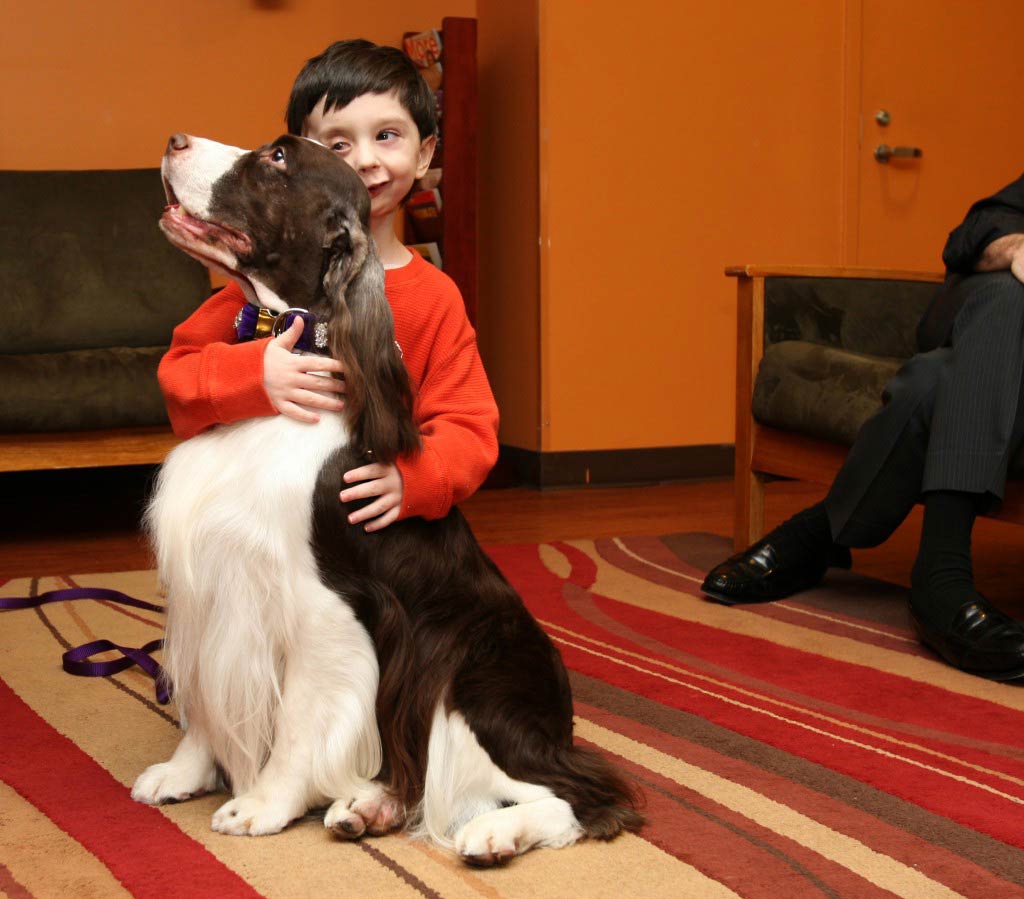 In addition to being a canine therapist, James, was also quite the philanthropist. He participated in charity walks and fundraisers, even earning $15,000 for Alzheimer's Association.
When he wasn't winning Best In Show titles or caring for others, James, loved to play with toy frogs. He even had a frog head-shaped pillow in his kennel that he'd rest his head on. He wore out the first one, so Patton had to buy a replacement because he loved it so much.
James unfortunately died of lymphoma in 2001, just a month shy of his 11th birthday. Patton can be assured that James made the most of his life, bringing joy to everyone around him. As she said, "He made everyone he met feel warm from the inside out."
Uno, 2008 Best In Show winner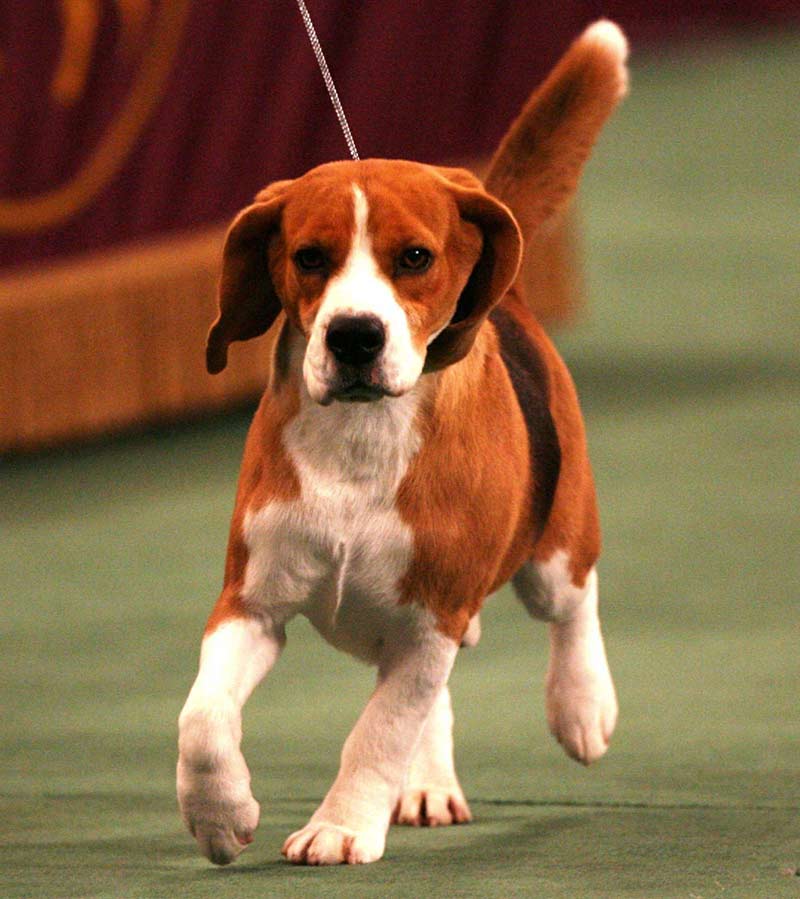 Perhaps the most celebrated Westminster win came from Ch. K-Run's Park Me In First, aka "Uno," the first-ever Beagle of any variety to win Best In Show at the prestigious event. Viewers still remember the way the then-2-year-old hound threw his head back and gave that signature beagle howl after judge Dr. J. Donald Jones asked Aaron Wilkerson, Uno's hander, "May I have the Beagle?" naming him Best In Show.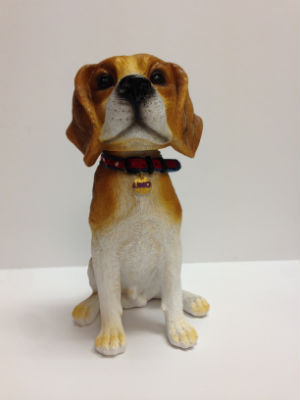 Uno became a canine celebrity after his big victory, traveling the country and reveling in his win. He became the first Westminster winner to visit the White House, where President George W. Bush and First Lady Laura Bush presented him with a new red collar. Pat Quinn, the lieutenant governor of Illinois, where Uno was born, declared March 5, 2008 Uno the Beagle Day. He "threw out" the first pitch for a St. Louis Cardinals and Milwaukee Brewers game. And he had the honor of riding on the "Peanuts" float at the 2008 Macy's Thanksgiving Day Parade, where he danced around with Charlie Brown and Lucy. There was even a line of Uno bobbleheads produced, complete with his new collar from the White House.
"I thought bobbleheads were for rough ranchers in pickup trucks. I was afraid it wouldn't be a good thing for Uno to be a bobblehead," his owner, Caroline Dowell, said. "But then when I saw the bobblehead, I thought it was pretty good. It really looks like him. I like it."
Since his Westminster win, Uno has lived with Dowell across the street from her 200-acre ranch outside of Austin, Texas, where he used to play with the neighbor's potbelly pig, Napoleon, running up and down their shared fence line together, an activity that, to Uno's dismay, came to a close after a few years.
"Napoleon is big and fat and lazy now," Dowell said. "Uno still looks for him through the fence though, just in case."
After they retire, most Best In Show dogs go on to breed or sire puppies. After Uno's win, Caroline received phone calls from as far away as China and South America, all from people who wanted to breed their dogs with Uno, but it turned out that he was sterile. Caroline saw it as a blessing in disguise. She was happy to have Uno as just a pet and not have to worry about breeding.
Now 10 years old, Uno spends most of his time lounging around with his best friend, a fellow Beagle named Maddie. They sleep on a futon together and play with a group of Dowell's other Beagles. He still makes public appearances and gets recognized when he's out. People even stop him to take pictures.
"He loves his public. He loves to go. He likes to be out," Dowell said. "He does not mind having his picture taken with 100 people. He doesn't get tired, bored, or restless. He likes to travel and go places. If he thinks he's getting ready to go somewhere… oh boy."
As far as Dowell knows, Uno is still perfectly healthy. Despite his age (he'll be 11 in May), he hasn't slowed down at all, and he still eats Pro Plan® 30/20 SPORT Chicken & Rice. According to Dowell, "You could put him in that ring and he could win tomorrow. He looks like he's always looked. He's grayer and faded in color, but that's it."
Stump, 2009 Best In Show winner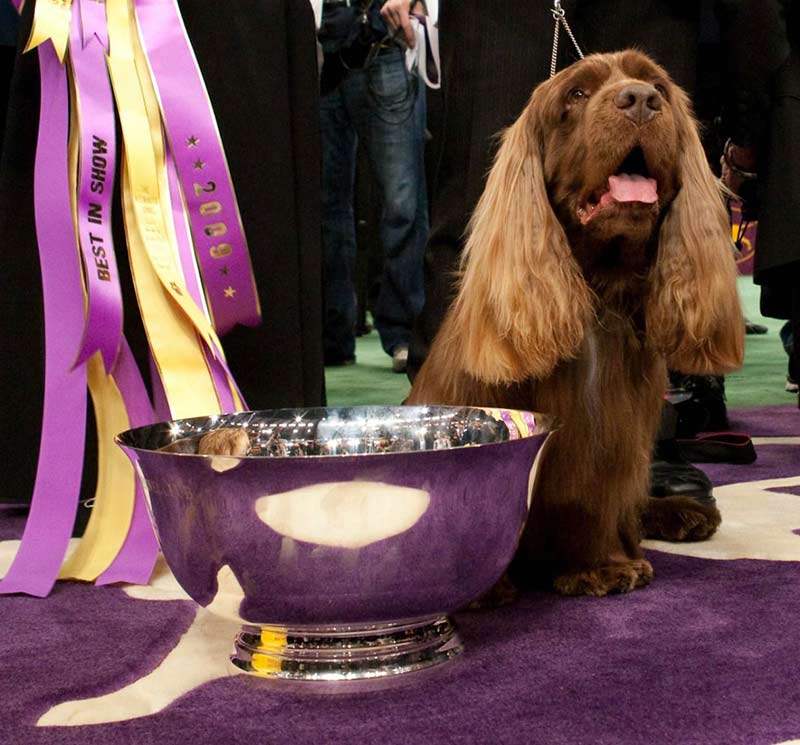 Also the first of his breed to claim the Best In Show title at Westminster, Ch. Clussexx Three D Grinchy Glee, aka "Stump," the Sussex Spaniel also had the honor of being the oldest dog to win Best In Show, taking the top prize at 10 years, 2 months, and 10 days old.
Stump's path to Best In Show certainly wasn't an easy one. He won the Sporting group as a 3-year-old in 2004, and everyone thought he was on his way to becoming a superstar in the dog show world, but three days after an international show in Florida that same year, Stump went from being a healthy, vibrant spaniel to quickly being on his deathbed with an unknown, life-threatening illness. His owner, Cecelia Ruggles, immediately took him to Texas A&M University to find out what was wrong. Test after test, doctors learned Stump had a massive cardiac infection and all his organ systems were beginning to shut down, something they'd never seen before. They told Ruggles that Stump was beyond saving and should be put to sleep.
"I said, 'Listen, the reason he's with you is because you have access to personnel and drugs that nowhere else does,'" Ruggles recalled. "'I want you to pull out all the stops and save his life.'" And after 20 days of being on death's door at Texas A&M, they did. Stump miraculously made a full recovery.
After that, Stump retired and was simply a pet. He spent his days hanging around the house and going for walks with his handler Scott Sommer, but there weren't any plans for Stump to re-enter the dog show world. But then, more than half a decade later, Sommer took a good look at him before the 2009 Westminster Kennel Club Dog Show and told Ruggles that, despite his age, Stump still looked good enough to compete and was possibly even better with age. Ruggles agreed, and off to Westminster he went.
"Our hope was that we would win the breed," she said. "We just wanted that one thing for him, to end on a high note, and then he'd go right back into retirement."
But of course Stump won the whole thing, becoming the oldest dog to ever win Best In Show. The crowd at Madison Square Garden stomped its feet and yelled, "Stump! Stump! Stump!" Ruggles was thunderstruck.
"He was such an underdog," she said. "No one had seen him for years. Most people knew he had gotten very, very sick, and I'm sure in their long term memories, they probably didn't even think Stump was alive anymore, including the judges, too."
Ruggles attributes some of Stump's comeback success to his diet of Purina® Pro Plan® stating, "It's always worked perfectly. Purina® has always [helped keep him] in great shape and up to the rigors of being a show dog with a heavy schedule. They were one of the first companies that ever really expressed an interest in dog shows. They really aggressively went after promoting not only their business, but promoting the dogs shows as well."
After his monumental win, Stump went back into retirement. AARP "interviewed" Stump for a feature in their magazine, and he even shared the cover with country music legend (and fellow senior) Dolly Parton. He and his best pal JR, Ruggles' Bichon Frise who won Best In Show at Westminster in 2001, volunteered at the MD Anderson Children's Cancer Hospital in Houston, Texas, where they spent their time cheering up the children.
Unfortunately, both Stump and JR passed away at about 15 years old, six days apart. According to Ruggles, "In my view, they left us too soon, but they both had very full and happy lives."
The 2016 Westminster Kennel Club Dog Show will take place Monday, Feb. 15 and Tuesday, Feb. 16 at Piers 92/94 and Madison Square Garden in New York. The televised show starts at 8 p.m. both nights, and Best In Show will be named Tuesday night. Click here to read more of AKC's Westminster coverage.
Header image Uno at Westminster in 2008. Photo: WKC.