Part One: Oscar
Dogs are not allowed in the Trevi fountain. But Joanne Lefson never much cared for rules. After all, she was in Rome, and why shouldn't her travel buddy, Oscar, get to sightsee, too? So while sitting among the romancing tourists on the side of the famed Baroque structure, Lefson made a wish, tossed a coin, and off Oscar went—four paws in the fountain.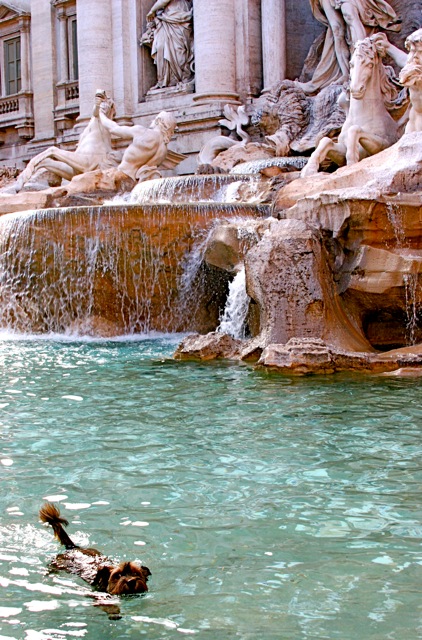 "The crowd loved it," recalls Lefson. "But the Italian police didn't find it very funny. The more they shouted for him to get out, the more he splashed around." Lefson's defiant stint almost landed her in prison, but fortunately, after a three-hour interrogation, the police let her and Oscar off the hook with a warning. "They told me 'If we ever see you and your dog around here again, you will never be allowed back in Italy.'" They'd meant to scare her, but to the carefree blonde with the big smile, the whole scenario was simply hilarious.
It was also great material for the documentary she and Oscar were filming as part of what she called a World Woof Tour—an international awareness campaign for dogs like Oscar.
Together, this globetrotting gang embarked on a journey that spanned 36 countries, five continents, and more than 200,000 kilometers. The experiences they shared ranged from breathtaking (going on safari in the Maasai Mara in Kenya) to thrilling (sneaking across the border from Malaysia to Thailand) to sobering (teaching Cambodian orphans about animal rescue). During their travels they'd form an unbreakable bond—one that would end in tragedy and would inspire a new beginning.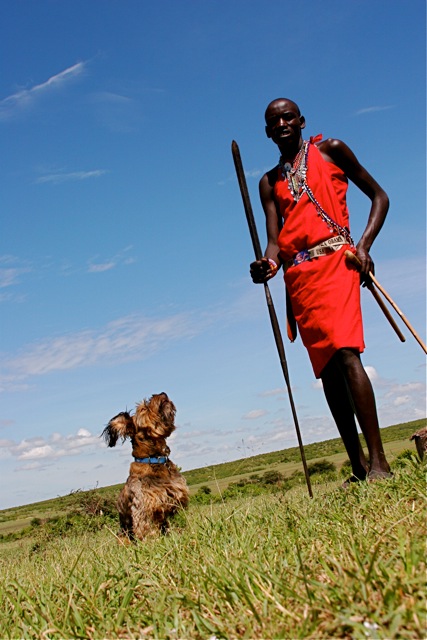 Lefson describes her first encounter with Oscar as "love at first lick." Their fortuitous meeting came at just the right time for both of them. The former professional golfer had only recently returned to her home country of South Africa from the United States after finalizing a divorce. Oscar was sitting on death row at a shelter, already two days past his execution date. Something about the shaggy mixed-breed's unshakeable spirit caught Lefson's eye. "He was just lovely and silly," she recalls. "I stood outside his cage and couldn't stop giggling while he rolled on his back and stretched out his arms as if to say 'take me!' " She knew immediately she had found her new partner in love and crime. She named him Oscar because of his carefree attitude. "He was a star in his own right." From then on, everywhere Lefson went, Oscar went, too. "From the minute I had him, we were a team. He just 'got it.' It was a natural connection."
Animal rescue is a cause that's always been close to Lefson's heart. At the young age of 8, she volunteered at a shelter in Cape Town—the same facility where she found Oscar many years later—cleaning cages and walking dogs. She later moved to the United States to study zoology at Texas A&M University on a golf scholarship. After college, she continued with the sport, going pro and later writing for a golf magazine.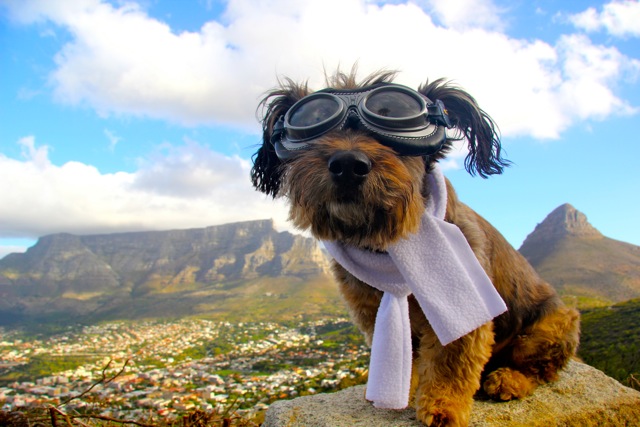 But her compassion for canines and her desire to help homeless animals never faded.
Lefson resolved to use the interest Oscar garnered to launch a worldwide awareness campaign. She sold her house—a decision made without a second thought ("I can always gets another house, but could never replace those great memories I have," she justifies)—and set off on her journey. .
The pair visited more than five dozen shelters around the world, working directly with the communities to highlight each area's homeless animals, and presented to students at more than 150 schools. Oscar stayed by her side throughout—serving as an example of overcoming adversity.
The tour inspired the children's book Ahound the World: My Travels with Oscar and a yet-to-be released documentary. It was set to end on a literal high note with a climb of Mount Everest.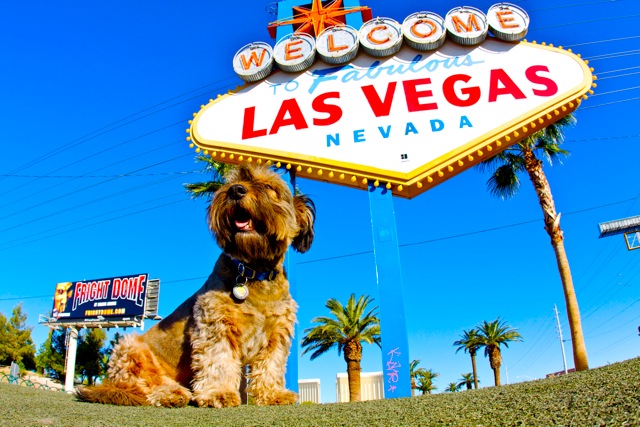 But then, disaster struck. In January 2013, while visiting San Jose, California, Oscar was fatally struck by a car. "It was a freak accident, and we both died," Lefson says. "I woke up the next day, and everything has looked different since."
Struggling with overwhelming feelings of loss and guilt, Lefson set up The Oscar Foundation (which funds outreach programs) in his memory, and waited for a sign of what to do next.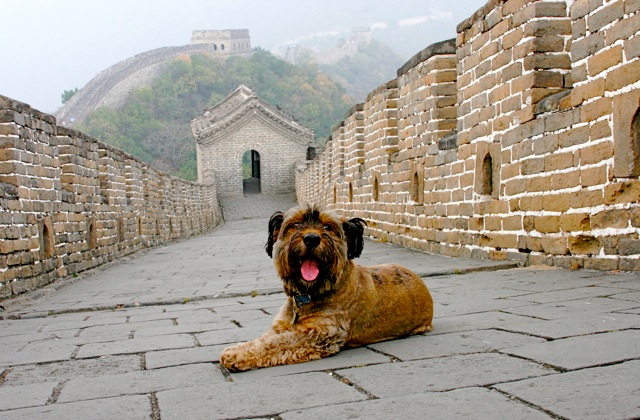 Part Two: Rupee
That sign came in the form of Himalayan slumdog. While being interviewed for a Mumbai film company about a sanctuary Lefson had set up several years prior for homeless donkeys in India, a small creature scurried over to her and collapsed at her feet. "I realized it was a puppy—and he was on his last legs for sure," she says. "I picked him up and said, 'we'll sort you out.' " She brought the puppy to the sanctuary's caretaker and asked him to nurse the dog back to health. She returned to South Africa, but as the days passed, she found she couldn't shake the memory of that stray dog. "Maybe this is the trooper to finish the cause," she thought.
A month later, she returned to India to find that the puppy had doubled in size and was healthy and strong. It was all she needed to see. She and the dog, who she named Rupee after the Indian currency ("He'll inspire change," she quips), set off on the approximately 18,000 feet ascent to the base camp of Mount Everest, the trip she had originally planned with Oscar. "What a contrast, to go from the slums of the earth to the top of the world," she says. A chaperone joined the pair for the trip in case the dog needed to be assisted or carried, but Rupee was a natural hiker. "He did so well. He made us all look like unfit chubs," says Lefson.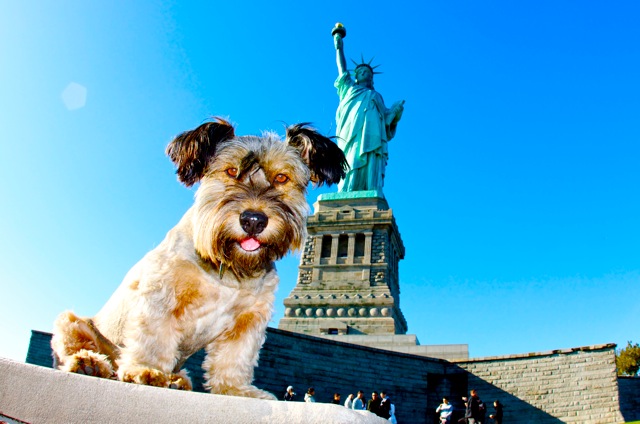 The expedition was meant to bring closure to Lefson, but it also caught the attention of national media. Pictures of Lefson triumphantly embracing the pup on the summit went viral across social media and publications worldwide, giving her a platform to speak about her passion for animal welfare. And though he'll never replace Oscar, Rupee has further motivated Lefson to forge ahead, no matter what challenges she faces. "My goal has always been to inspire someone to [rescue] a dog," says Lefson. "You're not just saving a great animal—in my case, Oscar saved me. He gave me my life and my purpose."

Got an Oscar? Show Him Off!
Not everyone may be able to travel the world, but there are many options available for owners who want to experience new activities with their mixed-breed or purebred pets. The AKC Canine Partners program offers opportunities for all dogs to compete in AKC events like agility, obedience, rally, Canine Good Citizen testing, and more.