Henry Roach may be 88 years old, but his sharp thinking and fast actions helped save the life of his daughter's dog, Chloe.
Roach, who looks after Chloe, found the one-year-old dog foaming at the mouth and losing consciousness, CTV reported (scroll down for video). She had chewed through an extension cord and was electrocuted. "I didn't think she was breathing," he said.
He used his previous experience as a hospital orderly to perform CPR on the dog, doing chest compressions until she seemed start breathing normally. His daughter, Linda Roach, then rushed Chloe to the vet. She suffered burns on her mouth and lips but is expected to recover.
Henry Roach describes the news as "probably the best relief I ever got in my life."
See the full report here: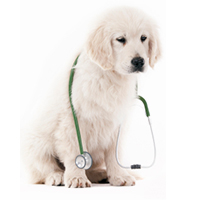 Emergency First Aid for Dogs
Even the most responsible pet owner can't always protect their pet from a sudden accident or illness. Getting your pet immediate medical attention can be the difference between life and death. Download this e-book to learn more about what to do in an emergency situation.
"