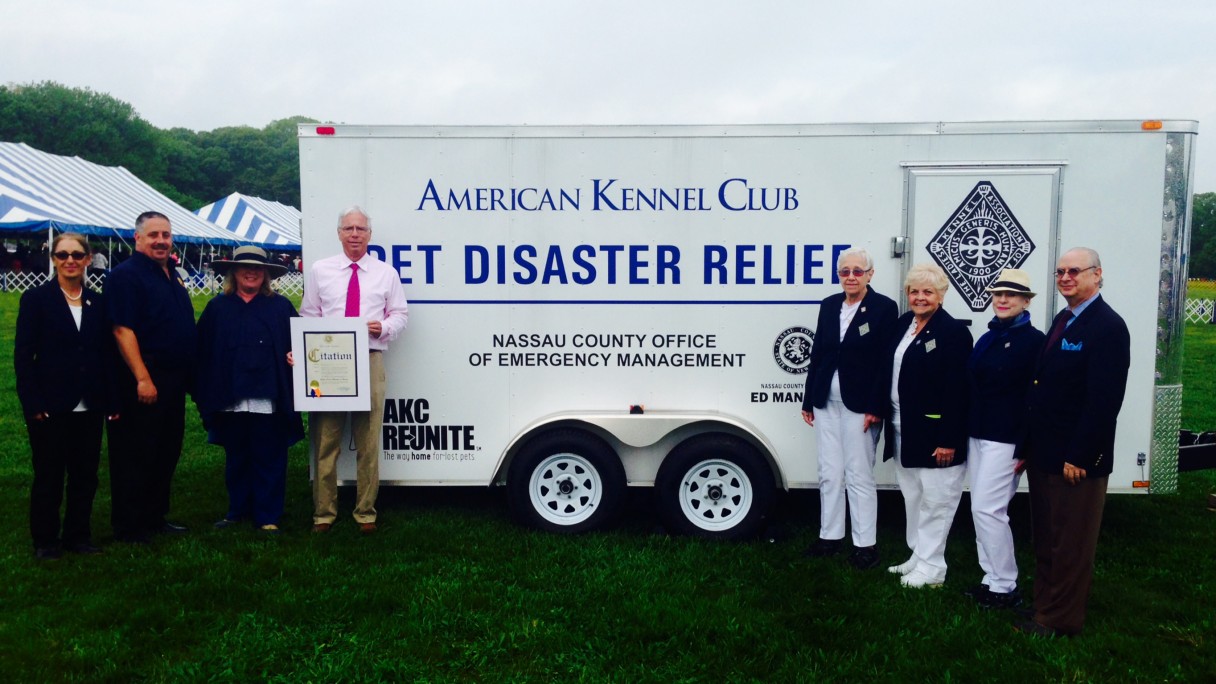 L-R: Kathleen O'Connor, LKAA member; James Kane, Nassau County Office of Emergency Management; Evelyn Rechler, LKAA President; Gary Rogers, Emergency Animal Coordinator for Nassau County and a Detective for the Nassau County SPCA; Viola Burgos, LKAA Treasurer; Patricia Cruz, LKAA Secretary; Susan Sprung, LKAA member and Dennis Sprung, AKC President and CEO.
This weekend, the Ladies Kennel Association of America (LKAA) presented an AKC Pet Disaster Relief trailer to officials from Nassau County Emergency Management (NY) during its annual dog show. The trailer, made possible by more than $22,000 in donations and grants from LKAA and AKC Reunite, is the first of its kind on Long Island, New York. The presentation was covered by Newsday.
With AKC Pet Disaster Relief, Nassau County will now be prepared to roll out help to pets and their owners in need when unthinkable events take place. The trailers house supplies that create a safe, temporary home-base for at least 65 pets immediately after a disaster is declared. Materials can be used at co-location shelters where people evacuate with their pets, or at stand-alone emergency animal shelters for displaced animals. The trailer will provide materials to help Emergency Management prepare for disaster without using taxpayer dollars.
LKAA also received an Official Proclamation from Nassau County recognizing the club for its efforts in keeping Long Island pets and their owners safe during disaster, and the incredible impact the club and its events have had on Long Island dog owners and the Long Island economy.
After the presentation, visitors to the show enjoyed watching more than 800 dogs compete at the dog show and obedience/rally trials, tried AKC's My Dog Can Do That!, browsed a canine shopping mall and enjoyed watching an exciting Dock Diving competition.