For a while, it seemed like the dog's name was almost a cruel joke: Lucky. The Yellow lab had been abandoned by his owner soon after the historic storm left South Carolina flooded and reeling. Thousands of residents along the East Coast have had to flee their homes, and the devastation in South Carolina will cost billions. On Thursday, Governor Nikki Haley said new flood warnings were on the way. Parts of the state were hit with more than 2 feet of water.
One of the hardest hit towns was Conway. Earlier this week residents were scrambling to salvage as many of their belongings as they could, packing them onto canoes, rafts, and anything that would float. Alex Scroggins was among them, helping his sister and mom evacuate. With only a small Jon boat, he had to make multiple trips, and on one of them he noticed a dog on a neighbor's porch, whining and barking. Scroggins figured the dog's owner would return for him, but after multiple trips the dog was still there. The dog's anxiety was rising along with the floodwaters, which were now up to his knees. When Scroggins heard from neighbors that the dog had been left there days earlier, it was clear Lucky had been abandoned, and that without intervention he would probably die.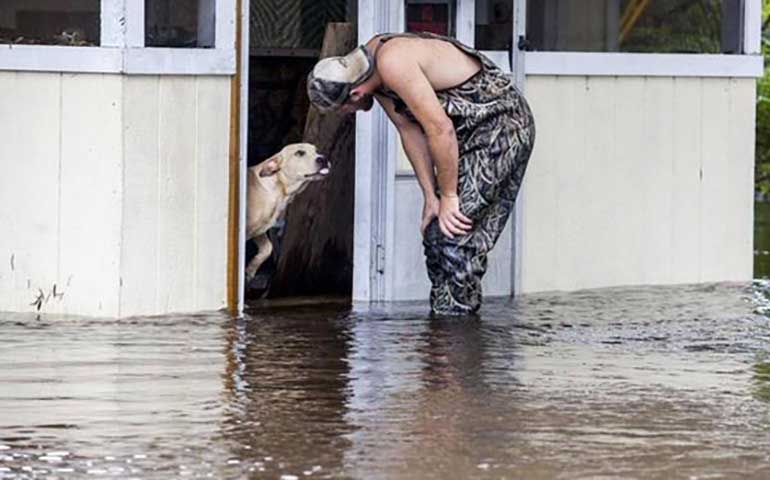 Scroggins told Myrtle Beach Online, "I didn't want to see this dog floating down the river." He tried to coax the dog over, but he was too panicked to move. Even though the situation was urgent, Scroggins was patient, and with the help of a few other good Samaritans they was able to get the dog to the boat, where there was just enough room to squeeze him in.
Not surprisingly, all of the local shelters were full, so Scroggins did what any dog lover would: He brought Lucky home with him, and cleaned and fed the exhausted, scared dog. "We were going to get him no matter what," Scroggins said. "We weren't going to leave him."
The next day Scroggins found out that not only had Lucky's owner left him behind, he had no interest in taking him back. "[He] knows I have him, but he doesn't care. He had time to come get him, but he didn't. Who would do that? I'd get my dog before I got anything else," Scroggins told The Dodo, adding, "I feel like Lucky understands what happened … he refuses to leave my side. If you see someone in need of help and you can do something, then do something—that goes for people and animals. That's what I hope people take away from this."
Can you guess where this story is going? Wait for it …
Even though Scroggins wasn't looking to bring a dog into his home, Lucky now has one, where he'll be loved and respected. After a harrowing journey, Lucky's name is no longer ironic. He's earned it.
From Myrtle Beach Online:
Resources:
The South Carolina Emergency Management Division has a list pet-friendly emergency shelters.
AKC Reunite has tips and guidelines for being prepared for natural disasters and emergencies.
AKC Pet Disaster Relief helps Emergency Management authorities care for pets after disasters.