Dogs have always had a special relationship with mankind. They enrich our lives in so many ways. Some dogs go above and beyond the relationship of companion; and rather enter into the realm of the extraordinary. For the past 16 years, the American Kennel Club has honored the special bonds that dogs have in our lives. This year I was honored to be able to attend the AKC Humane Fund Awards Dinner to celebrate the winners of the Awards for Canine Excellence (ACE). This special event took place at The AKC/Eukanuba National Championship in Orlando, Florida. An award is presented in each of these five categories: Uniformed Service K-9; Service; Therapy; Search and Rescue; and Exemplary Companion Dog. The awards are given to dogs that have truly impacted the lives of their owners and people in their communities. It was amazing to meet and talk with the owners of these very special dogs.
2015 Service Dog Winner: GEORGE & BELLA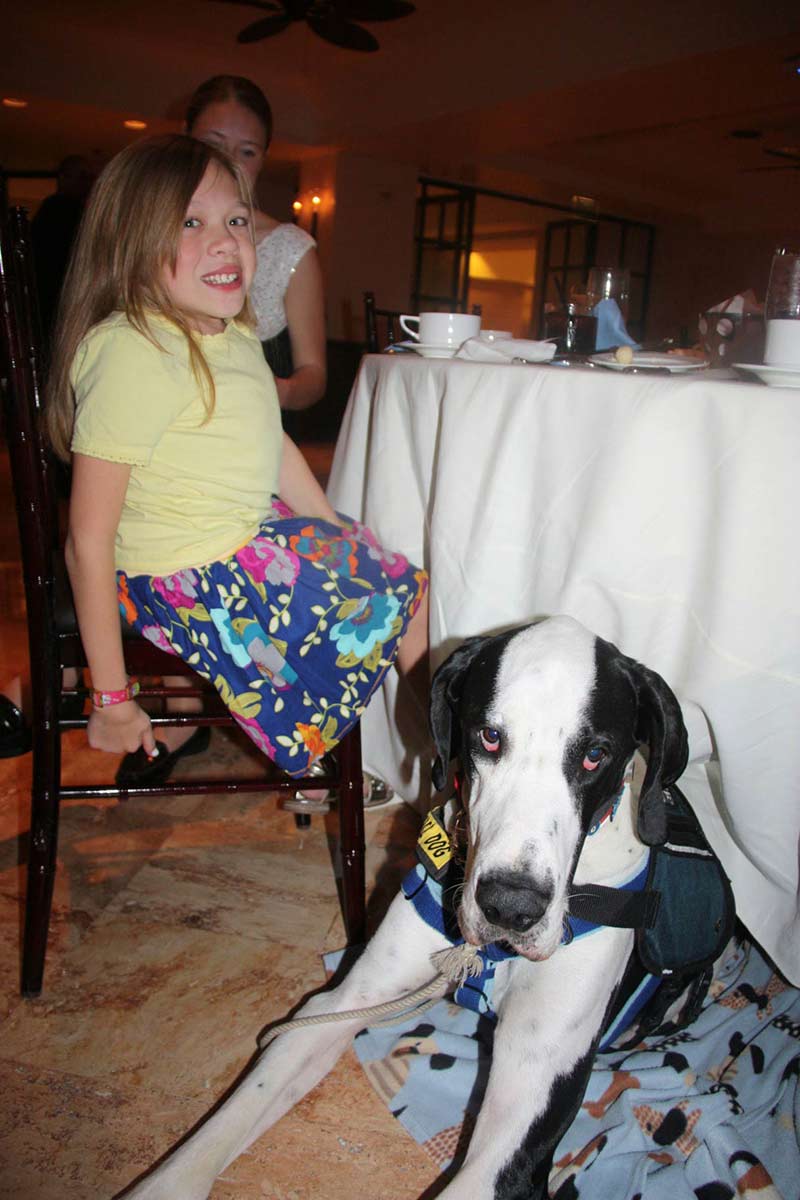 Bella and George at the ACE Dinner in Orlando, Florida.
A service dog's job is to perform specific tasks that help mitigate their owner's disabilities. The 2015 Awards Of Canine Excellence Service Dog Winner went to George, a natural-eared Mantle Great Dane who was accompanied by his owner and best friend, the charming 11-year-old Bella Burton. I was lucky enough to talk with Bella at the event, while George, the giant guardian angel, napped at her feet.
For Bella and George, it was love at first sight. Bella had met a few dogs at the Service Dog Project before George, but they didn't connect. Bella explained simply, "George picked me." When she first entered his kennel, he came right over and rested his head on her shoulder. "He would put his paw on me and try to sit in my lap", Bella explained. George kept trying to block the door with his body so she couldn't leave. There was an instant connection between the two.
Getting a service dog is a long process; it took a year and a half in total for Bella. She was so excited when she finally got to bring George home, and they have been inseparable ever since. George accompanies Bella to school, where he sits by her desk in her fifth grade classroom; and despite his large size, sleeps in her bed every night. George has given Bella the gift of independence. He helps propel her forward so she can leave her crutches behind. Bella can do more things on her own and is more active now that she has George to lean on. Everyone at Bella's school loves George and wants to hug him, but he stays focused on his job by keeping his eyes on the amazing young lady in his care.
George is loyal and loving; he loves Bella and is always watching and protecting her. Bella said, "He guards me and I guard him." George and Bella are the best of pals. George doesn't really have a favorite treat; Bella says he can be a picky eater. I think just being with Bella is his reward.
When I asked Bella if there was one thing she would like to tell people she said, "Service dogs are very important, but a lot of people don't obey the law, which hurts real service dogs. Some people are just getting a vest and saying that they have a service dog, and then taking them places, and not always leaving a good impression. This makes it hard for people who really need service dogs to take them places."
The relationship that Bella and George share is pure and unconditional. He is her means of independence, and also her faithful friend. The mutual devotion of this very special service dog and the little girl who adores him left not a dry eye in the house when George revived his award for Exemplary Service Dog. George and Bella truly are an magical example of the of the human-canine bond. The impact of George on Bella's life is an inspiration to dog lovers everywhere.
You can watch George and Bella receive George's award here.
2015 Uniform Service K -9 Dog Winner: PABLO & GREG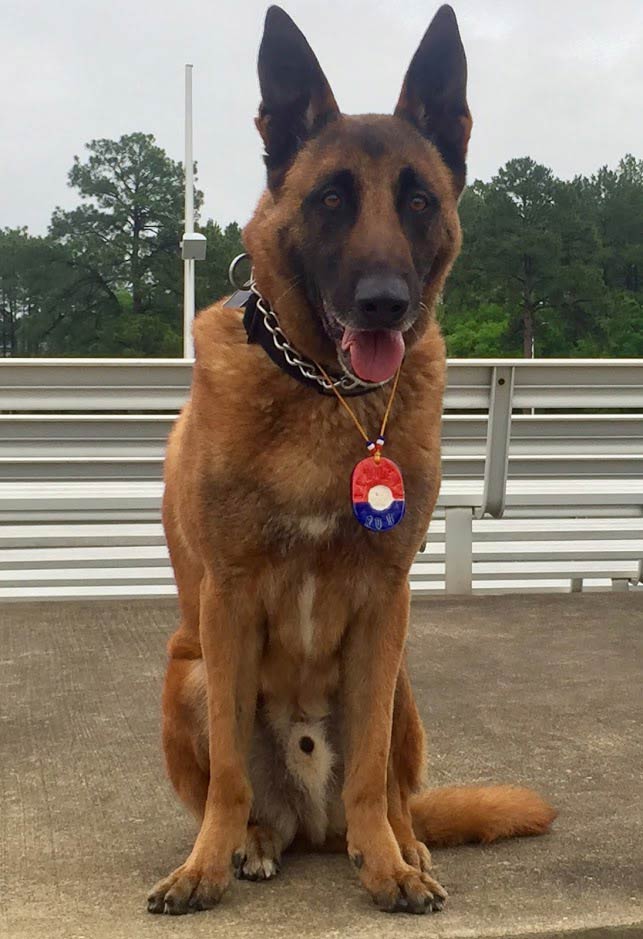 Pablo at the AENC ACE Awards presentation.
Pablo is a beautiful 9-year old Belgian Malinois handled by Greg Madrid. They are assigned to the Marine Corps Police Department in Albany, Georgia. Pablo is a Military Working Dog (MWD) as well as a certified Patrol/Explosive Detection Dog (PEDD), and he often works with the Secret Service and FBI. He has a very impressive resume: Pablo has provided protection for President Barack Obama, Vice President Joe Biden, former Secretary of State Hillary Clinton, visiting dignitaries, and former Presidents Bill Clinton and Jimmy Carter. He served in Afghanistan, where he worked to protect our soldiers and to save the lives of Marines. As a uniformed service explosive detection dog Pablo has a very significant job: he works with the local police to ensure specific locations are free of explosive devises.
Pablo's training took about six months. The training is a lot like military training; he had to go through different phases and graduate to different levels. Greg believes Pablo was born to be a uniformed service dog because he was a natural from the start.
Pablo's favorite thing to do when he is not working is take a nice long and well-deserved nap. Even though he is a hard-working, well-trained uniformed service dog, Pablo also has a kind, charming personality and loves children. Pablo participates in career days at schools and many non-profit and charity events in his community.
He is always ready for his job, no matter how dangerous and difficult it is. Greg has 110 percent faith in Pablo, "I know he knows his job very well and I have no worries when I am working with him." Pablo dosn't know how special and important his job is, but we do and are very grateful for his service.
Click here to watch Pablo receive his award.
2015 Therapy Dog Winner: WYND & RENICE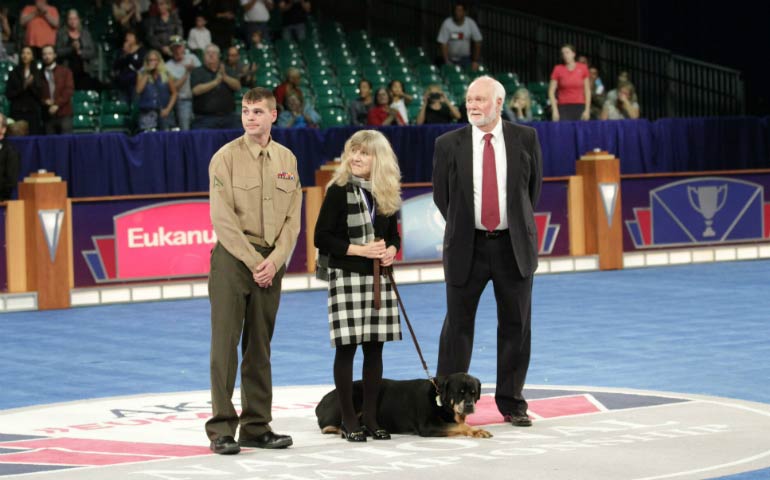 Wynd, Renice, and Lance Corporal Christopher Lee Stidom in Orlando, Florida.
Wynd is a very special therapy dog. She is a Rottweiler, owned by Renice Zimmerman of Yorktown, Virginia. Wynd helps with The Wounded Warriors Project by visiting soldiers and military families as a therapy dog. She is also a great ambassador at the BARKS Program, which helps children learn to read and to be comfortable around dogs.
Soft spoken and big-hearted Renice is a sweet and compassionate nurse who became involved in therapy work with her dogs when she saw the great need in the military community. The soldiers were hurting and lonely, missing their moms, wives, families, and dogs. Renice couldn't bring their families to them, but she could bring a dog. Wynd was a great comfort and they really responded to her.
Wynd is an amazing dog; she seems to have a special sense in that she knows what people want from her. It doesn't matter if she is working with a toddler, teenager, or soldier; she knows what each individual needs. As Renice explained, "Wynd has that special something, that little extra; she has a great heart".
I was very saddened to learn that Wynd passed away shortly after the awards event, following her battle with osteosarcoma (bone cancer). My heart goes out to Renice and I am so sorry for the loss of an angelic hero with such a tremendous heart who was such an inspiration to us all.
You can watch Wynd and Renice receive her award here.
2015 Exemplary Companion Dog Winner: MUFASA & KRISTEN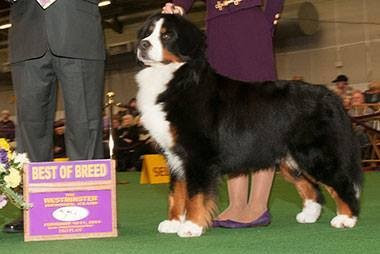 This year's Exemplary Companion Dog is BISS Gold GCH Blackrock Jungle Juice CD RN NDD, otherwise known as Mufasa. Mufasa is a gorgeous Bernese Mountain Dog, owned by the lovely Kristen and Robin Greenwood of Bel Air, Maryland.
Mufasa was born on June 6, 2009. He is a Best in Specialty Winner, ranked in the top 20 for his breed in the country for the last two years. In 2014, Mufasa won the breed at the prestigious Super Bowl of dog shows, The Westminster Kennel Club Dog Show. This handsome canine also has brains and has earned his Rally Novice (RN) title, as well as earning his Novice Draft Dog title (NDD).
Mufasa is first and foremost a well-beloved pet. He always wants to be part of the action and goes everywhere with Kristen, including to work with her at her grooming shop and on vacation with the family. His best friend is Kristen's son. He is also very popular outside of his family, having his very own fan club. Mufasa is a wonderful ambassador and has participated in Meet The Breeds many times. Mufasa likes all sort of treats and loves to play with all kinds of different toys. He just loves being the center of attention.
Mufasa has one bad habit; an addiction to pacifiers. When his owners young son's pacifiers started disappearing they thought that he was just throwing them out of his stroller. However, early one morning a few weeks before Westminster, Mufasa started getting sick. Kristen gave him medicine, but it still did not help. They took him to the vet, who took X-rays that revealed 10 pacifiers in Mufasa's stomach. This amazing dog recovered in time to win the breed at Westminster.
Mufasa, with his super sweet personality, is a fantastic ambassador to his local community, exhibiting the best qualities of purebred dogs. This big cuddly teddy bear has helped educate people on how and why it is important to get a healthy pure bred dog from a responsible breeder. Mufasa is a very well-rounded, accomplished, and adored family pet. Congratulations to Kristen and Robin Greenwood and Mufasa; and best wishes for much furture sucess.
Click here to watch Mufasa receive his award.
2015 Search and Rescue Winner: TY & MELISSA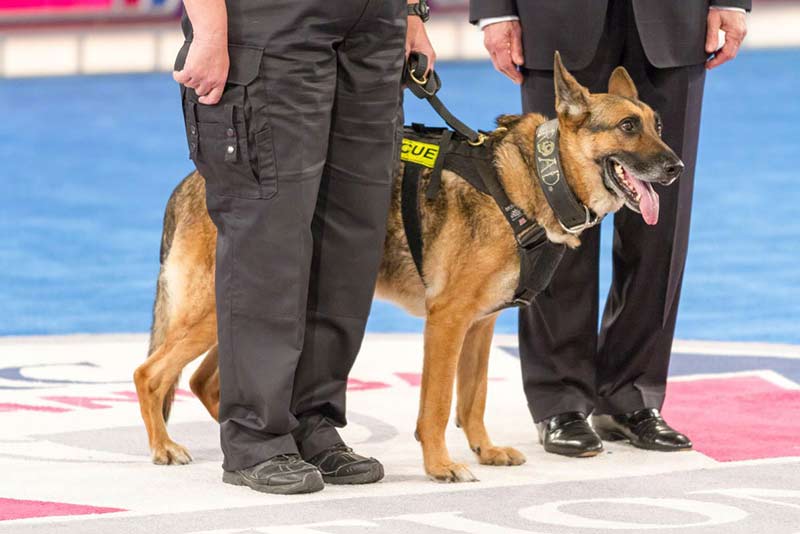 Ty at the AENC ACE Awards presentation.
K-9 Ty Ty Road RN CGC is a hard working eight-year-old German Shepard Dog handled by Melissa Frye of Southport, Florida who is trained in human remains detection. He is specially trained to detect cadavers in water and works on boats to detect the scent as it comes up from the water. Ty also does disaster work and has done a total of 64 searches.
Ty was trained by positive reinforcement and letting him use his natural instincts. Training for cadaver searching begins with teaching the dog to detect the scent on land, and then moving it onto the boat. Search and rescue people work very hard. However, it is a very important job which gives closure to families that have lost loved ones.
Ty is not picky when it comes to treats; he likes everything. He does, however, have a favorite toy; his ball. He is very ball driven and Melissa sometimes uses it as a positive reinforcement tool. He is an incredible dog and always ready to work. Melissa said that her favorite thing about him is his adaptability, you ask something of him and he gives you his all.
You can watch Ty and Melissa receive his award here.
It was such an honor to meet the owners of all of these amazing dogs. I thank George, Pablo, Wynd, Mufasa, and Ty for making the world a better place. They are an inspiration and remind me what true heroes the dogs in our lives are.