by Emma Sunderman, AKC Junior Handler

The AKC/Eukanuba National Championship is the greatest dog show on the planet. People travel from all over the world to compete against the best of the best. This year, AENC was held in Orlando, Florida, at the Orange County Convention Center. With a record-breaking confirmation entry, more than 4,000 dogs fought for the prestigious title of Best In Show. However, the Junior Showmanship ring also had another record entry. Nearly 160 kids between the ages of 9 and 18 qualified to show in juniors at the AENC. To do so, they each had been awarded five Open class wins with competition and had maintained at least a 3.0 grade point average in school throughout the year. Today, we take the time to reflect upon the juniors of the past, acknowledge those of the present, and encourage the juniors of the future.

The Past
Having won Best Junior Handler at Eukanuba twice in a row, and only being the second person to do so, Emma Greyson Echols of Watkinsville, Georgia, was the person to beat in the juniors ring. We all know she was accomplished in juniors, but who knew that her start in dogs was completely by chance?
When Emma was 9, her mother saw an ad in the local newspaper for one of the Atlanta dog shows. They drove to the show with their Yorkshire Terrier, Buttons, and attended a junior showmanship seminar. She instantly fell in love with the sport. Without knowing a single thing about showing or grooming a Yorkie, Emma started her junior career. After a while, she came across Tucker (GCH Silkiss'd Let's Rock) and started showing him in both juniors and the breed ring. Emma and Tucker went on to win a group and a Best in Specialty.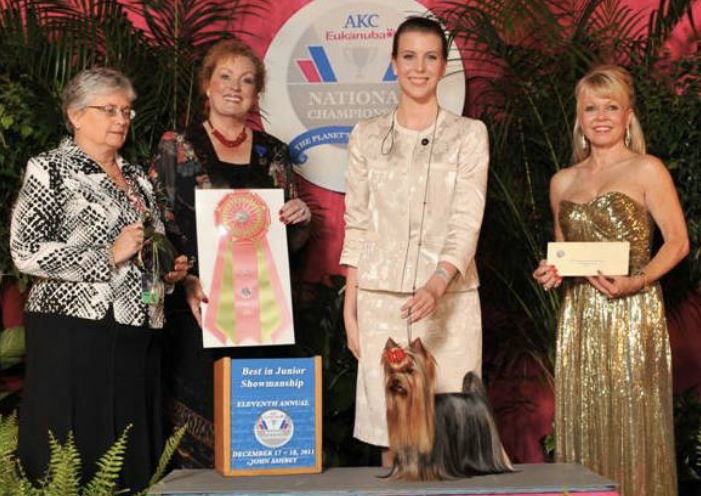 Emma with her Yorkie, Tucker.
She remarked, "He [Tucker] was a beautiful example of the breed and we had a great connection. Both judges and spectators noticed." Now, at 7 years old, Tucker is retired and Emma, who is currently 20, is aged out and travels the country for her job in TV production.
The Present
Before Lydia Frey (age 17) first started showing, she had watched the AENC on television for years. She begged her parents for a show-quality dog and on her ninth birthday, her wish came true, as her parents brought home a Standard Schnauzer puppy. Lydia showed "Piper" in juniors while the breeder finished her championship. But, at age 12, Laurie Zembrzuski and Gaby Gilbeau of LAMZ Bedlington Terriers discovered Lydia's potential and took her under their wings.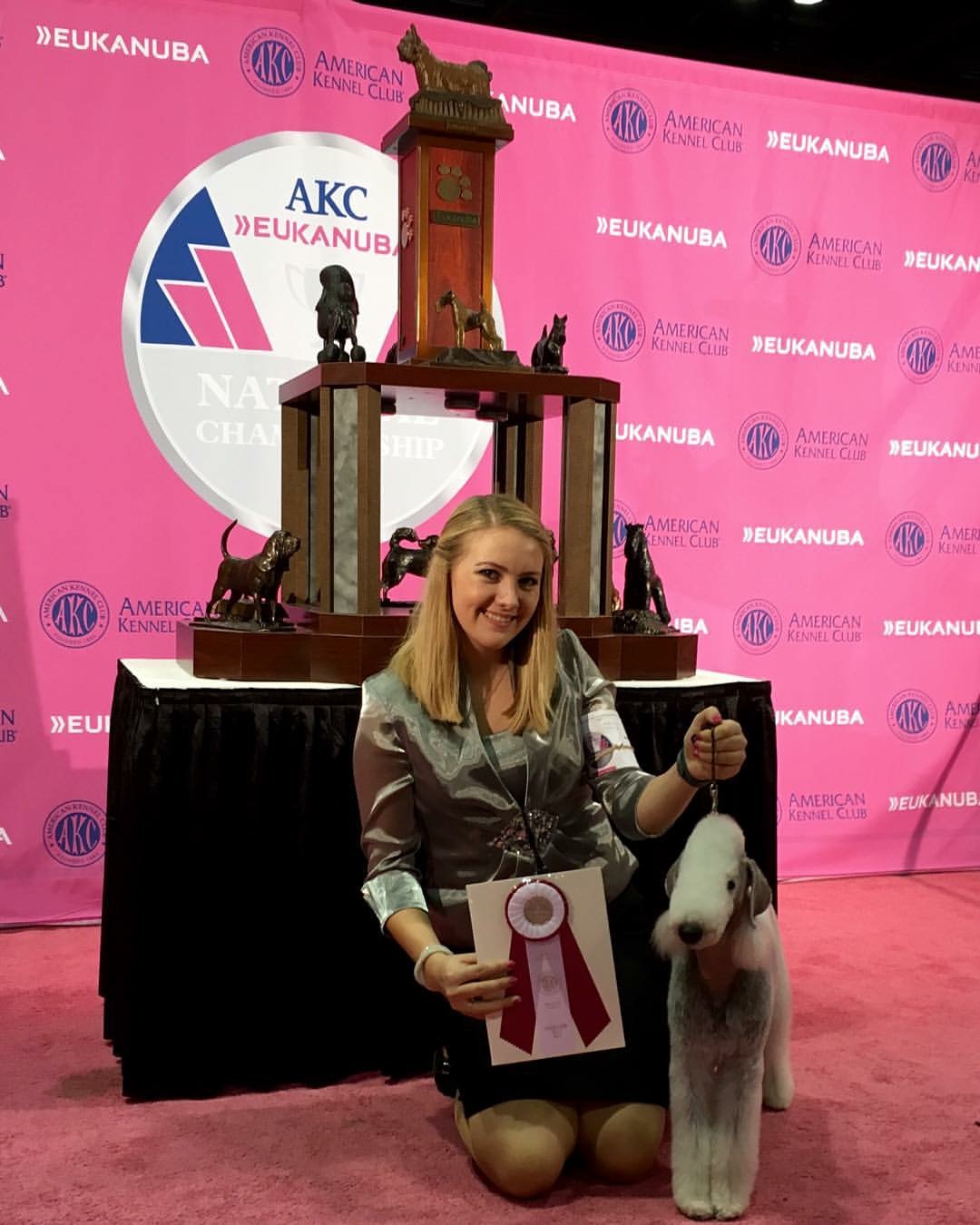 Lydia with her Bedlington Terrier, Tony.
This year at Eukanuba, Lydia showed her two-and-a-half-year-old Bedlington, Tony (Group Winning GCH LAMZ Let Them Eat Cake CA), who has been on the other end of the lead for all of Lydia's major wins. After winning Best Junior Handler at both the Westminster Kennel Club Dog Show in New York City and the World Dog Show in Milan, Italy, Lydia said that "there was no other dog [she'd] rather be showing this year," as she decided that the AKC/Eukanuba National Championship would be her last hoorah in the juniors ring. However, she will be showing Tony in the breed ring next year as well as bringing him to local horse shows in Wellington, Florida.
Kaycee Klang of Thousand Palms, California, was born into the sport of showing dogs. Her mother, Gina Klang, has bred Briards for more than 20 years and ever since Kaycee was little, her mom had her practicing with every puppy that needed training. The first time she stepped in the ring was at age five. Eleven years later, Kaycee excels in the juniors ring and the breed ring.
Kaycee's current Briard special is also the dog she chose to accompany her in the Junior Showmanship competition in Orlando this year. She and Georgie (GCH CH Mon Amie Georgie Porgie Puddin and Pie) were one of the lucky 12 who made the finals and had the chance to show under Mari-Beth O'Neill, the AKC's Vice President of Sport Services. Kaycee was especially proud of this win because Georgie is her mother's full breeding and he is her "heart dog."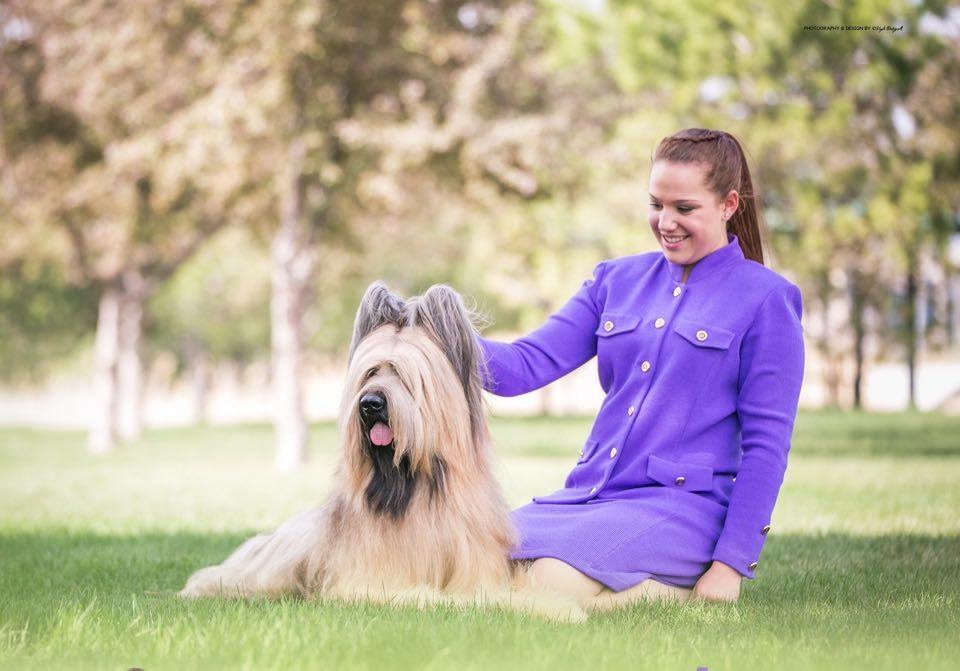 Kaycee with her Briard, Georgie.
Kaycee explains why her dog stands out from the rest: "Georgie has an amazing personality and I couldn't imagine not having him around." Her favorite accomplishments with Georgie include group wins, a Reserve Best in Show, and a Best in Specialty win, but the most rewarding was ending 2015 as the No. 1 junior in the country. She had worked so hard to create a special bond with her dog and believes that her relationship with Georgie is what makes them a great team.
The Future
Nine-year-old Vanessa Barerra took part in AKC/Eukanuba's Junior Showmanship Competition for the first time this year. She had worked very hard trying to qualify with her stubborn but very showy German Shorthaired Pointer, Sokka (GCH Wanapt's Sokka – Just A Dog With A Boomerang). Vanessa's aunt, Kelly Barrera, bought Sokka as a puppy and told Vanessa that she would be showing him in juniors when she was old enough. They grew up and trained each other. Vanessa thinks that Sokka is special because "he doesn't need a long coat to look amazing."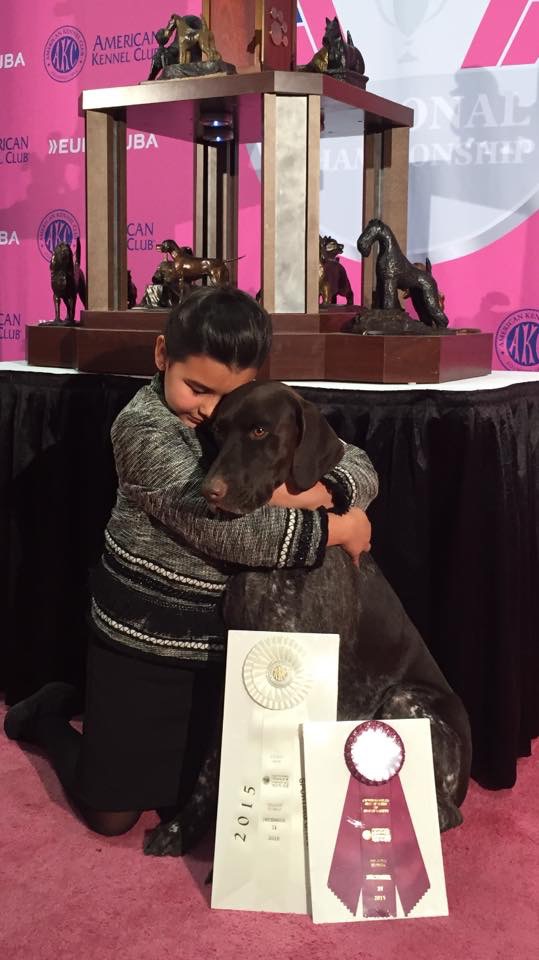 Vanessa with her German Shorthaired Pointer, Sokka.
Before her big performance at AENC, Vanessa worked on keeping her GSP under control in the ring because he is still young and likes to pull her sometimes. Vanessa has trained him to pay attention and praises him when he does a good job. Along with Vanessa's mentor Arvind DeBraganca, the whole Barerra family supports her dog show endeavors. They encourage her to do better with every ring appearence. She even has a large Owner Handler group win, a picture of which she hung on her refrigerator. The AKC/Eukanuba National Championship also allowed Vanessa to meet her German Shorthaired Pointer "hero" Valerie Nunes- Atkinson. Vanessa plans to be just like her when she grows up.
Dog shows have been around for hundreds of years, but there are not any quite like the AKC/Eukanuba National Championship. The AENC brings together people with one common interest, breeding and loving healthy, happy, purebred dogs. They also support kids and encourage college educations by offering scholarships for the Best Junior Handler winner. Throughout the years, the juniors of the AKC/Eukanuba National Championship have represented years of hard work and dedicaton to the sport of dogs. They truly are the next generation.