He was one of Saturday Night Live's most popular cast members, and unlike other SNL alums, his career and popularity continue to skyrocket. So Jason Sudeikis doesn't need to cradle an irresistibly sweet Dachshund puppy to increase his appeal. But it can't hurt.
Tonight's episode of The Chris Gethard Show will mostly likely confirm VICE's prediction that the new show "is poised to shake up late night the same way David Letterman did more than 33 years ago."
As with most talk shows, Sudeikis and his host will be filmed in front of a live audience. Nothing groundbreaking there. But for this taping, they'll be trying to entertain a studio full of dogs. Thirty of them, to be exact.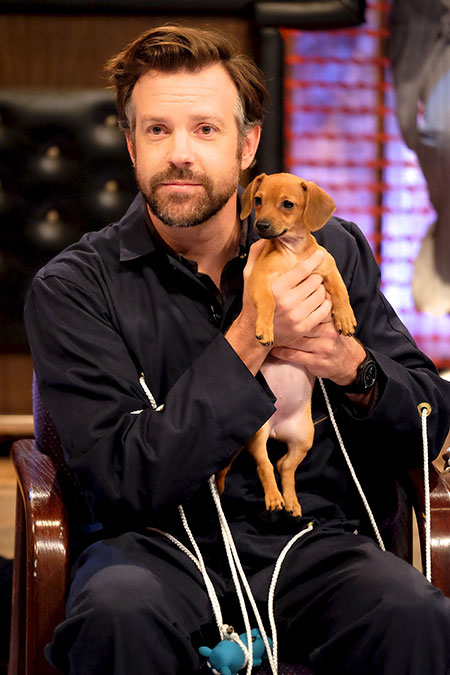 Gethard told Seth Meyers of The Late Show that the idea came to him because, comedically speaking, "dogs are an underserved demographic." And like all performers, he's always looking to increase his fame: "There are 80 million dogs in America. If I get them all to like me it will be the most popular show of all time."
When The Chris Gethard Show premiered in May, Salon called him "the talk show renegade for the Tumblr generation." If the newbie can pull off an interview with an intimidatingly handsome movie star in the middle of two-dozen puppies (did we mention the majority are puppies?), he'll have earned the title.
Watch Chris Gethard explain the concept to Seth Meyers:
The full episode of The Chris Gethard Show airs Thursday, July 23 at 10:00 pm on Fusion. TCGS is produced by Funny Or Die, with Zach Galifianakis, Will Ferrell, Adam McKay, J.D. Amato, and Chris Gethard as executive producers.
Related:
http://www.akc.org/learn/family-dog/from-the-daily-show-to-the-dog-show/
";}}