It's been five years since Zachary Anderegg went hiking in a remote area of Page, Arizona. Since then, his life has changed dramatically, but not nearly as much as it has for the starving, abused little black puppy he came upon that day at the bottom of a 350-foot canyon. By a stroke of phenomenal luck, the dog was found by a man who is not only a former U.S. Marine Sergeant but also a compassionate animal lover who was willing to make three tips to the canyon floor to get the dog out.
Someone had put Riley there—he could not have gotten there on his own. To make it even sadder, his emaciated body was peppered with shotgun pellets. After first discovering the weak dog, Zak repelled down again with food, water, and a towel. He then returned a third time, with everything he needed to bring the dog to the surface.
After several days in a veterinary hospital, it was time to close the door on Riley's gruesome past and begin a new life of health, adventures, and as much love as Zak and his wife could lavish on their now well-fed and recovering pal.
Zak tells the story of their journey better than anyone else could:
Now, five years later, Zak has written a book about how a chance encounter with a doomed dog saved him as much as it saved Riley. Like his rescued pal, Zak had suffered abuse and neglect. Together, they were able to put it behind them.
Riley has appeared on The Today Show, Inside Edition, and The Ellen DeGeneres Show (where he received a lifetime supply of dog food!)
See more about their journey together on their Facebook page, Canyon Puppy.
Related:
Old Dogs Saved from Death, Now Help Others
Ophelia the Pit Bull Now Walking After 200-Foot Fall from Overpass
Two Dogs Miraculously Survive House Explosion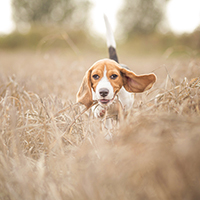 What to do if your pet goes missing?
If the unthinkable were to happen, are you prepared? Download this e-books to learn what steps to take if your dog goes missing.