Marshall was among 60 dogs living on a property without food, water, or shelter. He'd been abandoned, abused, and was starving. By the time he was saved by the crew of Animal Planet's show "Confessions," he had a badly broken front leg, bite marks all over his body, and a large hole on the side of his face. Marshall's injuries were so serious he needed surgery. While on the operating table, Marshall died, but was resuscitated, and the medical team was able to repair his wound and amputate his infected leg.
Enter Cyndi Willenbrock. When she first laid eyes on Marshall, she says, "It was one of those moments where I've seen it and I can't unsee it. This little voice inside me said, 'you can do it.' Three days later he hopped into my life. He has been my greatest teacher and truly my greatest blessing."
Cyndi decided to make it her mission to used Marshall's traumatic story to spread hope to young kids being bullied in school. Their good work as a team that heals has now inspired a feature film, Marshall's Miracle, staring Lucas Carroll, Shannon Elizabeth, Matthew Settle and Lauren Holly.
Says, Gavin, one of the many kids Marshall encourages: "When they said he died and came back I liked that, because it shows you can never give up and have to keep trying." Good work, Marshall!
Watch the "Miracle":
HooplaHa is a digital brand whose original video segments include real people and personal stories, including everyday inspiring heroes, organizations, charities and companies making a difference. Named one of the "ten happiest places on the internet" by the Huffington Post.
Related:
What Does it Mean to Be a Family Dog?
Service, Emotional Support, PTSD, Therapy Dogs: What's the Difference
Devoted Owner Gives Dying Saint Bernard One Last Snow Day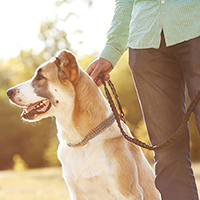 10 Essential Skills: Canine Good Citizen Test Items
Whether you are planning on getting your dog CGC certified or just looking to learn more about the test this e-book is a great place to start.