As water shortages become dire, dog owners must protect their pets, too.
The drought gripping California and much of the West has far-reaching and obvious implications for people, animals, agriculture, and landscapes. But as these surprising photos of the drought illustrate, there are consequences that dog owners may not have considered.
Toxic Algae
When rain and its runoff are scarce, toxic algae flourishes. That's because impurities produced by algae blooms are flushed away by the water. The drought has lifted algae concentrations to all-time high levels.
Lakes, rivers, and streams are irresistible to many dogs -- not just retrievers -- and that's wear algae thrives. Swimming, wading, or drinking water with algae blooms can cause anything from eye irritation to diarrhea to even liver poisoning, or even death.
Here are tips for keeping your dog safe from deadly algae.
Wildlife on the Prowl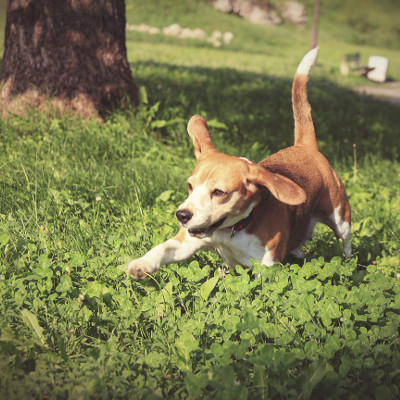 This is the time of year when many wild animal species begin to roam, and more and more this includes populated areas. Wild animals have even been showing up in dense residential areas and even cities. (Several coyotes have recently found their way into Manhattan!)
Sightings of mountain lions, bobcats, and bear are not unusual on the West Coast, but are expected to increase this year as animals search for water from additional sources.
Encountering a wild animal is no longer just a concern for hikers and their dogs out on the trails.
Dog owners should take extra precautions during a drought, particularly around dawn and dusk.
Do not allow your dogs to roam free on areas of your property where they can't be seen. Better yet, make sure they are supervised any time they are outdoors.
Don't leave pet food outside, where it can attract a hungry animal.
Always be mindful of your surroundings. If you do see a wild animal or bear, don't run; most authorities recommend that you pick up your dog (or child) and slowly back away. The National Park Service has several recommendations on bears.
There are organizations in most area that know how to remove an animal safely and humanely. Make sure you keep this contact information handy.