Every year HOPE Animal Assisted Crisis Response holds their annual meeting in a different location. The nonprofit therapy dog organization has five regions, and each year one of them gets to choose the city. This year the decision fell to the Southeast Region. They chose Charleston.
When the news broke that nine people had been gunned down in the basement of the Emanuel AME Church, HOPE handlers Cindy Becker and Julie Scott were able to immediately mobilize their certified therapy dogs, Porsha and George, quickly bringing comfort to a city struck by an unimaginable tragedy.
Porsha, a Saint Bernard, washes away tears with slobbery kisses and George, a shaggy labradoodle, brings a puppylike and enthusiastic goofiness to his work.
Becker, HOPE's Southeast Regional Director, tells the AKC:
"The FBI opened up a 'victims' assistance center" for the families of the slain, and Porsha and I were called in," along with other team members from HOPE.
Porsha and George were also able to assist members of the extended community as well, including people like Antina Field-Stewart and her two children, Christian and Azariah. The family had lost two friends in the shooting.
Becker and Scott also spoke to PEOPLE magazine about their work, and the strong, but justifiably shaken, residents they connected with in Charleston.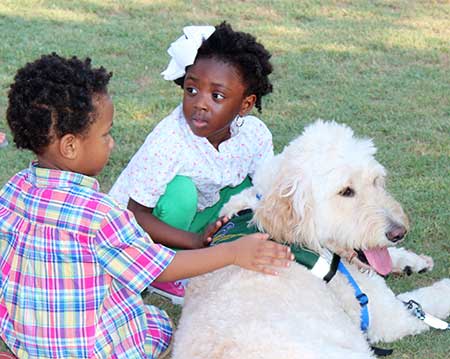 "We let people approach us," said Scott. "Our dogs offer unconditional comfort, even if it's just five minutes with this loving, calming animal. Our job is just to be there. I've had big, burly police officers put their heads down on George and sob."
The environment in the aftermath of such traumas is intense, emotionally and physically, so both dogs and handlers must bring all of their training and experience to the task at hand. It is not work that is right for every dog. Says Scott, "they have to want other people as much as they want their own family members. They have to be approachable, calm, and gentle – essentially bombproof."
Becker tells the AKC that she is particularly proud of Porsha's breed. "You see so many Labs and Goldens in therapy work. It's nice to have a Saint Bernard doing it.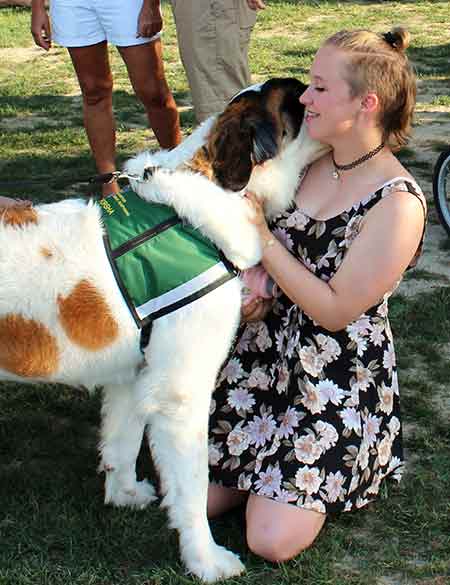 HOPE is made up of an all-volunteer staff, and provides its services to anyone touched by a crisis, from first responders on the front lines to members of the wider community struggling to understand what happened, and why. The comfort comes free of charge. How could you put a price tag on the gift of solace?
Even if you don't believe in fate, it's hard not to marvel out how these dogs came to be at the right place, at absolutely the right time.
-Erika Mansourian
Photos courtesy Rolland E. Heagy