By Robert Vandiver, Greenville Kennel Club
The Greenville Kennel Club contributed $5,500.00 to the Greenville Sheriff's Office to conduct a Tactical Deployment Workshop in Greenville, South Carolina. The kennel club's contribution covered a large portion of the expenses for this event, which was held over four full days.
This event was attended by nearly 80 participants representing eight states and more than 30 law enforcement agencies. In addition to the trainers from the Greenville County Sheriff's Office, four Master Trainers and six Trainers from the North American Police Work Dog Association (NAPWDA) were in attendance and provided instruction to the participants.
"The training was scenario based and provided the participants with opportunities to enhance split second decision-making both with and without their K9 partners," said the Greenville County Sheriff's Office. "Special thanks are due to the many sponsors who made this event possible, including the Greenville Kennel Club, whose monetary support helped provide all participants and trainers with realistic training scenarios."
As an example, a portion of the Deployment Workshop focused on apprehension. Not all apprehensions are on flat ground, or even on ground at all. Sometimes they may be in water. The first photo illustrates a hands-on real life experience for both dog and handler. Unlike working dog sports, criminals don't wear padded sleeves. It's important to train in the manner that will be encountered in the field. The second photo demonstrates one method of training without padded sleeves and using a muzzle instead.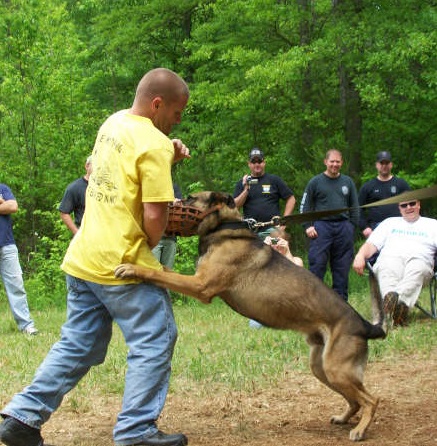 The success of the workshop was heralded by all. There were many emails from attendees after returning home. Here are a few examples:
"I just wanted to take a second to thank you for putting on the K9 workshop. I have been to a lot of seminars and trials over the years regarding dog events, and Greenville's K9 deployment workshop is one of the best events that I have attended. The staff, organization, food, and facilities were all awesome." -- K9 Officer Andrew Sterner
"I know you got lots of praise for the seminar but I must tell you it was well deserved. I try to attend four seminars a year and yours was the most attractive by far. Compliments to you for coordinating a realistic seminar with little down time and real life scenarios" -- K9 Officer Robbie Waldrop
The Greenville Kennel Club is proud of our positive relationship with the Greenville County Sheriff's Office and their K9 Team.