A Golden Retriever service dog proved his undying dedication to the blind woman he assists by stepping in front of a school bus to protect her. The dog, named Figo, was crossing the street with his handler, Audrey Stone, in Brewster, New York, on the morning of Monday, June 8, when the bus driver failed to yield, reports The Journal News.
Figo reportedly placed himself between the bus and Stone.
"The dog took a lot of the blow," Brewster Police Chief Del Gardo said. "And he did not want to leave her side. He stood right with her. He was there to save her."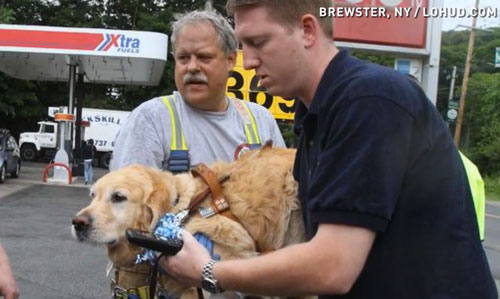 After the accident, which left Figo with a badly injured leg and Stone with multiple broken bones, Figo remained calm, trying to reach Stone as responders bandaged his leg. "He wasn't barking or crying or yelping. But he kept pulling toward [Stone]," said Paul Swartz, who witnessed the accident and came to the scene to help.
The brave dog is now being treated at Middlebranch Veterinary, where the newspaper reports he will undergo surgery on his leg. Stone is being treated for her injuries at a local hospital as well. She's arranged for friends to care for Figo as she recovers.
The American Kennel Club recognizes brave dogs like Figo in the AKC Humane Fund's Awards for Canine Excellence. If you know of a service dog who deserves to be honored (or if perhaps you think the Figo deserves a nod), fill out a nomination form.