Abbie Einstein's resumé would put most of us to shame. And her newest credential added in early April is simply a reflection – and recognition – of all of the others.
Abbie, a 9-year-old Golden Retriever owned by Mike and Elaine Jones, of Somers, New York, was the Grand Marshal for the American Cancer Society's Westchester Bark for Life event April 10, and is a cancer survivor herself.
But the affable, 50-pound Golden is much more. She's a certified therapy dog, a Reading with Rover partner, and a multi-titled AKC obedience, rally, and agility performer.
"Each year we elect a special dog to be our Grand Marshal and lead our walking event," said Janis Castaldi, of the American Cancer Society. "We are so proud that Abbie Einstein fulfilled that role this year."
In September 2015, Jones, 67, as a Port Chester Obedience Training Club member, volunteered to do a demonstration of "AKC's My Dog Can Do That" for a festival in Greenwich, Connecticut. During a lull in the action, he worked with Abbie on Utility exercises. A month later, he received an e-mail from the Westchester Bark for Life event chair, Georjean Squillante-Rego, stating that she had seen Abbie perform at the event and invited her to be the Grand Marshal of the parade this year.
"Each year I look for a special canine to be our Grand Marshal and your Abbie keeps coming to mind," Squillante-Rego wrote to Jones. The fact that Abbie is a cancer survivor herself, as well as a certified therapy dog who visits people with illnesses like cancer, makes her the best possible candidate for the job."


Jones, a retired air-traffic controller and programmer analyst, characterized the invite as "rewarding" and "exhilarating."
Abbie joined the Jones household as an 8-week-old puppy in 2007, which already had another Golden resident, Smartie Jones, named after Smarty Jones, a Thoroughbred race horse who nearly won the 2004 Triple Crown. The couple had previously "been owned" by Border Collies and Irish Setters. Abbie was bred by Judy Breuer, of Glen Mills, Pennsylvania, an AKC conformation judge and owner of Copper Lee Goldens.
"When Judy asked why we wanted Abbie," Jones remembered, "we responded, '1. We wanted a family dog; 2. Since I had just had open-heart surgery and knew firsthand how badly I missed my dog when in the hospital, I wanted to pay it forward and give other people the chance to enjoy the girls as therapy dogs; and 3. I wanted to compete in the performance arena with them.'"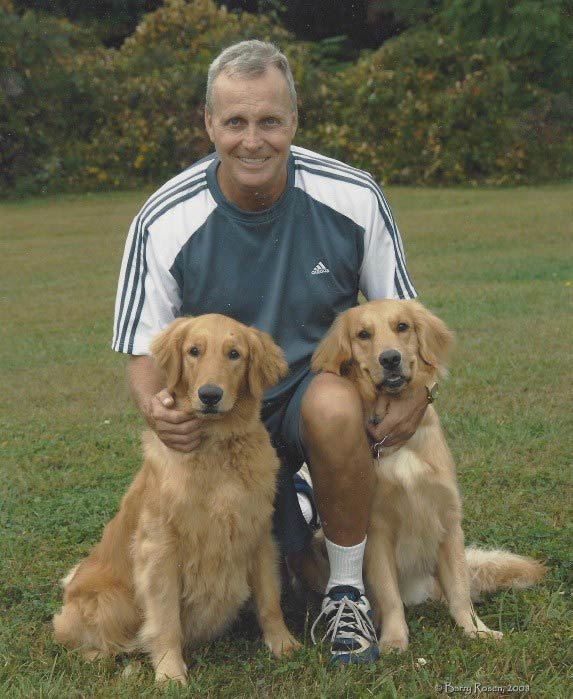 Even though he was healthy at the time, Jones's daughters, Michelle and Jeanine, convinced him to undergo a routine physical exam that revealed a heart abnormality prompting surgery and five weeks of hospitalization at Albert Einstein Hospital in the Bronx (for which Abbie was named) in July 2006.
"After the surgery when I was out of the ICU, Elaine would walk Smartie across the street from the hospital," Jones said. "Since we lived across the street, she was able to do this daily. Initially, just seeing my dog was sufficient, but eventually I wanted to touch and hug her. Since we knew the nurse, I was allowed a one-time visit to the rear entrance accompanied by the head nurse and a heart monitor to interact with Smartie.
"I cried with joy and even today I am filled with emotion when I think about it. This was a life-changing moment and why I decided to pay it forward. Abbie's name is a constant reminder of this commitment and my way of honoring doctors and nurses everywhere."
And that same dynamic segued into the veterinary profession, too, after the vibrant, one-year-old dog was diagnosed with cancer.
That chapter began in 2008 when Michelle detected a tiny dot between Abbie's front teeth. A trip to the vet resulted in a precautionary biopsy being taken. Three days later the Joneses were advised to see a veterinary oncologist, Dr. Daniel Carmichael, at the Veterinary Medical Center of Long Island.
After diagnosing the aggressive Squamous cell carcinoma, which is usually seen in older dogs, Dr. Carmichael performed surgery that involved removing four teeth and a portion of the jaw to which they were linked.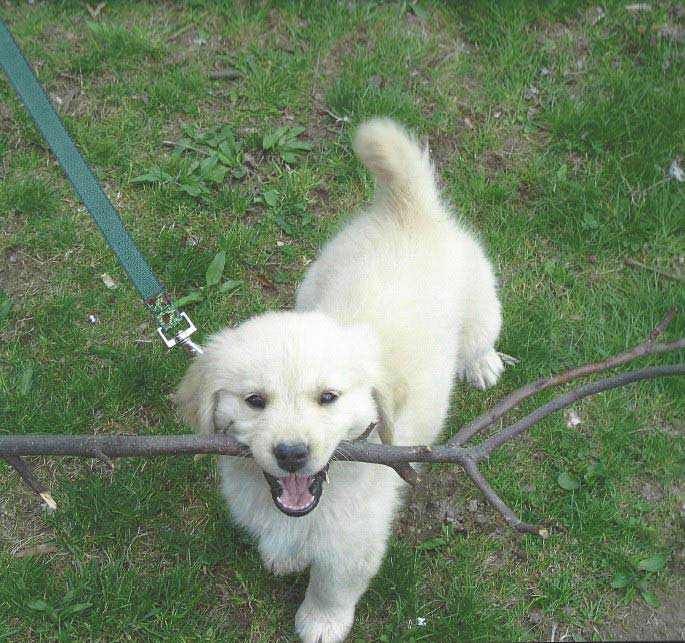 "When Elaine and I first were told about Abbie's cancer, we were devastated," Jones said. "Every time each of us looked at her, we started crying. We could not believe that we might lose this wonderful, lovable puppy so soon."
"But thankfully the surgery was a total success, as Dr. Carmichael was able to achieve clean margins in the affected area. Abbie survived and has been able to enjoy a normal doggie life."
This year marks eight years from her surgery. And so far this year, Abbie completed her first Utility competition and she revisited the oncologist. "It was a happy reunion," Jones said.
Abbie Einstein and the 12-year-old Smartie Jones have lived busy schedules the past seven years. Both are Therapy Dog International certified, visiting nursing homes, hospitals, autism halfway homes, and performing grief counseling in Newtown, Connecticut (following the December 2012 Sandy Hook school shootings) and in Somers.
Currently, Abbie visits the Reading to Rover program every Monday for an hour in Kent, New York, and does a home visit to an Alzheimer's patient in Mahopac, New York, each Friday. And if that isn't enough, she is involved in the initial implementation of therapy dogs in a dialysis unit at the Yorktown Artificial Kidney Center in Yorktown, New York, every Wednesday and Thursday for 90 minutes each day.
She also enjoys serving as a therapy dog for the Danbury Music Centre annual production of "The Nutcracker." The cast of 200 young adults rehearse each weekend from September through November and perform in four productions in December.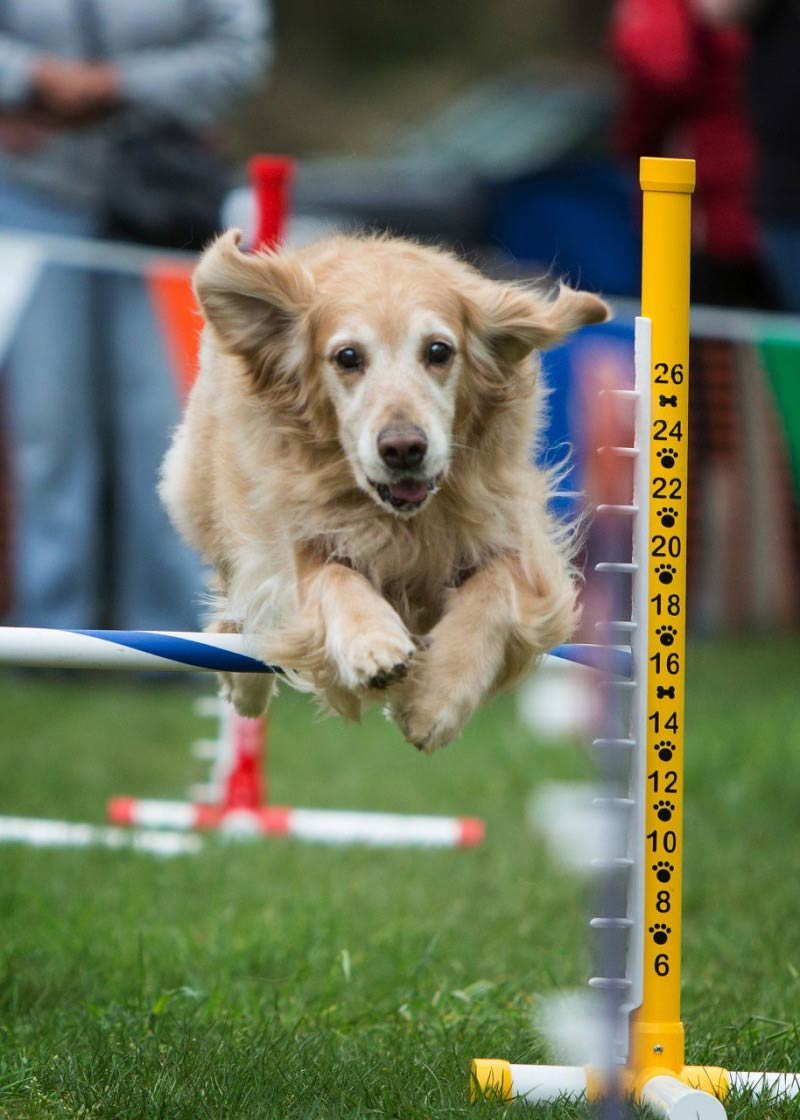 Abbie's well-rounded mix of activities are accented with plenty of special memories for those receiving her greetings from cuddles to kisses.
Jones has his share of them, too. Here's one of his favorites:
"She was a demo dog at Meet the Breeds in New York City and was executing the retrieve over the high jump. I had thrown the dumbbell out to the ring gates and when I released her she ran immediately to it. Oh, wait, she saw the children lined up along the ring gates and immediately forgot the dumbbell and started licking them. Based on incidents like this, I knew Abbie possessed the temperament to be special."
Throughout her life, Abbie has overcome every obstacle in her path while making a difference in the lives of other. And isn't that exactly what you'd expect from an ACS Bark For Life Grand Marshal?


Related:

AKC, American Cancer Society Join Forces To Educate On Canine Health
Bark For Life Westchester Raises Over $31K In The Fight Against Cancer