Elizabeth Culver is heading off to college at Widener University this fall, but she's leaving her legacy behind in her hometown. Culver spent the last three years working on designing, funding, and eventually implementing a dog park in Clayton, New Jersey, earning her both a place for her two dogs to play and a Girl Scout Gold Award, the highest achievement a Girl Scout can get.
Culver started the project as a sophomore in high school and throughout the years worked on bringing in sponsors and donations, including setting up dog-themed fundraising events, to raise the thousands needed for the park's fencing, benches, sign, and other supplies. She also hammered out all the rules and regulations, like that all dogs must be vaccinated and licensed to enter, and designated separate fenced-in areas for small dogs and large dogs.The 18-year-old joined town officials on August 16 for the grand opening of the Clayton Dog and Butterfly Dog Park. "It was incredible finally seeing the dog park in use," Culver told AKC.org. "There were so many times that I felt like giving up but I certainly am glad that I never did."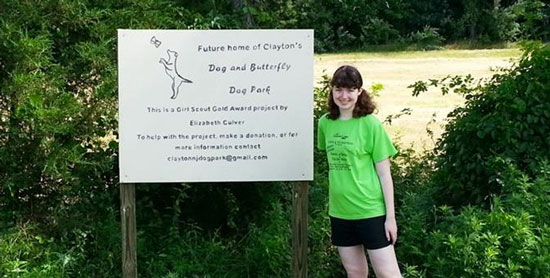 The Girl Scouts require that young ladies working toward the gold award follow a seven-step process, including identifying an issue, solving it, and inspiring others.
For Culver, the issue was a no-brainer—her two dogs had no place in town to play off-leash, so she had to travel to other nearby towns for them to get to experience a dog run. Other dog owners in town, she guessed, must have the same need.
"Eagle and Phoenix, my two dogs, always have a blast when we take them to a dog park," Culver wrote on the park's website. She told us: "However, until last Sunday, there was no place for dogs to run and socialize off-leash. I did some research and found that dogs socialize better off-leash. I also found out that dog parks offer older or disabled members who cannot give their dogs the exercise they need a chance to let their dogs run around. Dog parks are also a great place for dog owners to meet and exchange tips on responsible pet ownership."
Throughout the process, she faced many obstacles, including getting funding, dealing with communication breakdowns, and acquiring a fence. But the skills she learned in Girl Scouts helped her overcome the setbacks. "Throughout Girl Scouts, I participated in increasingly difficult projects and learned about leadership, planning, organizing large events, and most importantly teamwork," she says.
Inspired by Culver? She offers some tips on starting a dog park in your town:
When you first pitch the idea, emphasize on how it will help the town. It's a lot easier to get support if you say it will benefit everyone and not just the dogs.
Connect with as many local organizations as possible. The larger your team, the more pathways will open up.
Go the volunteer route. It will save you a lot of money in the long run.
Be flexible. Things rarely go as planned.
Never give up. If you ever start feeling down, just think about how incredible it will feel once you complete it. And go play with your dogs to cheer you up and remind you who you are doing this for.
Here are more tips from AKC on starting a dog park in your town.
Remember, don't bring a puppy to a park until he's finished his vaccinations. Talk to your vet about precautions to take before visiting a park for the first time. Get tips on dog-park safety here.
Dog Park Etiquette
If you're an urban or suburban dog owner, you're likely familiar with the local dog park. It's a canine oasis. The "Dog Park Etiquette" E-book outlines what you should consider before you bring your dog to the dog park.