When Reading police officer John Hutchinson attended a first aid class for working dogs offered by the University of Pennsylvania, he had no idea that decision would one day save his partner's life.
On September 4, Hutchinson and his K-9, Cody, were searching a local middle school for a possible intruder, PhillyVoice explains, when the three-year-old Belgian Malinois fell from a utility room suspended walkway, hitting a steam pipe on the way down. The accident caused internal bleeding, which Hutchinson identified based on the symptoms he learned in the class.
Cody was flown via helicopter to Penn Vet's Ryan Veterinary Hospital where he underwent a blood transfusion, neurological testing, and other treatment.
Cody has been released, but the Friends of the Reading Police K9 Unit is seeking to collect donations to pay for his care and transport. Donations can be made here (indicate "The Friends of the Reading Police K9 Unit Fund").
Learn more here: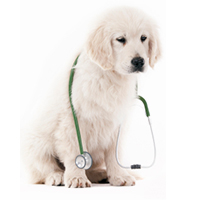 Emergency First Aid for Dogs
Even the most responsible pet owner can't always protect their pet from a sudden accident or illness. Getting your pet immediate medical attention can be the difference between life and death. Download this e-book to learn more about what to do in an emergency situation.