Firefighters in Grand Rapids, Michigan, went above and beyond to save a little dog from a fire in a two-unit apartment building Tuesday morning. We spoke to Bart Perry, the Grand Rapids Fire Department Battalion Fire Chief, who shared the details of the report from the incident.
"When the first crew arrived at 9:34 a.m., there was heavy smoke and fire on the second floor with zero visability," Perry says. He explained that while the first team worked on putting out the fire, the second crew entered and searched for humans and animals. They found an unconscious little dog. The dog was brought outside to responders Craig Lewis and Winston Wood, who spent 20 minutes reviving the dog, using an oxygen mask donated by a local veterinary clinic and stimulating the dog to encourage it to breathe. The dog regained consciousness and was fully energetic by the end of the 20 minutes.
A woman in the area witnessed the first responders working on reviving the dog and posted a photo of it on Facebook. That photo has since gone viral, getting hundreds of shares and thousands of likes.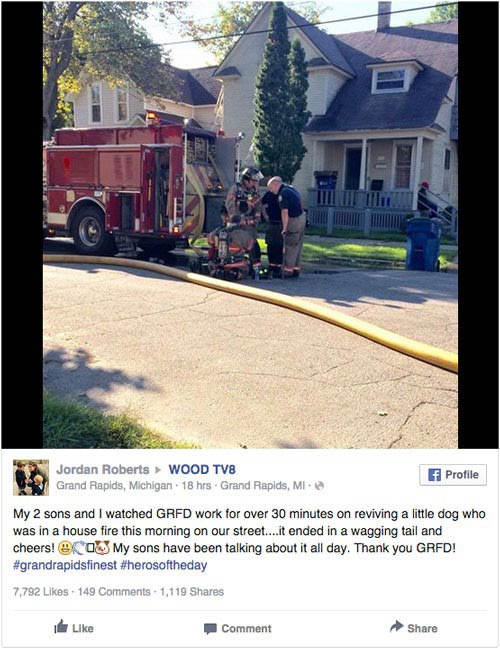 "It's one of those stories that we all enjoy from a good news standpoint when an animal returns from a near-death experience," says Perry, who adds that he is a longtime Golden Retriever lover. "Many of us are dog and cat people and we all understand that pets are family members, too, and that they deserve our attention after we look for humans in danger."
An unconfirmed report claimed that the couple may have been in the hospital as the wife was giving birth during the fire. Perry stated that the dog is staying with the downstairs neighbor until the couple in the upstairs unit returns home.