AKC's Coursing Ability Test (CAT) is one of the fastest growing dog sports in the country. To pass the test, the dog must run alone (without the handler at his side after the start) to pursue a mechanical lure and complete the course with enthusiasm and without interruption within a given time.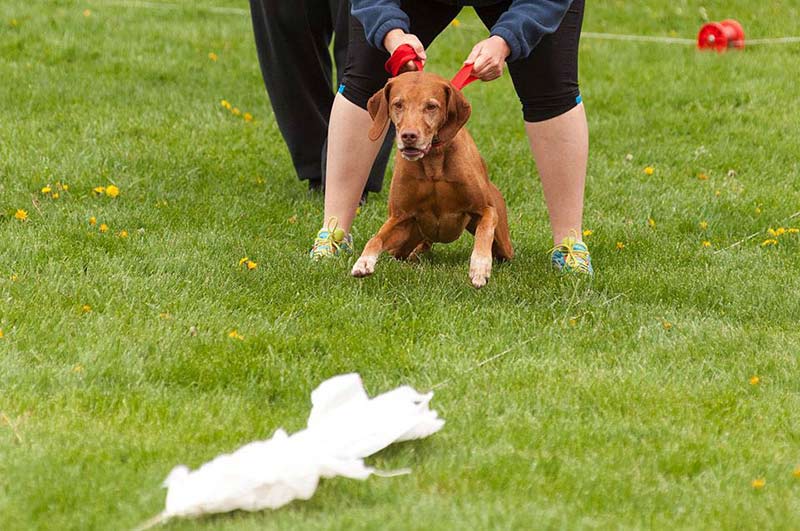 The sport simulates chasing a rabbit or other prey. Normally this would conjure up images of sighthounds such as Salukis, or Greyhounds, but the CAT is open to all dogs including purebreds and All American mixed breeds as long as they are at least 1 year old and have an AKC, PAL, or Canine Partners number.
In May 2015, the Cudahy Kennel Club (St. Francis, WI) had a successful CAT with more than 130 dogs of all breeds and sizes showing that they could run faster than a speeding bullet to chase a lure. If your dog loves to run, this may be the sport for you.
If you are interested there is more information on coursing ability tests here.
AKC Coursing Ability Tests do not require dogs to run as far as dogs in lure coursing trials.They also do not have to execute extreme turns, with no turn being more acute than 90 degrees. Dogs under 12-inches at the withers have a course of approximately 300 yards. Dogs more than 12 inches at the withers race approximately 600 yards. The 600-yard course must be completed within 2 minutes and the 300-yard course within 1½ minutes. Lure coursing often requires no training. Many dogs see the lure move and immediately want to chase it.
For those of you who would like to participate in this great sport here are some tips:
Make sure that your dog is physically healthy and in good shape to run a course. If you are not sure, make an appointment with a veterinarian to get an opinion.
Take your dog to a practice to introduce your dog to the lure or make your own lure for practice.
For the test, bring lots of fresh water, a strong, soft leash, and maybe a portable crate if the lure field is a long ways from the car.
Handlers should wear comfortable shoes and be physically able to hold and release their dogs, as well as catch them.
Teach your dog the command "come." Our advice is to make sure you have this rehearsed properly as you don't want to be chasing your dog all over if he doesn't like to come when called.
Check out CGC Evaluator Rick Pisani teaching 'Come' in this dog training video.