Wildfires continue to devastate parts of California and other areas of the western U.S., amid conditions made favorable by hot temperatures and prolonged drought in the region.
In California's Amador and Calaveras counties, about 60 miles southeast of Sacramento, the huge Butte fire broke out on September 9 and so far has destroyed 365 homes and burned 71,000 acres. Two days later, the Valley fire exploded in rural Lake County, about 100 miles north of San Francisco. Between the two fires the civilian death toll has risen to five. About 8,000 firefighters are battling the blazes, with four firefighters hospitalized with second-degree burns. State officials are calling the fires two of the most destructive in the state's history.
On top of the tragic losses of human life and property have been the ordeals of both domestic and wild animals struggling to survive in the burn areas.
The Valley fire was especially intense and fast moving at its onset, in many cases leaving residents with little time to evacuate. Many people fled with only the clothes on their backs, sometimes not able to take with them pets who couldn't be gathered up quickly or who had run away in fear. Other residents who were away from home when the fires struck did not have time to go and retrieve their animals.
In addition to pet cats and dogs that people were forced to leave behind were hundreds of other domestic animals that could not be evacuated in time, including horses, goats, chickens, and sheep. Horses have been found wandering loose, some with cuts or scrapes from having jumped or crashed through fences.

UC Davis Sends Veterinary Team to Valley Fire
On Monday, a veterinary team from the UC Davis School of Veterinary Medicine was mobilized to the Valley fire area to help affected animals. The group is led by the school's Veterinary Emergency Response Team (VERT) and is comprised of veterinarians from the UC Davis Veterinary Medical Teaching Hospital, Center for Equine Health, and International Animal Welfare Training Institute. The vets and other team members are continuing to help in search-and-rescue efforts as well as providing emergency treatment to animals in the field.
"The team was able to to 'divide and conquer' by splitting team members up throughout several areas of the fire," says a UC Davis report. "Establishing a home base in Middletown, the team branched out to identify animals in need of veterinary care and those in need of food and water. Sick and injured horses were sent to the Middletown Veterinary Hospital (MVH), where they were treated by Dr. Eric Davis and MVH's Dr. Jeff Smith, who has been up for days and is working tirelessly to reunite animals with their owners. Many other species of animals were found and brought to area shelters and animal control, including dogs, cats, goats, donkeys, chickens, and other fowl."
"We used water from swimming pools that survived the fire, as there was no running water or electricity," said Center for Equine Health director Dr. Claudia Sonder. "It was incredibly gratifying to find small bands of goats, and birds that ran up to greet us, eagerly seeking water."
"Reports abound of residents who had no time to react to the rapidly moving fire. The Veterinary Emergency Response Team responded to many requests from animal owners to investigate their properties for lost animals that had to be abandoned in the urgent escape. Several burned animals, including pigs and cats, were immediately transported to the Veterinary Medical Teaching Hospital, where they are recovering."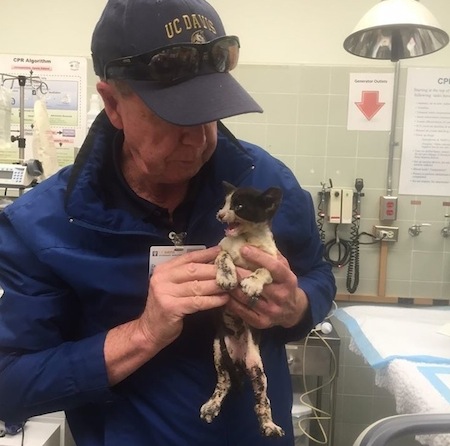 UC Davis School of Veterinary Medicine's Dr. John Madigan comforts a cat rescued from the Valley fire area.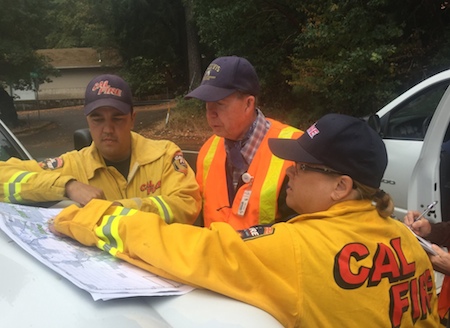 Dr. Madigan consults a map of the Valley fire burn area with Cal Fire personnel.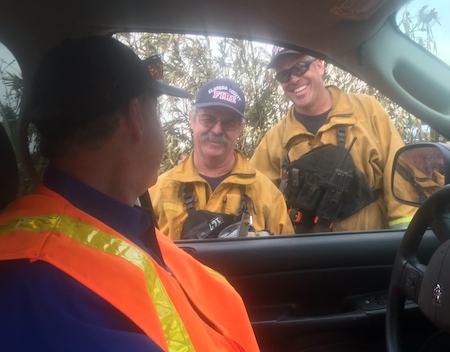 Firefighters coordinate with VERT (Veterinary Emergency Response Team) member Dr. Madigan in identifying areas where help for animals is needed.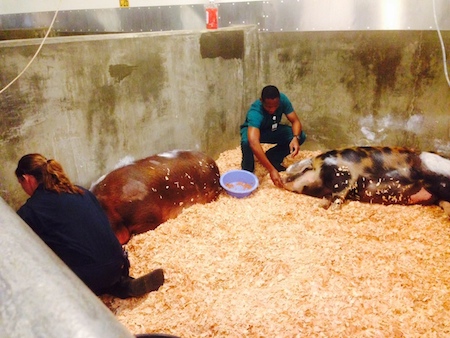 Hogs Wilbur and Sophie, survivors of the Butte fire, are at the UC Davis veterinary hospital recovering from burns and smoke inhalation.
(Photos above and at top of article courtesy UC Davis School of Veterinary Medicine)
The UC Davis School of Veterinary Medicine's emergency room and intensive care units for both large and small animals, staffed by multiple critical-care specialists, have remained open 24/7 this week to receive patients. The school has started a Fire Disaster Fund "to provide veterinary care at the animal hospital and through its ambulatory services to animals injured in the Butte and Valley fires and other animals in similar situations." Donations to the fund can be made online or by calling (530) 752-7024.

Animal Hospitals Offering Free Boarding for Displaced Pets
A number of VCA animal hospitals in Northern California are offering free boarding for small animals affected by the Valley fire, including dogs, cats, and pocket pets. Boarding assistance at the participating hospitals is based on space availability. Pets should be current on vaccinations, but if they are not, VCA veterinarians have offered to update vaccinations free of charge. These VCA hospitals are also offering free health-assessment exams for pets who have been evacuated or displaced as a result of the fires.
"Our thoughts are with the many families who continue to be impacted by this and the other wildfires in the area," said Art Antin, chief operating officer of VCA Animal Hospitals. "We are extending free boarding for family pets that have been displaced by these fires so families can feel confident their pets are safe and focus on their priorities during this critical time."
Pet owners are encouraged to contact the American Red Cross or any one of the participating VCA hospitals for boarding assistance and more information. A list of participating VCA animal hospitals is available on this page.

AKC Pet Disaster Relief Trailer Sent to Aid Butte Fire Evacuees
On Friday, September 11, an AKC Pet Disaster Relief trailer provided to the Sacramento County Department of Animal Care by AKC Reunite and the AKC Humane Fund was deployed to Amador County in response to a request from Bradshaw Animal Shelter for assistance in helping evacuees from the Butte fire and their pets. The trailer brought pet food and supplies and remained through Sunday at the Amador County Fairgrounds, where kennels were set up and meals provided for numerous displaced pets.
Other groups including the Amador County Animal Response Team have also been providing emergency assistance to residents and domestic animals in the area.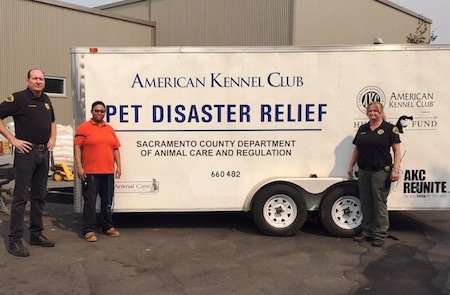 Sacramento County Department of Animal Care's AKC Pet Disaster Relief Trailer was deployed to Amador County's Bradshaw Shelter to help with evacuation of animals affected by the Butte fire.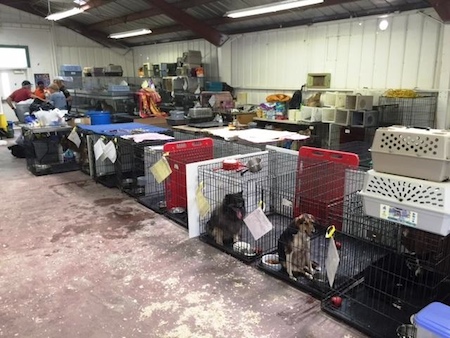 Bradshaw Shelter staff set up kennels at the Amador County Fairgrounds to ensure that pets were safe and cared for during the Butte fire evacuations.

Residents Visit Fire Zones to Retrieve Pets; Stories of Hope
On Wednesday, Lake County sheriff's deputies escorted residents of some evacuated Valley fire areas for brief visits to their property. The escorted visits were strictly to allow people to take care of or pick up livestock and pets left behind, the sheriff's office said. Residents of other areas that are still burning were not yet allowed visits to their property.
Although some pets and livestock animals could not be saved in time by emergency teams, there are happy endings and stories of survival as well. One female dog was found in the burn area protecting her two 8-week-old pups; the little family was rescued, and all made it through OK.
According to the Associated Press, Lisa Comstock, a rancher from Middletown, an area devastated by the Valley fire, had her three dogs jump into a water trough with her as flames neared her property. Comstock was also able to keep her horses nearby as the fire burned around them.
"The flames were coming over that mountain and surrounding this place like there was no tomorrow," she said. "I jumped in the water trough with all the dogs, and the horses came up around. Thank God they just stayed here."
She said that at one point she was sure she wasn't going to make it, but talking to her animals helped her and the animals to keep calm.

Valley Fire Ignited During Area Dog Show Weekend
The Valley fire erupted during the weekend of the new Lake-Drake cluster of AKC dog shows held in Vallejo. With the sudden news of the fire on Saturday, many members of the Lake County Kennel Club of Northern California, one of the host clubs, rushed home from the show site. Club president Leslie Puppo reported that as of Thursday, fortunately no club members have lost their homes, and all animals and people were evacuated safely. Some club members are still under evacuation orders, and two members had to leave the area because of poor air quality affecting their health.
"Things are still a mess, with a lot of areas still closed," said Puppo. "This fire will have a large impact on the county, which will take quite a long time to recover from. The dog show community has really jumped in to help the victims of the Valley fire, as well as the other fires going on in the state, the Butte fire and the Rough fire. I have been showing dogs for close to 40 years, and the dog show community has always been there when needed."

Resources Set Up to Aid Those Affected by Fires
The UC Davis School of Veterinary Medicine has set up a resource page for residents and pet owners affected by both fires: Resources for Those Affected by the Valley and Butte Fires.
A number of Facebook pages have been set up to coordinate help for animals affected by the fires and to reunite lost pets with owners. Facebook pages for lost and found animals include Lost and Found Animals of the Valley Fire and Butte Fire Lost & Found Pets and Livestock.
PET Lost and Found for Lake County Fires is posting photos of lost and found pets from the Valley fire and also providing links to other pages and resources relating to the fires.
Cooler temperatures and rain on Wednesday helped with containment of the Valley fire, although hot temperatures are expected to return over the weekend. As of Friday morning, according to Cal Fire (the California Department of Forestry and Fire Protection), the Butte fire has burned 71,000 acres and is now 60 percent contained. Some mandatory evacuations for the Butte fire have been lifted. The Valley fire has burned about 74,000 acres and destroyed 585 homes and is still only 35 percent contained. More than 7,400 homes continue to be threatened by the Valley fire, and many areas are still under mandatory evacuation orders. About 13,000 people have been displaced by the blaze.
Officials report that more than 11,000 firefighters are battling 12 major fires across California. Cal Fire Director Ken Pimlott said the fire season has seen 1,500 more fires than normal for this time of year. For updates and more details, the state's Fire Information Line is (707) 967-4207.
Photo at top of article: Dr. John Madigan of the UC Davis School of Veterinary Medicine VERT (Veterinary Emergency Response Team) surveys a Valley fire burn site on September 16, 2015. (Photo courtesy UC Davis School of Veterinary Medicine)