A dog-owning couple lost their home—but thanks to the help of first responders and social media, their two dogs are safe. A gas line was ruptured on August 7, causing the couple's Manitoba home to explode. The family was outside, CTV News reported, but the two dogs, Brandi and Lilly, were in the house at the time of the explosion. Brandi was rescued by firefighters and taken to the vet. Lilly, though, was nowhere to be found.
The Facebook page Brandon and Area Lost Animals shared photos of Lilly, asking followers to call to report any sightings. Several days later, Lilly was found barking in a field nearby. Both dogs were treated for injuries caused by glass in the explosion, and both are expected to recover. "It truly is a miracle these two survived," the Facebook page said.
See the report, including video of the home after the explosion here.
Recently, firefighters wearing a helmet-mounted camera captured the daring rescue of two family dogs from a blaze. See that shocking clip here.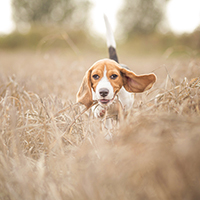 What to do if your pet goes missing?
If the unthinkable were to happen, are you prepared? Download this e-books to learn what steps to take if your dog goes missing.