Sporting dogs are reliable for following a scent or retrieving a catch, but sometimes that drive can get them into trouble.
Take Woody and Brock, for example.
On October 26, Dennis Elton brought his two dogs with him on a trip to the Gifford Pinchot National Forest near Mt. St. Helens. When they got out of the car, Woody's and Brock's instinct kicked in.
Woody is a Brittany, a breed known for its sharp pointing skills, and Brock is a Labrador Retriever, another high-energy hunting breed. Both dogs caught a scent and ran off in search of it. Elton wasn't able to find them after hours of searching, KGW-TV reported (scroll down for video).
He returned to the forest each day and posted flyers, hoping desperately someone would find them. (Note: We recommend using social media if your pet goes missing to help expand your search.)
A week later, hikers in two different areas of the forest found the two dogs. Both dogs had separately traveled 25 miles from where they were lost, and both were scared and soaked. The hikers shared photos online, one on Facebook and the other on Craigslist. Elton learned about Woody's whereabouts first, when a photo shared more than 9,000 times made its way back to him. On his way back from picking Woody up, his wife came across a Craigslist ad by the person who found Brock.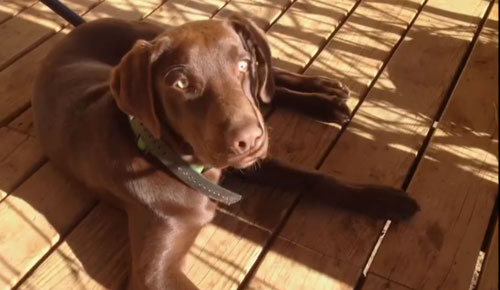 Brock, a Labrador Retriever
Elton picked up Woody and Brock from the two homes of the Good Samaritans who had found them.
"I don't know how they got through this," he said.
See the full report here: