On September 11, 2003, a solid bronze German Shepherd Dog DOGNY sculpture was donated to the state of Georgia. Over 31 Atlanta area AKC kennel clubs worked together to raise funds to sponsor the $25,000 bronze statue.
The ceremony took place at The Capital Building in Atlanta Georgia. Accepting the statue for the State of Georgia was Honorable Sonny Perdue, Governor and Tommy Irvin, Commissioner of Agriculture. Representatives from the 31 participating kennel clubs joined in the ceremony, including Ann Wallin, AKC Delegate and Georgia DOGNY Committee Chair.
Attending on behalf of the American Kennel Club were Dr. Carmen Battaglia, AKC Director and President and CEO AKC Canine Animal Recovery, Dr. Asa Mays, AKC Director and AKC Canine Health Foundation Director, and Dennis B. Sprung AKC's Chief Operating Officer.
The statue was unveiled outside the Department of Agriculture, and facing the capital, will serve as a permanent tribute to America's search and rescue dogs.
The statue is part of the AKC's public art initiative called "DOGNY: America's Tribute to Search and Rescue Dogs," a public art project and fundraiser to honor the Canine Search and Rescue dog and handler teams who were called to serve following the September 11 tragedies.
The following Georgia Clubs sponsored the DOGNY Statue:
Atlanta Kennel Club
Augusta Kennel Club
Conyers Kennel Club
Lawrenceville Kennel Club
Macon Kennel Club
Sawnee Mountain Kennel Club
Valdosta Kennel Club
Chattahoochee Weimaraner Club
German Shepherd Dog Club of Atlanta
West Highland White Terrier Club of Greater Atlanta
Atlanta Doberman Pinscher Club
Atlanta Terrier Club
Cavalier King Charles Spaniel Club of Greater Atlanta
Chihuahua Club of Atlanta
Cocker Spaniel Specialty Club of Georgia
Dachshund Club of Metropolitan Atlanta
Dalmatian Club of Greater Atlanta
Dogwood Rottweiler Club of Metropolitan Atlanta
German Shorthaired Pointer Club of Atlanta
Gordon Setter Club of Greater Atlanta
Great Dane Club of Mid-South
Greater Swiss Mountain Dog Club
Irish Setter Club of Georgia
Metropolitan Atlanta Samoyed Club
Metropolitan Atlanta Whippet Club
North Georgia Hound Association
Pekingese Club of Georgia
Pembroke Welsh Corgi Club of Greater Atlanta
Shetland Sheepdog Club of Georgia
Siberian Husky Club of Greater Atlanta
Tara Afghan Hound Club
Georgia Veterinary Medical Association

Dennis Sprung, AKC; Ann Wallin, Atlanta Kennel Club; Dr. Carmen Battaglia, AKC; Tommy Irvin, GA Commissioner of Agriculture.

Dennis Sprung making remarks at the dedication ceremony at the Georgia State Capitol Building, Atlanta.

Georgia Commissioner of Agriculture Tommy Irvin making remarks outside the State Capitol Building, Atlanta.

Dr. Asa Mays making remarks outside the State Capitol Building, Atlanta.

Dennis Sprung making remarks outside the State Capitol Building, Atlanta.

Governor Sonny Perdue and Agriculture Commissioner Tommy Irvin pose with Dr. Carmen Battaglia and Dennis Sprung.

Dr. Asa Mays, Dennis Sprung, Governor Sonny Perdue, Dr. Carmen Battaglia, Commissioner Tommy Irvin, Ann Wallin.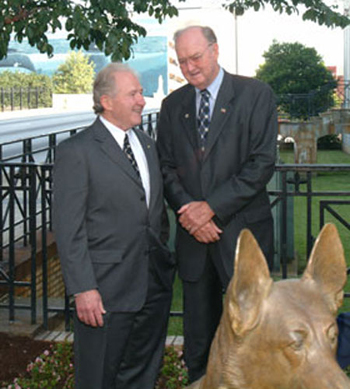 Dr. Carmen Battaglia and Commissioner Tommy Irvin.