This is a story of doggie devotion at its finest.
A week ago, an Irish Setter named Tillie and a Basset Hound named Phoebe went missing from their home in Washington.
A local animal-welfare organization, the Vashon Island Pet Protectors, helped spread the word by sharing photos of the two dogs on its Facebook page. Finally, they got a call from someone who reported seeing a "reddish" dog coming out of the nearby ravine and trying to get their attention before returning to where she came from.
Went the group went to investigate, calling the dogs' names, they got a response in the form of a bark. They found Tillie standing over a cistern in the ravine. Beneath her, trapped in the cistern was Phoebe.
"For nearly a week Tillie stayed by her side with the exception of the few minutes of each day when she went for help," VIPP wrote on its Facebook page, announcing the good news.
Both dogs were unharmed. Amy Carey, of VIPP, called Tillie a heroine.
"[I'm] not sure Phoebe would have ever been found without her as they were miles from the last place spotted," she said.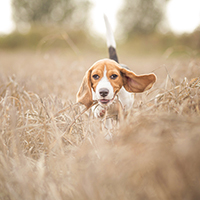 What to do if your pet goes missing?
If the unthinkable were to happen, are you prepared? Download this e-books to learn what steps to take if your dog goes missing.