In mid-August, local Nashville station WKRN reported the story of Boomer, a pit bull puppy who was taken from 10-year-old Khalik Corbett's hands while on a walk last month. But last weekend the puppy was mysteriously returned to the family.
According to an update by WKRN, Corbett was walking Boomer on August 14 outside of his Nashville home when a man got out of a car and started asking questions about the puppy. Then, Corbett explains, "He reached down, took off with the leash and drove off."
On Saturday, September 12, Corbett's mother, Angie, found Boomer tied to a telephone pole in the yard while she was taking out the trash. "I completely dropped the trash and flew over there and he was just wagging his little butt and just barking and I just started crying," she said.
See the full report below.
Read tips on protecting your pet from theft here.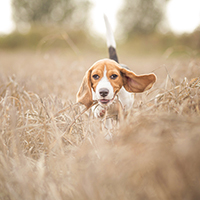 What to do if your pet goes missing?
If the unthinkable were to happen, are you prepared? Download this e-books to learn what steps to take if your dog goes missing.