Restaurant Week isn't just for humans anymore. Dog Restaurant Week has returned to Chicago this summer to celebrate the city's love for food and passion for pets.
From Aug. 23-29, you can dine with your best friend on the outdoor patios of a variety of participating restaurants in Chicago, where up to 7 percent of proceeds will be donated to a local rescue group.
The fun-filled week kicked off on Sunday, Aug. 23, with a "Puppy Party in the Patio" at WestEnd Bar and Grill, where $1 from every Lagunitas beer sold was donated to a local rescue.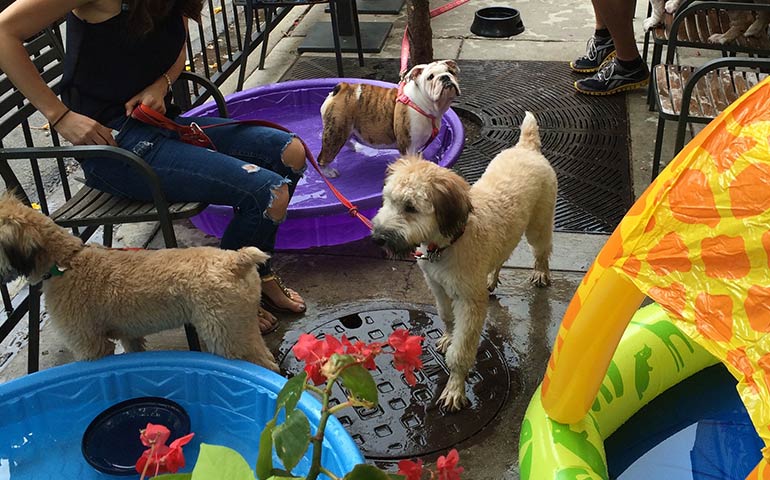 Photo courtesy of WestEnd Bar and Grill
Here at the AKC we couldn't think of a better way to embrace the dog days of summer. Hopefully New York will be next!
Dog Restaurant Week is almost over so hurry and make your reservations at these participating restaurants:
Upton's Breakroom from Upton's Naturals
2607 N. Milwaukee Ave | (773) 697-4234
Old Town Social
455 W. North Ave | (312) 266-2277
Wishbone West Loop
1001 W. Washington Blvd | (312) 850-2663
Reno
2607 N. Milwaukee Ave | (773) 697-4234
Native Foods Lakeview
1023 W. Belmont Ave | (773) 549-4904
Wyler Road
3581 W. Belden Ave | (773) 661-0675
Additional activities for you and your dog in Chicago:
-Need to walk off your meal? Take a stroll in one of these Chicago parks or beaches, where dogs can roam off-leash in designated dog-friendly areas.
-Dining with your dog doesn't have to end after this week. Check out and visit additional dog-friendly bars and restaurants in Chicago.
-Worried your dog's manners wouldn't be up to par at a restaurant? Contact one of the AKC's approved Illinois trainers so that you can have a more enjoyable experience out on the town.
-Learn more about the Windy City with Seadog's speedboat guided tour. Dogs cruise free!
-Take your dog to the ball game! Friday, Sept. 16 is "Bark in the Park" at U.S. Cellular Field, where you can bring your dog to a White Sox game. Not a White Sox fan? Bring your dog to other upcoming "Bark in the Park" events at various ballparks around the country.