Reasons to not leave your dog in a parked car while you run your errands: A. It's very uncomfortable for your pet, even with the windows cracked. B. It's unsafe and can cost your pet his life. C. You can face charges for animal cruelty (and now in Illinois, if your dog is injured or dies, you might have to serve jail time).
Still, somehow people still seem to be missing the message—reports of dogs dying or being rescued from hot cars pop up on our newsfeeds literally every day.
That's why one woman in Austin, Texas, is trying to find a solution. Mary Traverse, an chiropractor (for people and pets), started The Barking Garage, a temperature-controlled trailer stationed in a shopping center parking lot in Austin, Texas. For a small fee, people to leave their pets while they see a movie or shop. Inside the trailer are individual crates for the dogs, along with insulation and air conditioning.
Traverse came up with this idea because she found herself having to drive 40 minutes out of her way to drop off her puppy before turning around and driving 40 minutes back into town to run errands. "I'm a dog lover, and I created this because I needed it," she told AKC.org. "I thought if people had a place they could leave their dog safely, they could relax, shop, and enjoy the afternoon."
The trailer is set at 78 degrees, and Traverse says she wants people to know their pet will be taken care of properly. "As a chiropractor, I'm very safety oriented and conscientious," she says. "I have very high standards about what happens in the trailer."
Eventually, she hopes to expand her business plan to include other areas around the country, allowing people to bring their dogs with them more often.
"I think this is going to change everything," she tells us.
The trailer is parked on Saturdays and Sundays outside of the Whole Foods (she hopes to be open full-time in the near future). Fees range from $10 (for small dogs) to $14 (for large dogs) per hour.
Meanwhile, in Los Angeles, an app called Zingy allows pet owners in participating shopping centers to call for a last-minute dog walker. Learn more about that here.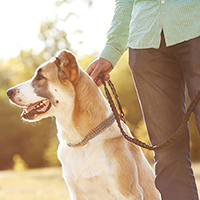 ";}}